Kitami is tastefully tucked into the corner of 7th and main streets downtown. If one were to scamper into this well-dressed establishment sayyyy fifteen minutes late, they might not immediately recognize the sophisticated decor and spacious interior. As such, I suggest you leave on time so you can mosey on in at a leisurely pace and soak it all in! 
The gang of hungry peeps started off with a round of appetizers, as one does on a Friday. It's a holiday weekend, and we are here to party. Let's get to the get down. The first guest to make her appearance was the classy and elegant Shrimp katsu. With a crunchy, flavorful tempura dress, this really got the party popping. Speaking of popping, have you met my friend Jalapeño tuna? It's exactly what would happen if a jalapeño popper and a sushi roll had a baby. I just want to eat it up! So I did. We all did, it's not weird. The fried exterior gave an excellent crunch, while not being too heavy.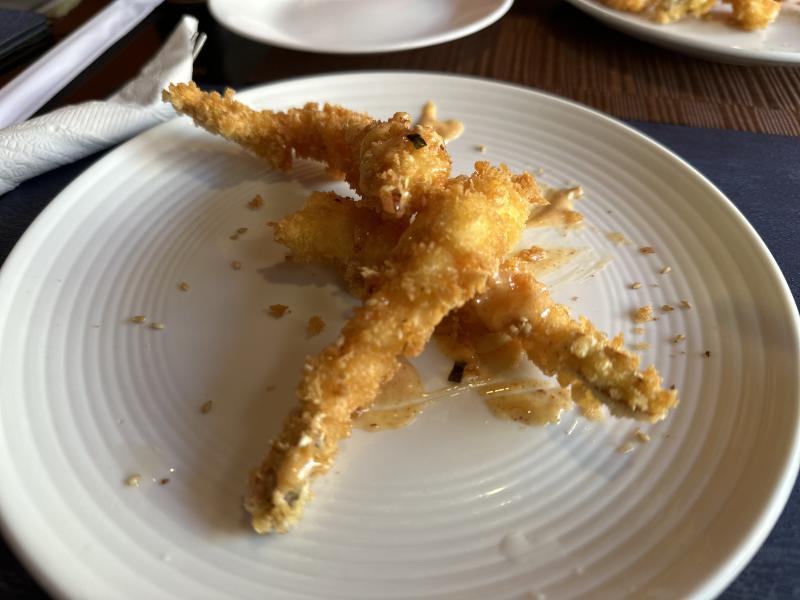 The gyoza was also delicious, and reminiscent of a dumpling I once swooned over. It was super flavorful and had a fantastic blend of chewiness and crunch. It boasted a pleasant melody of shrimp and pork that complimented each other wonderfully. There was edamame, which was not too salty and didn't stick around. It seemingly danced in and out with a swiftness that left me wondering if it was ever really there. Everything was going well, translated for the young folks: the vibe was good. Read: It's givingggg good eats. 
Each hibachi selection came with soup, salad, veggies, and rice. The mushroom soup featured a chicken broth base that tickled the tongue with delightful warmth and flavor! The salad was light and crunchy and the ginger dressing really got us going in anticipation of the main event. These cats are great and all, but we know what we came for. Roll me up, buttercup! 
I was blown away by Jerry's choice. He went with the vegetable hibachi and it was stunning. STUNNING. If I don't get my eyes off his plate, mine might start to get jealous! It should also be noted that he "accidentally" ordered a smoked salmon roll, so his plates just kept on coming! 
As it turns out, there were more stunners en route. Jo selected the salmon hibachi and we could not stop talking about the presentation of everything! The smell, the sight, the swagger! The combination of flavors is enough to bring the even strongest to her knees.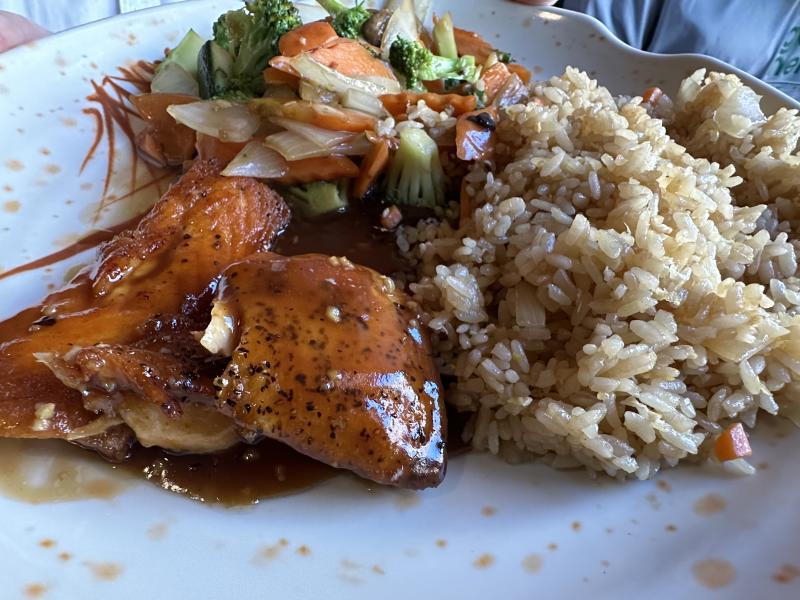 My dynamite roll was, well you're never going to believe this, but it was dynamite! The sounds coming from this table. When I tell you we made it weird, trust that we sure did. We oo'ed and ahh'd like it was the dang ole Fourth of July. Everyone wanted a piece of my pie, and being the kind and caring team member that I am, I obliged. We all agreed it was worth vying for. 
I wasn't sure what was going on in Ken's bowl, but I was able to glean that he was really into it. This isn't puppy love, he is in it to win it. After much investigation, I am pleased to be able to share with you the identity of his special guest. Tuna tataki, which the menu describes as seared Hawaiian big eye tuna, topped with shichimi seasoning and ponzu sauce. I could tell by the way he was looking at it, that I wanted to dance that dance as well.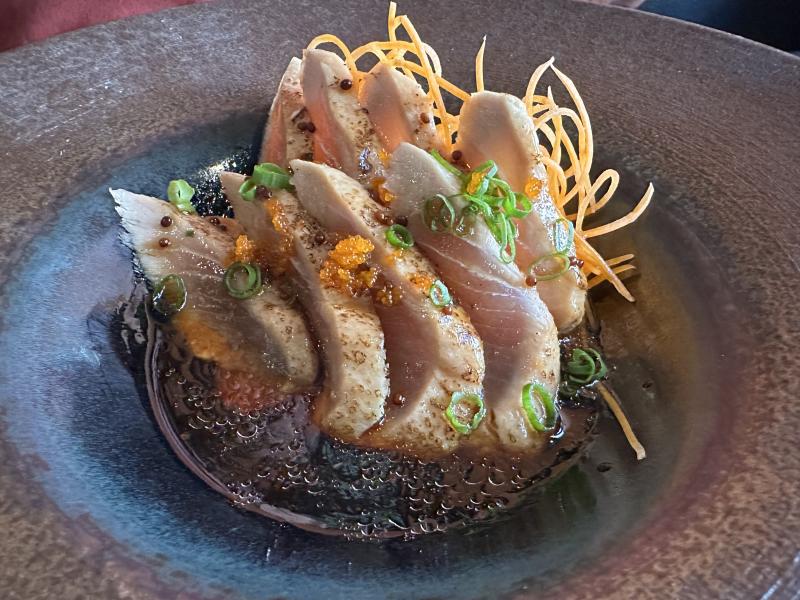 Linda dabbled in the shrimp hibachi and she wants to let the world know that any of the hibachi selections are a party. The vegetables were cooked perfectly. The ginger dressing on the salad was a show stopper as well! All of these balanced out the perfect meal. 
I've never had a chance to meet a soft-shell crab before, as they are usually too busy for such engagements. So I was very glad to see that Kay invited her to the party. It was an honor to be in the presence of royalty, if only for a moment. This girl was grace and elegance! It was crispy on the outside and juicy tender on the inside, and very lightly breaded which was the icing on the cake! 
Every party needs it's tried and true. So Iseral had the classic salmon and avocado roll. It was reliably delicious, the kind of friend you can count on. A true classic, the little black dress if you will. 
Tetia noticed there was an outlier on the menu, a lone ramen dish and she snatched it. Of course, I'm talking about the Korean ramen noodle soup. It brings a bit of a kick, and is served in a flashy kettle style bowl with a generous portion of beef and veggies including carrots, cucumber, cabbage, and served with an egg. Who doesn't love ramen? Monsters, that's who.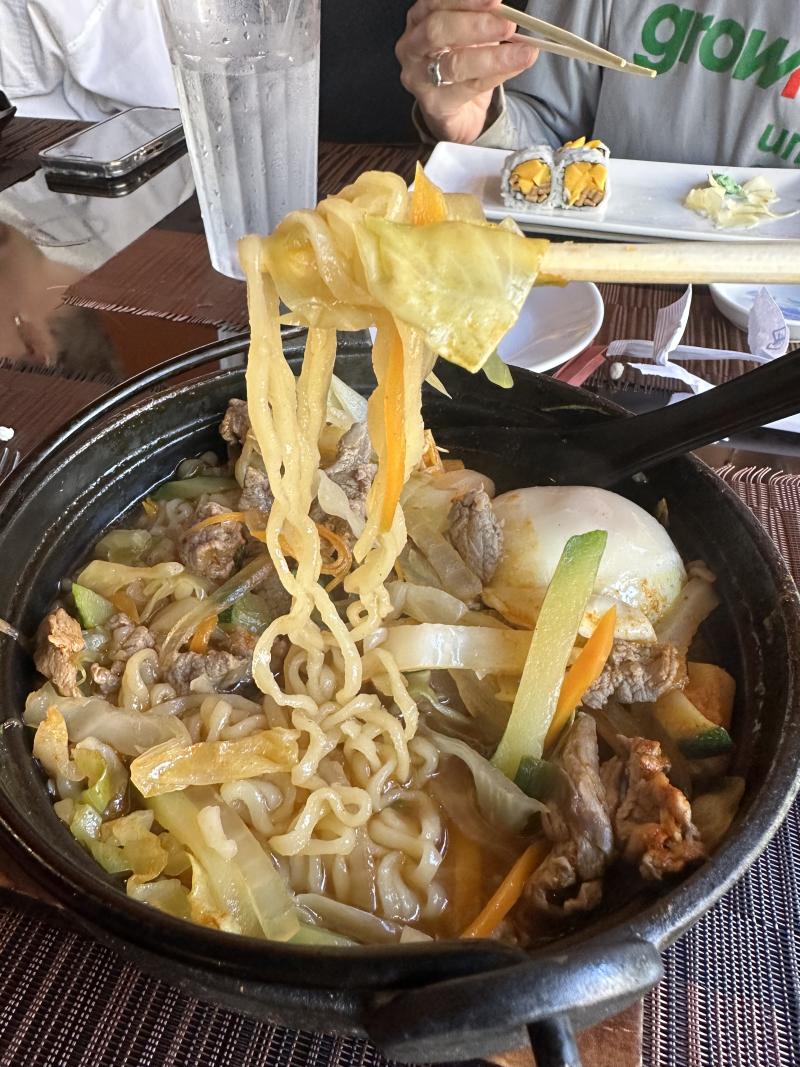 Margy got brave and switched it up with an Inari and Mango roll. She really liked it bc the sweetness of the mango reminded her of the sweetness of the ginger that made a shockingly quick exit at the start of the party. You know ginger, here for a good time, but not for a long time! Thankfully the mango came in clutch. The mango and the wasabi were the power couple of the evening. Paired with the edamame, it was the perfect amount of food! She had many vegan options to choose from and will be back again! 
All things considered, this may have been the event of the weekend and it's only Friday! I highly recommend Katami for its taste, presentation, and excellent service. Now put your phone down, and go tell all your friends! 
Dining Diva, Whitney, wrote this blog.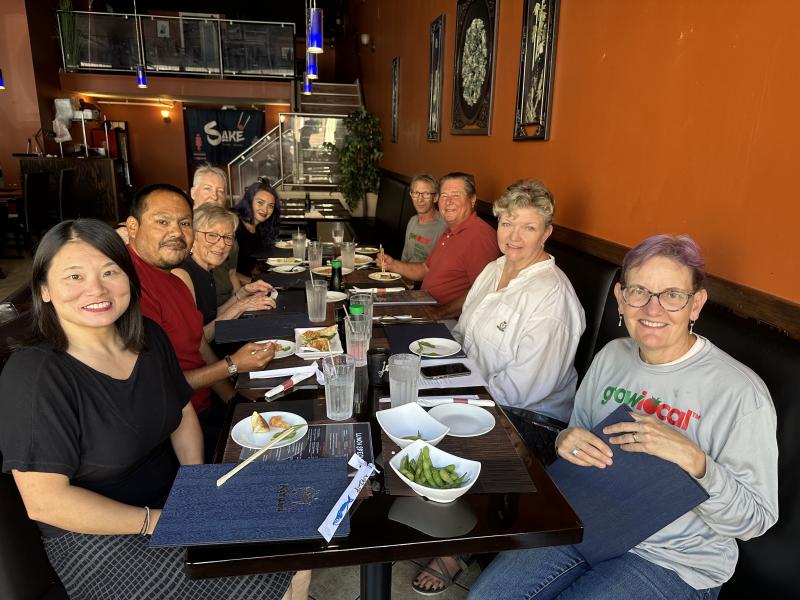 Explore more Dining Divas
& Dudes Reviews!