Holy Mackerel! DDD's tried out the Korean restaurant Kimchi, and that was the unanimous conclusion about the quality and quantity of the food. OK, so it was really Jo's remark about the fish she got, which happened to be a mackerel that filled up the whole plate, but I digress.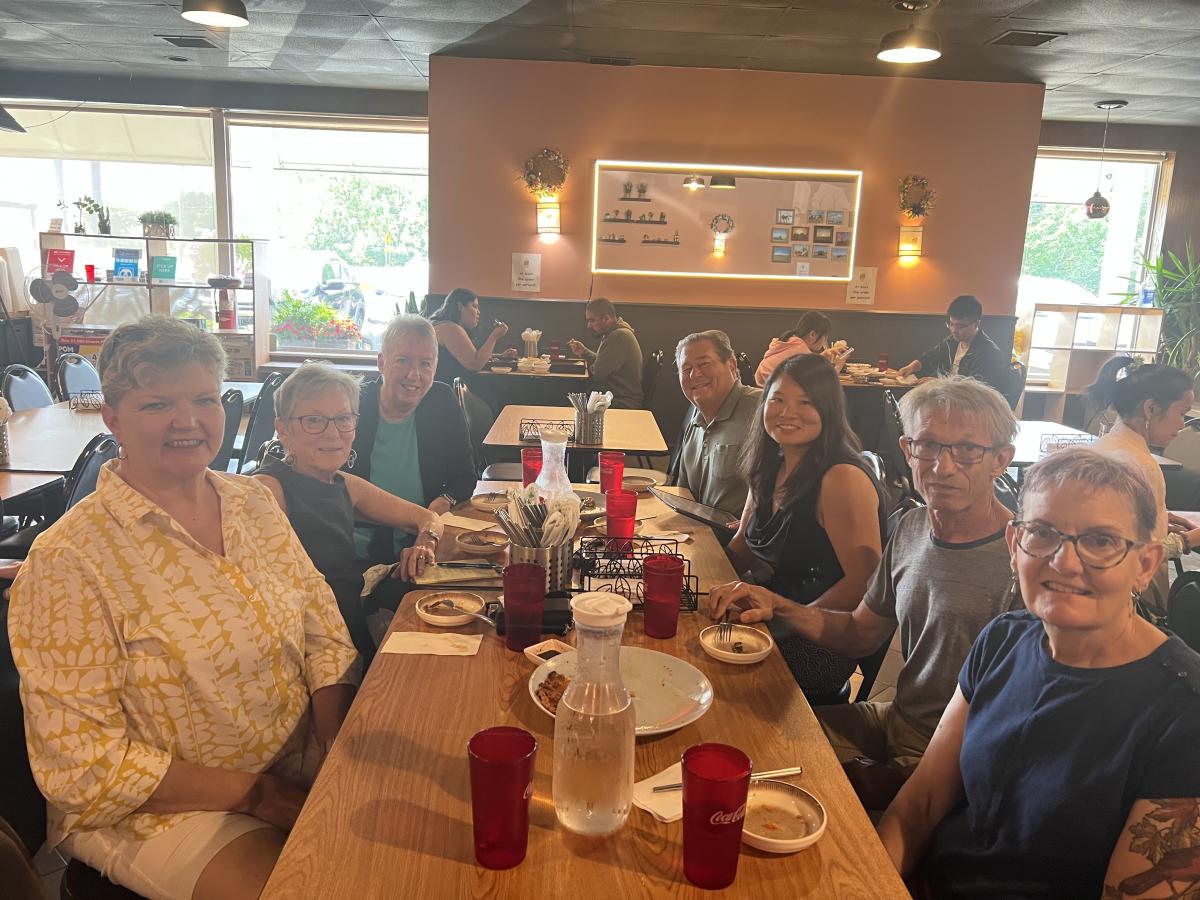 Kimchi, located at 1904 Sagamore Parkway W in W. Lafayette, where Baja Peninsula and several other restaurants have been in the past, has been adopted by the international community as a place to get authentic Korean cuisine in a comfortable setting. When we arrived at 11:30 am, we were able to find a table for 7, which included Ken McCammon, the most recent addition to the DDD's, but by the time we left, there were people waiting to be seated.

We started with two pancakes from the appetizer menu: Seafood and Kimchi. They graciously prepared the Kimchi pancake vegan at our request. These are not your mother's pancakes; they are large crispy discs of savory deliciousness, the seafood cooked perfectly and the Kimchi pleasantly spicy—a spectacular way to start a meal, praised by all.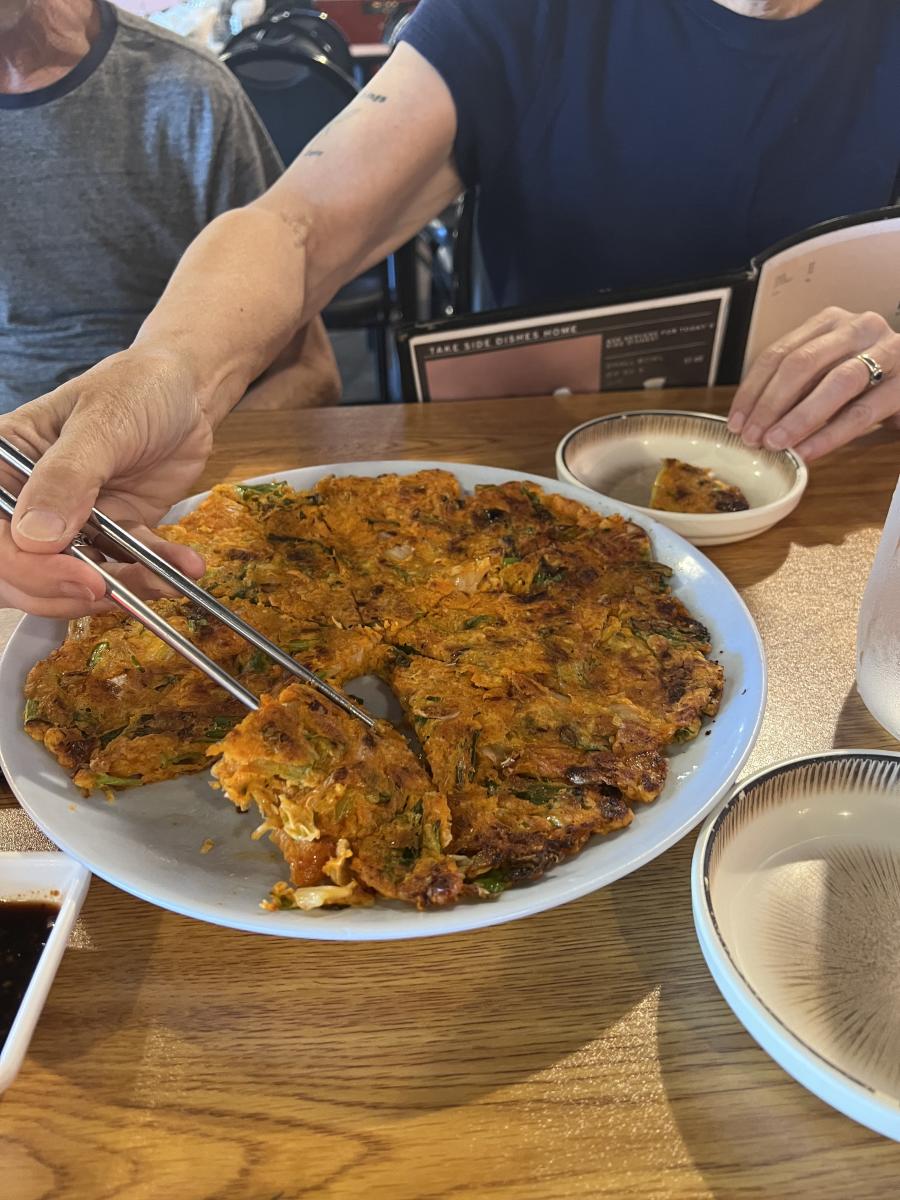 Some of us would have been satisfied with just the pancakes, but we didn't stop there. Kimchi has a wide array of soups, rice and noodle dishes, meat plates, and lunch boxes.  

Meals are accompanied by small side dishes called BanShan, traditionally eaten with rice. Our selection included 6 small bowls of spicy bean sprouts, plain bean sprouts, sesame broccoli, chili pickled radish, fish cake, and kimchi. All good, but the radish stole the show.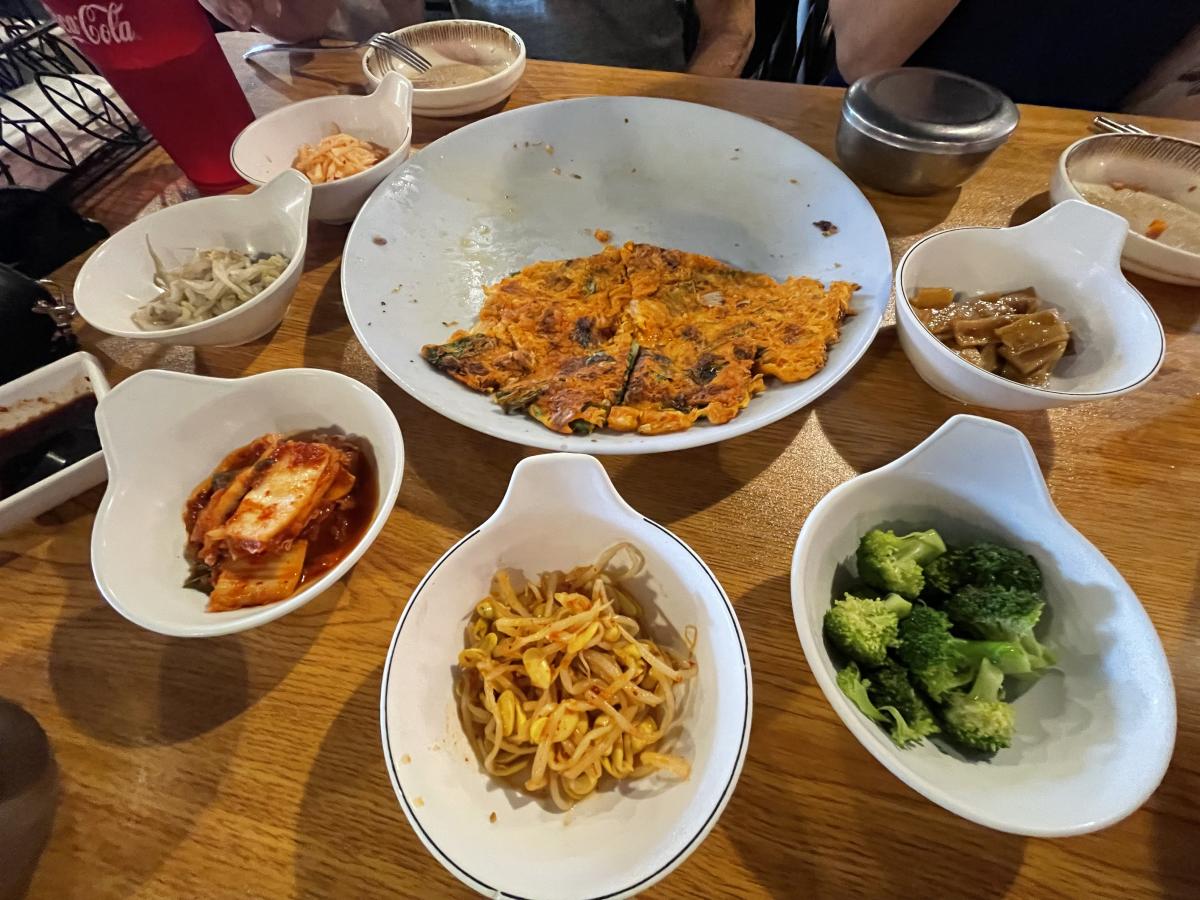 Soon after the BanShan arrived, piping hot meals appeared, almost lost in the steam.  

Jerry had Bulgogi Udon, marinated beef with noodles, with lots of spice. Jerry loved the accompanying vegetables, and Jerry always cleans his plate.

Jo sampled the pancakes, but feasted on her Holy Mackerel, thrilled that it was grilled, not breaded. It was fishy, in a nice way, and great with the chili sauce.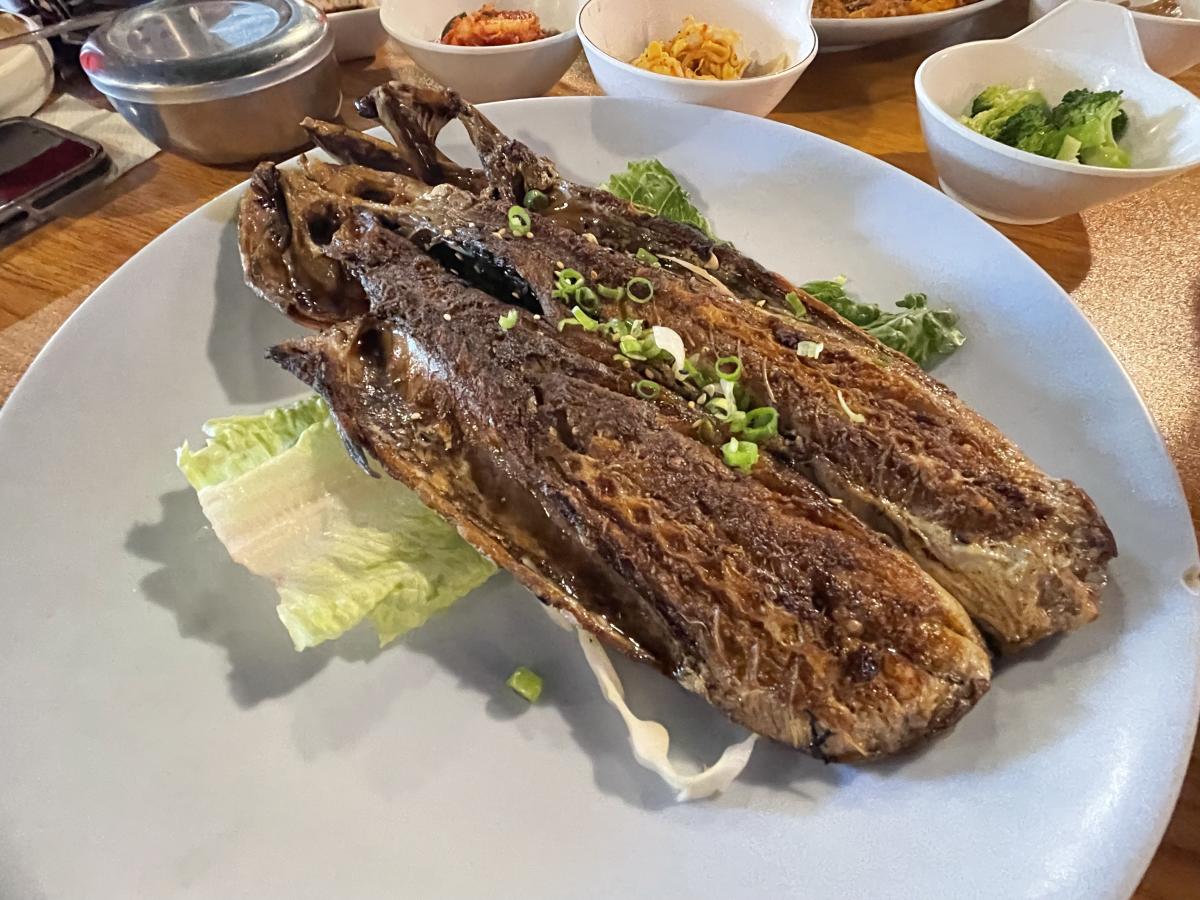 Tetia loved the texture of her Silky Tofu Stew with Beef. The spice level was perfect for her, traditionally prepared, and peppery. Tetia is the only DDD who had eaten at Kimchi before and has favorite dishes, but tried something new and wasn't disappointed.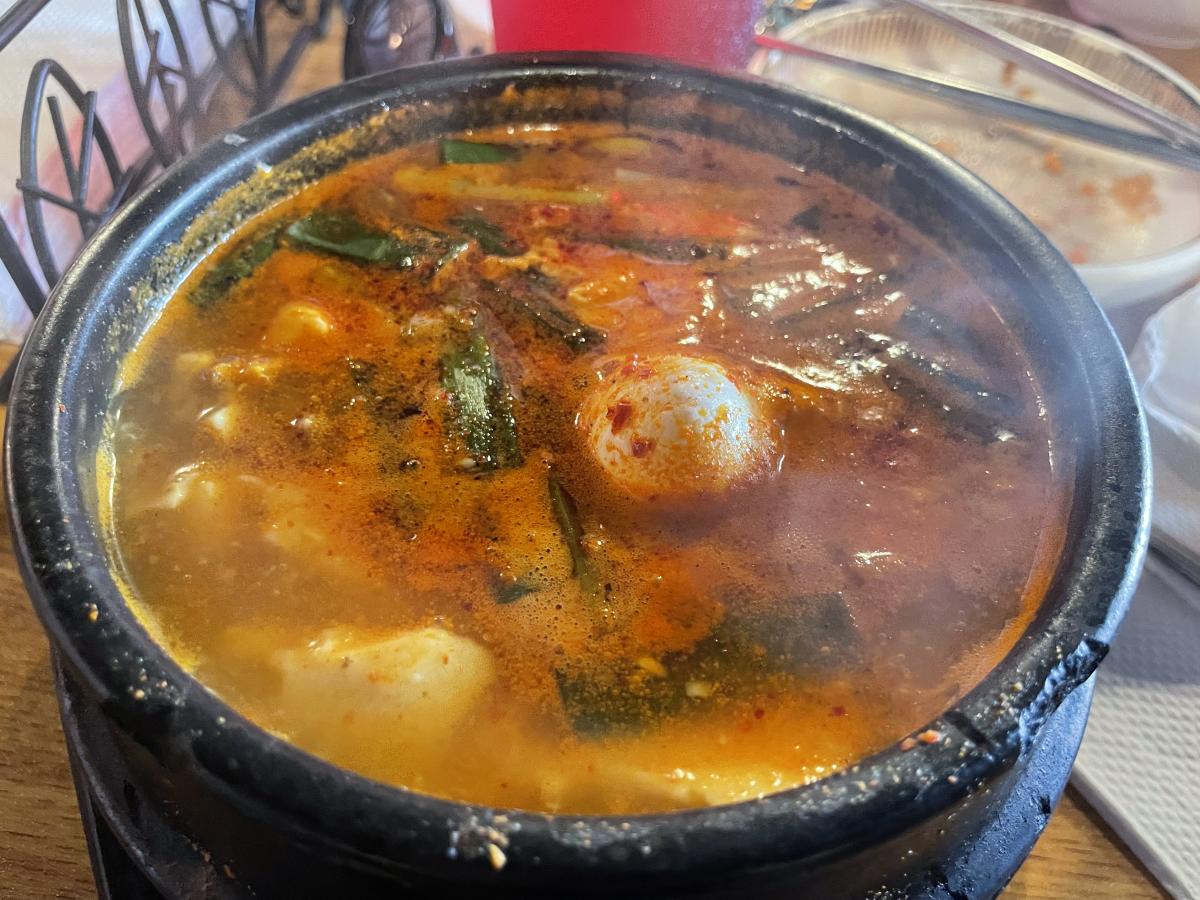 Kay was impressed with the size and heat (both temperature and spice) of the Spicy Seafood Bibimbap. Prepared in a stone dish, replete with whole shrimp, mussels, octopi, calamari strips, and a fried egg on top. A bonus if you dig down, the rice at the bottom is caramelized, crispy, and yummy.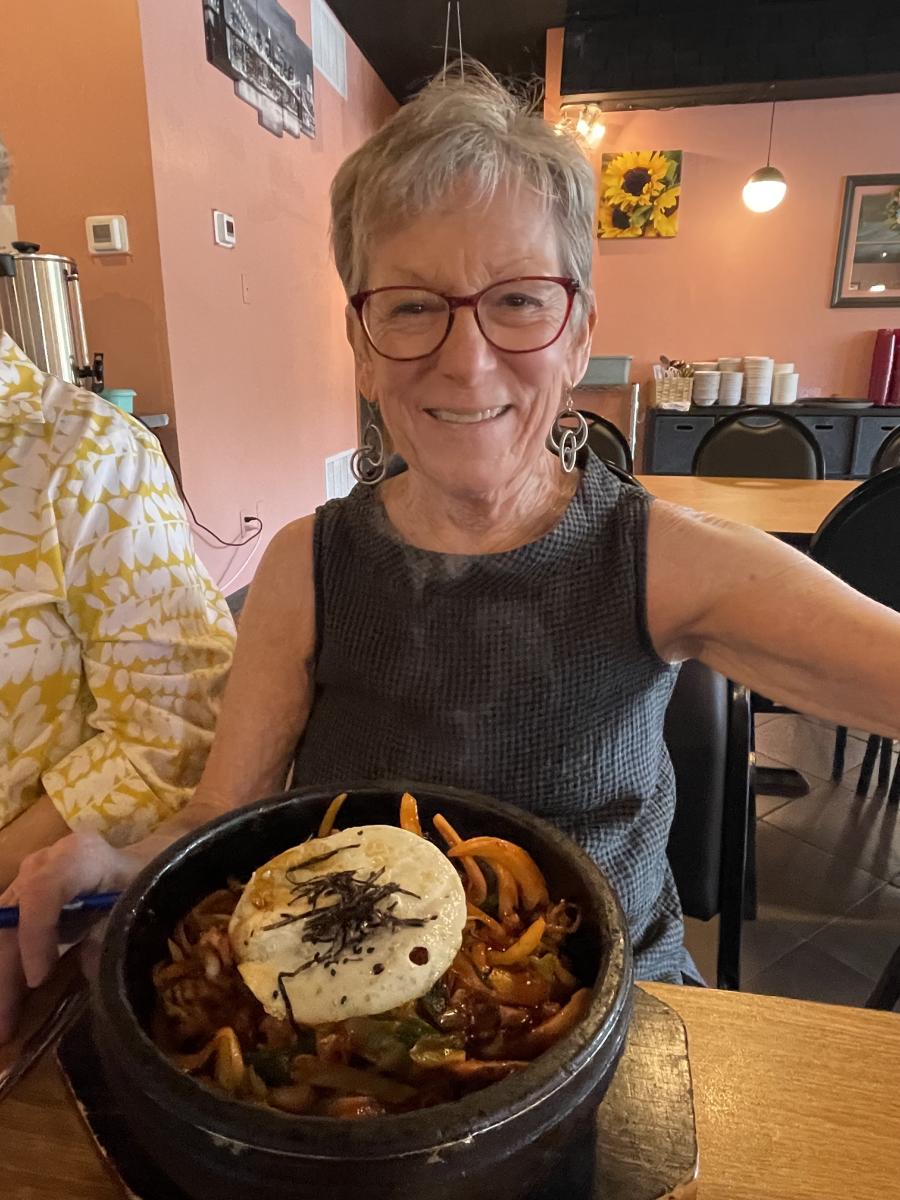 Margy raved about the Kimchi Pancake and pickled radish in chili sauce. She's coming back just for those. She ordered Soybean Paste Stew, found it a bit salty, but adding white rice tamed the saltiness and made it more stew-like. She also had a report from home: "I ate my leftover kimchi pancake for dinner. It was as good cold as it was warm at lunch". She's also investigating making her own pickled radish in chili sauce at home.

Ken and Linda ordered lunch boxes. They are lunch specials and come with several compartments with different treats. Linda had chicken teriyaki and Ken had bulgogi, which was a little sweet, a little spicy, and the vegetables were a good complement. Both were impressed by the vegetable-filled fried dumplings.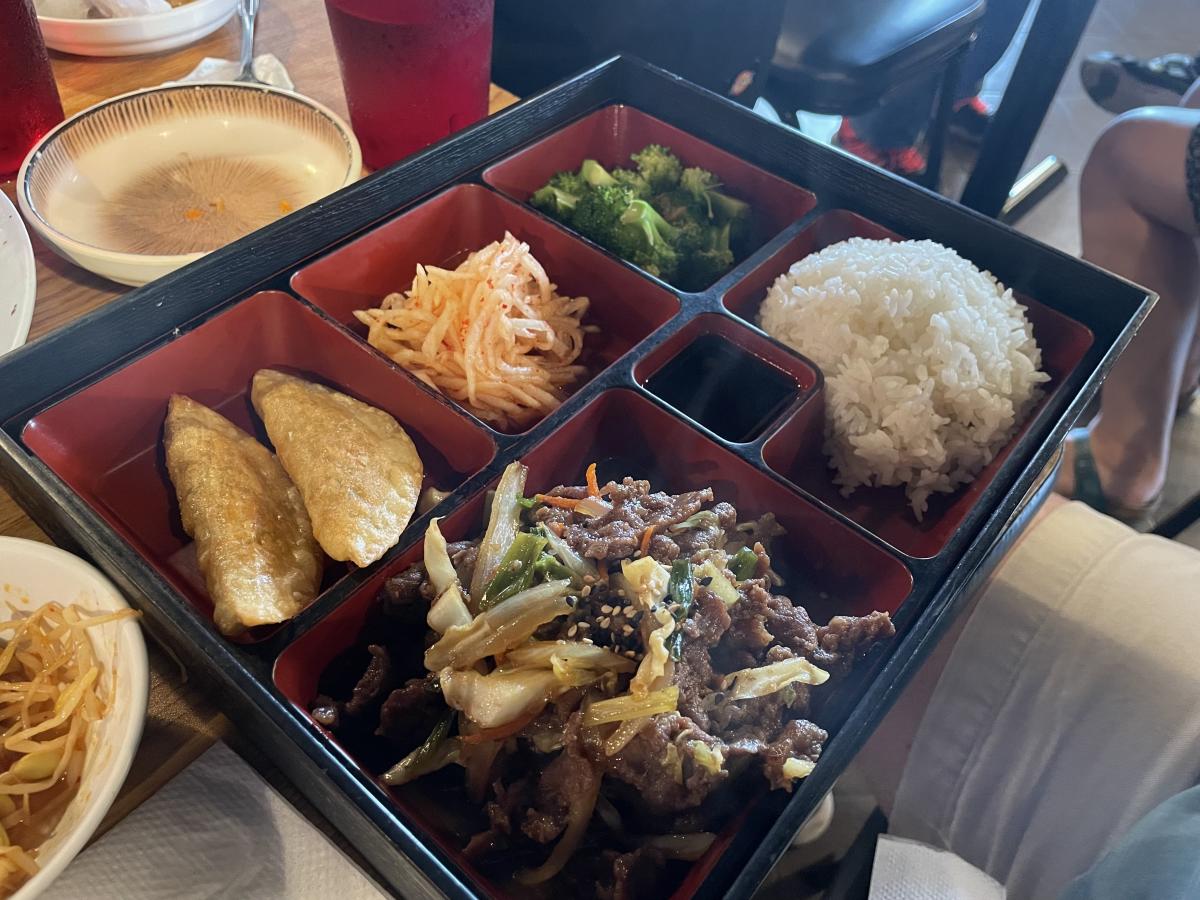 Take your appetite with you when you visit Kimchi and you won't be disappointed.  Delicious made-to-order Korean food, big portions, and friendly, helpful staff.

More Dining Divas & Dudes Reviews: