We are always encouraging the Dining Divas & Dudes to come up with words to describe our meals other than good or delicious. Here are a few: appetizing, delectable, heavenly, luscious, piquant, rich, savory, tasty, yummy. These pretty well sum up our group's reaction to a recent meal at Taste, which Jo rightly described as a feeding frenzy. Taste is a Chinese restaurant in West Lafayette's Levee Plaza (360 Brown St, WL). The Dining Divas, in an earlier incarnation, reviewed a small Chinese restaurant in this space, located at the back of the CT market, a large Asian supermarket. The market is gone; the space is now entirely devoted to Taste, an open attractive restaurant adorned with lovely calligraphy and ancient Chinese murals.  The chef extraordinaire/manager of Taste is Allen Dai, and our hard-working and friendly waitress was Coral.

Before we even ordered, I got this message from Diva Tetia: "My first impression is excitement! On Fridays, Saturdays, and Sundays, Taste has Dim Sum!!! Very excited to have a local restaurant that offers this". For the uninitiated, Dim Sum is a traditional Chinese meal made up of small plates of dumplings and other snacks, both savory and sweet, usually eaten at brunch.
Taste also has a hot pot buffet on weekends, with a 120-minute maximum eat time. Hot Pot is a Chinese cooking method and type of meal involving a simmering pot of soup in the middle of a dining table with a variety of raw ingredients (meat, seafood, mushrooms, vegetables, tofu, noodles/starch, etc.)

We ordered several items from the Dim Sum menu to share: Siu Mai, pork and shrimp dumplings; Ha Gao, shrimp dumplings; Short Rib with Black Pepper Sauce; Shanghai Xiang Long Bao, a Chinese soup dumpling with pork; and Steamed Creamy Egg Yolk Bun, which was warm and sweet. Tetia noted that "all were incredibly delicious and authentic and at the same level as the best dim sum shops in Chicago." High praise indeed.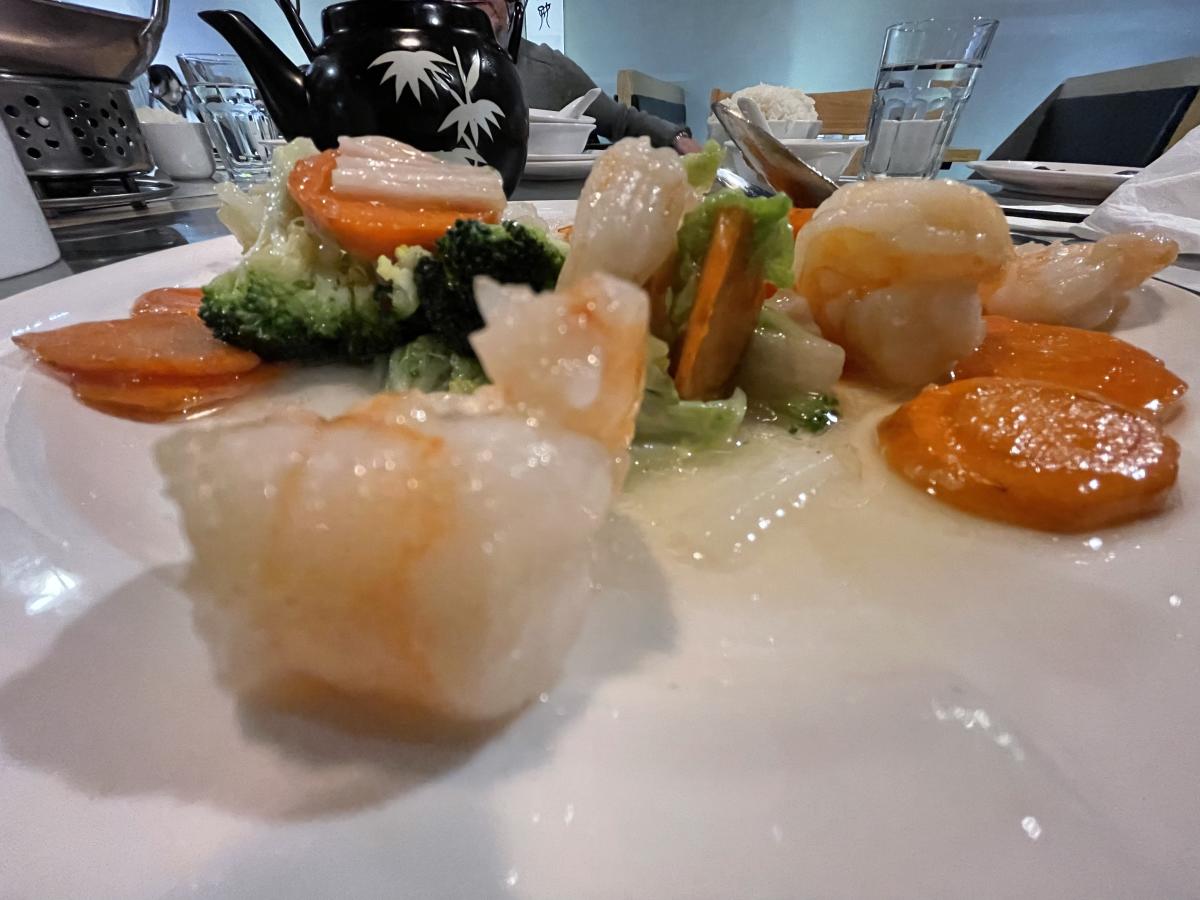 From the main menu, we ordered Shrimp with Mixed Vegetables, Salt & Pepper Jumbo Shrimp, Braised Beef-brisket Noodle Soup, Spicy Dry Pot Lamb, Tengmai Fish (a soup with rice noodles, fish, and Sichuan peppers), Orange Tofu, and String Beans. Plenty to share with only a few leftovers. Five stars for the whole meal, with special kudos to the Salt & Pepper Shrimp, Siu Mai, Spicy Dry Pot Lamb, and String Beans. Rice is ordered separately rather than included with each dish. And Coral kept the hot tea coming.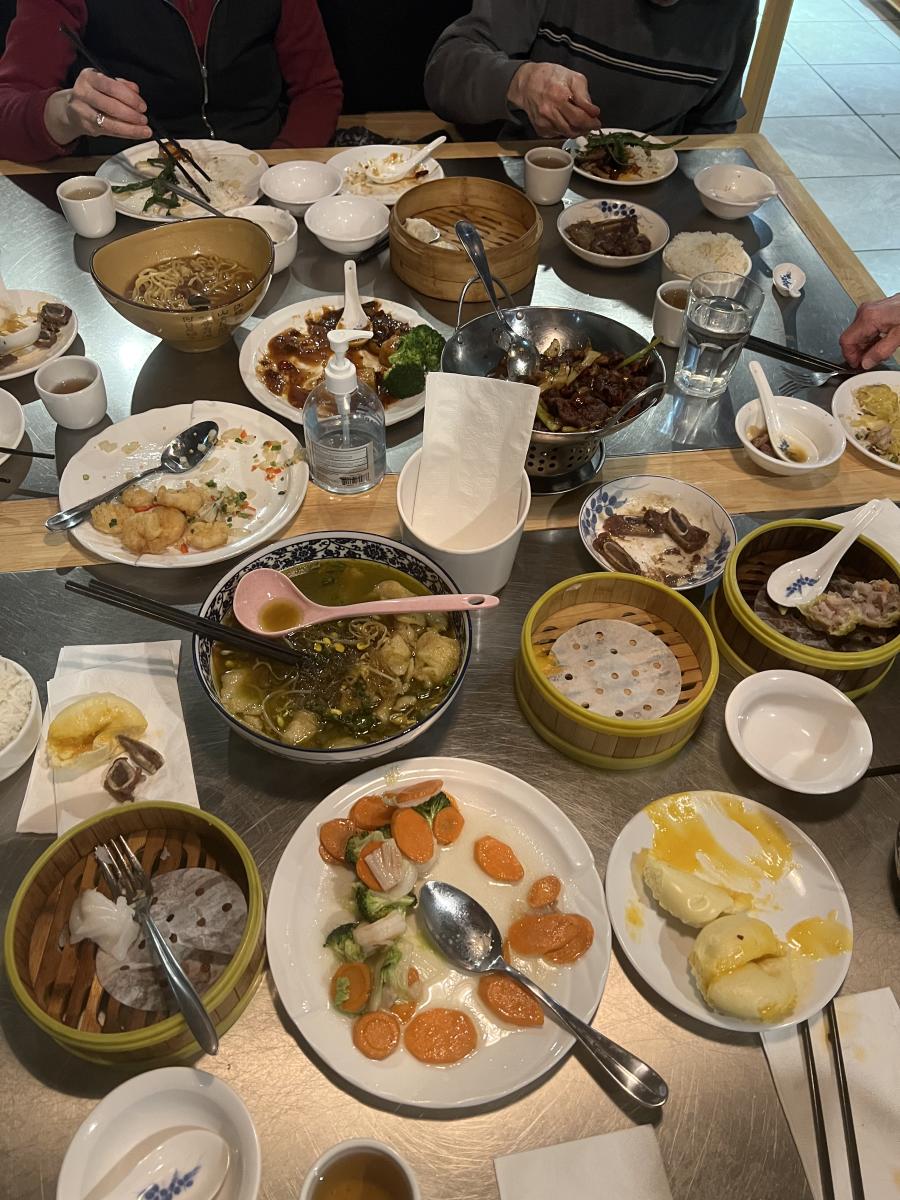 A few comments from satisfied eaters. Margy on the String Beans and tofu: "Not your typical boiled or canned Green Giant. These were fresh, full-sized, sauteed with garlic and chili. I kept going back for more! Orange Tofu was soft and cubed with a generous amount of orange sauce that paired perfectly with sticky rice and the string beans". Iseral: "I normally do not like fish soup, but the Tengmei Fish was yummy and I would order it again. The green beans were to die for! I am also not a tofu fan, but the Orange Tofu was surprisingly delicious". Linda, who has never met a shrimp she doesn't like, swooned about the Salt & Pepper Jumbo Shrimp: "The shrimp were cooked to perfection - juicy and tender on the inside with a crispy and flavorful coating on the outside. The salt and pepper seasoning was spot on, balancing out the flavors and elevating the taste of the dish." Tetia added: "The shrimp had an amazing crunch and great flavor. The crunch was still there at the end of the meal!" Tetia's take on a table favorite, "the Spicy Dry Pot Lamb was served over a flame; the lamb was perfectly cooked and served with green peppers, hot peppers, onions, lotus root, cabbage, and broccoli. Very nice heat (spice)!" Even those who prefer mildly spiced food loved this dish, but make sure to move the hot dried peppers to the side of your plate. Jo loved the Shrimp with Mixed Vegetables and the String Beans, but was especially pleased with the whole experience: "It was great Tetia knew so much about Chinese food and that Linda could share her past experiences at Taste. And a friendly customer helped with translation and explained the ancient mural to us." Jerry's favorite was "a tie between the lamb and the string beans".  Kay was delighted there were so many eaters that we got to sample lots of dishes.  And that you can fit so much food on those small plates!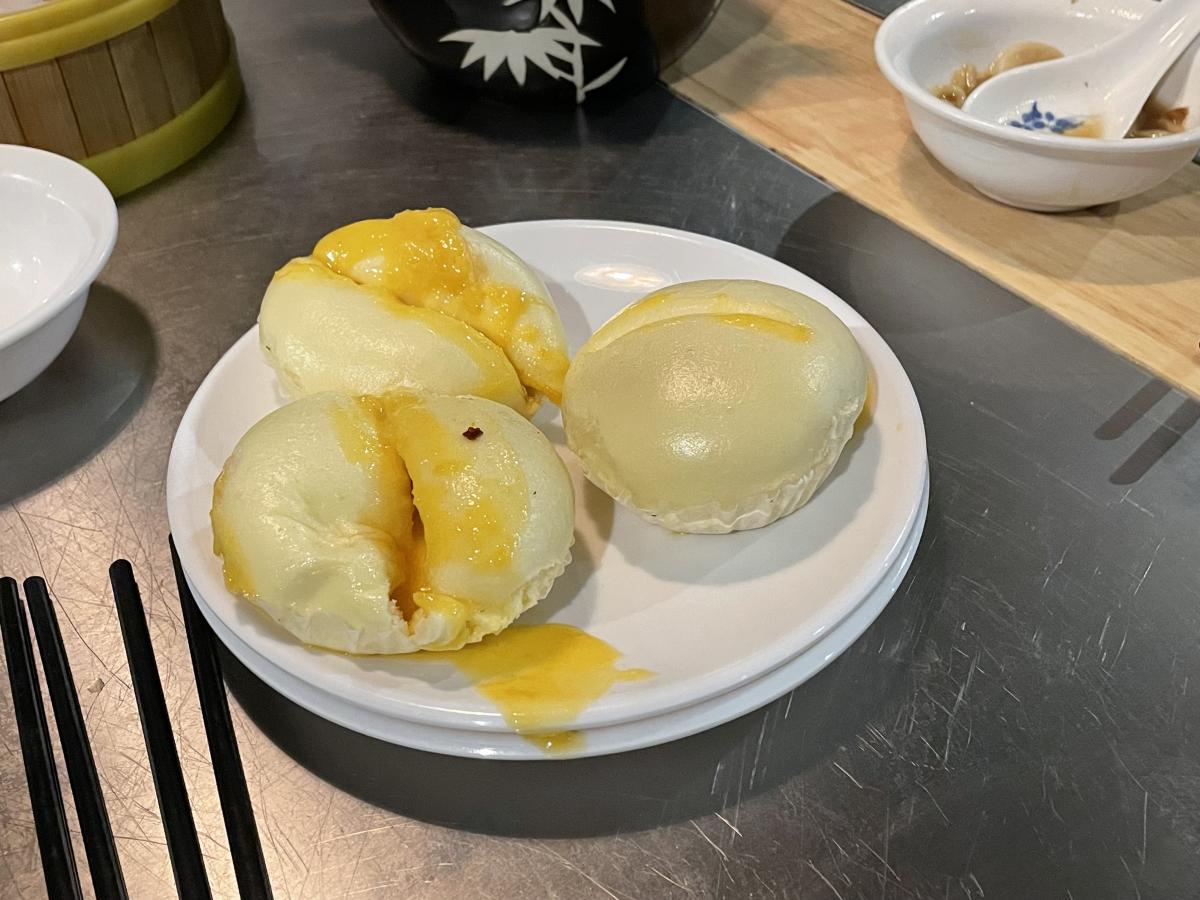 At the end of the meal, we were discussing what to review next and Jerry said "Let's come back here!"  Taste was truly appetizing, delectable, heavenly, luscious, yummy, and so on!