Let's go to the Eleventh Houuuuuse! Wait, I thought this was the Spot? And they have pizza here?! Sometimes?! Hold on. I got it…Bagels by morning, hangout by night, pizza on the weekends? Whew! What a trip! Let's dig in.
You can find the Eleventh House just south of downtown on 4th street. It's the same location as the Spot and Snuggs Pizza. Same place, different times.
We convened upon the somewhat notorious building (there is usually provocative public art on display!) during the Eleventh House hours. The Eleventh House serves Scholars Inn Bagels and crafts specialty teas and coffees during the morning(ish) hours. They do not disappoint! The place looks cool. There's no way around it, you have to acknowledge it gives a very cool vibe. Cool kids go there, it's a fact. Maybe it's the bagels? Maybe it's the artsy decor? Maybe it's the tarot readings? Maybe it's the drag shows? Maybe it's the super sweet outdoor seating? It's definitely the bathrooms, stylized with floor to ceiling graffiti style artwork, I digress….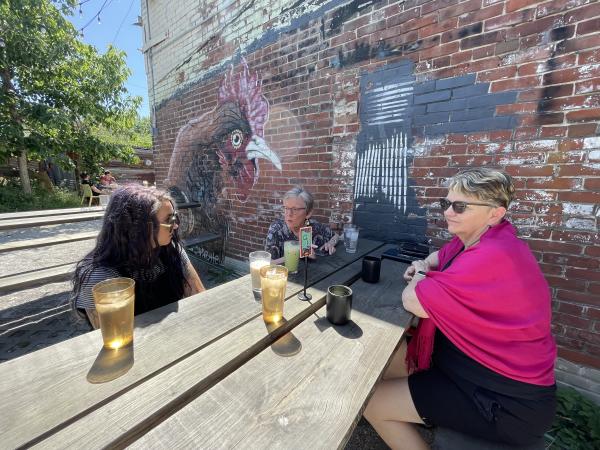 We descended upon the bar for instruction from our fearless leader, Jo. Yes, THE Jo Wade. I know... Our mission was clear, our only guidelines were to all get different things. The staff were friendly and helpful, with many answers to our seemingly endless questions. With a menu like theirs, questions are going to happen. So many choices, so little time!
Emily, opted for The GOAT on everything bagel with curry lentil soup, she was very excited about the soup. "I like the combination of the goat cheese, berries, arugula, and lemon zest. This place is so unique, and that's why I love it. The curry soup is the best! Chunky and not totally blended, and good portions!" She wet her whistle with a hot matcha latte with lavender and oat milk, undoubtedly delicious.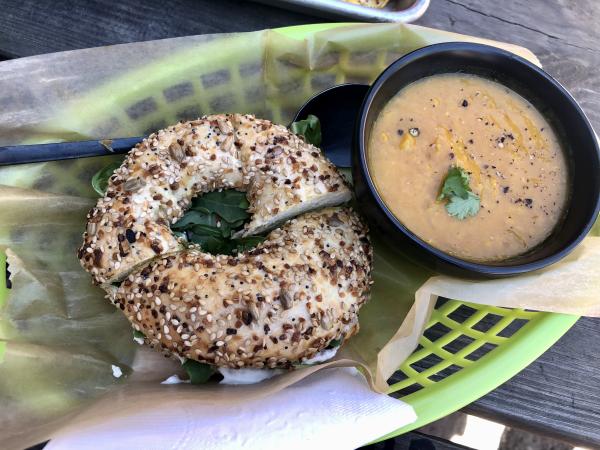 Kay went with the Avocado on jalapeño cheddar bagel. She added an egg, as one does, with a side of curry lentil soup. She also noted the optimal portion size; the little darling can scarcely handle a whole bagel, but completed the task at hand like the champion she is! "My god it's so good, everything is so fresh. Really fresh avocados!" Her beverage of choice was iced matcha with rose, perfectly balanced.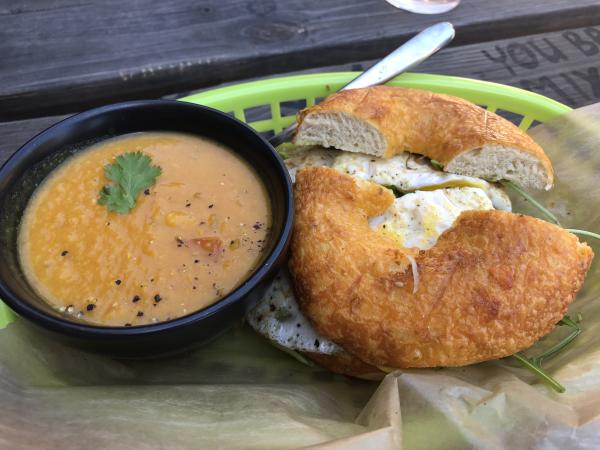 Myself, acting in accordance with the guideline set before me, chose the classic lox on whole wheat bagel with a side of citrus. Let. Me. Tell you. This lox bagel just may be the lox bagel to end all lox bagels. Bask in its glory. Sheer perfection! In my experience with whole wheat things, sometimes the texture can be a bit… strange. Not this guy! This guy wasn't weird at all, in fact, it was the kind of bagel you can take home to mom and pop! I'd have normally gone with the soup myself, but it seemed well accounted for. I chose the citrus, and somehow even that was better than usual. Paired with the best iced London fog with oat milk I've ever had, I want to shout from the mountaintops! It was a whole experience, and I wonder if that meal ever thinks about me too…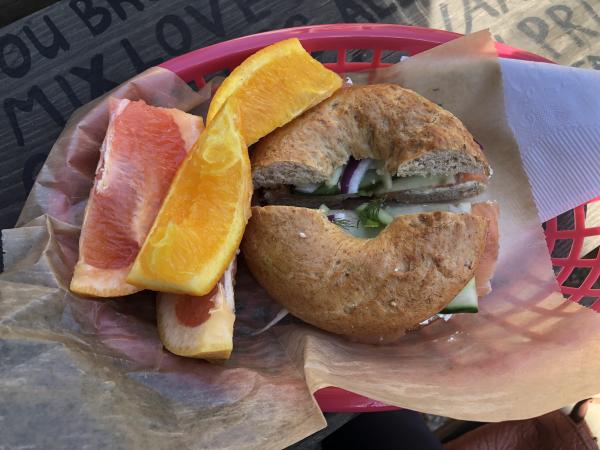 Our fearless leader, Jo had the fried Egg with cheese and an Americano with cream. She was impressed with her meal as well! Sometimes it can be tricky to eat new places with dietary restrictions, but she found it to be "Very accommodating, guy was so nice and it came out warm and satisfying"
Margy submitted her review in absentia, as she was plagued with the dreaded c-word, but seasoned in the art of eleventh housery at the time of our meeting. It goes as follows: "No matter the time of day I always get the Banh Mi breakfast bagel. I only mix it up by going with a different bagel (plain, all seed, cheese, jalapeno-which becoming my favorite!). My go to drink is call Good Karma. You have the option of having it served hot or cold and I usually go for hot, unless it's summer time and I'm getting my order to go. I LOVE the location because I can walk there from work. I normally take my lunch and never leave my office which is NOT good for your physical or mental health by the way. When it's nice out I sit on the patio outside and now that Jerry is retired he will sometimes be in town running errands and meet me there. Another thing I like about the location is that it's great for a place to have a morning meeting. The other room opposite the bar is big, with plenty of tables. Most people I know have never heard of or gone to the Spot. I think Tetia was the first one who suggested going to 11th House for an art meeting, because she is cool. And let's face it, the Spot is just a cool place to be!"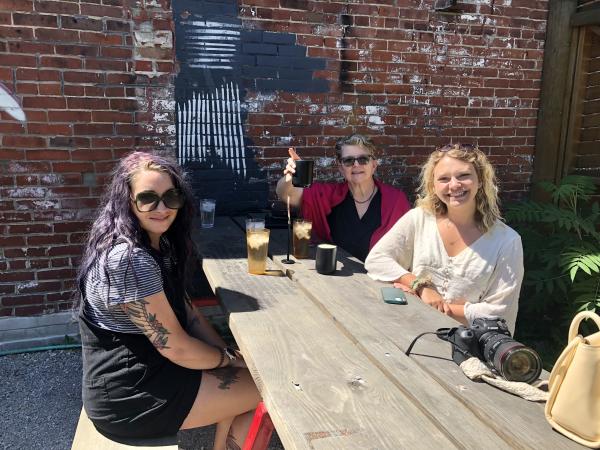 We enjoyed our meals in the bright sunshine of the patio seating area, which is a sight to behold! The perfect area is decked out with awesome night lighting, and a wild variety of seating options. The outdoor area alone is enough to bring a crowd, but add in all the other food and drink options and you're set for any occasion! Go see for yourself! You won't regret it!
Whitney Bell with the Dining Divas & Dudes shares this blog.
Dining Divas & Dudes Reviews!