Looking for a neighborhood gathering spot with a lively atmosphere perfect for meeting up with friends or enjoying a meal with the whole family? Ripple & Company is the place! We are excited to share the latest Dining Divas & Dudes review of this local hang out.  Enjoy!
Dining Divas & Dudes are back after a 2-year hiatus due to COVID.  Part of the Dining Divas group (Jo Wade, Margy Deverall, and Kay Conner) are back, joined by a motley crew of accomplished eaters; Dan DeCaro, Linda Eales, Jerry Hunley, Tetia Lee, Nancy Marshall, and Iseral Quintero. They are officially the Dining Divas & Dudes. The group met for a kick-off lunch at Ripple & Co where they sampled a good portion of their menu (appetizers, sandwiches, street tacos, sides, and desserts) and enjoyed the contemporary and comfortable vibe of Ripple!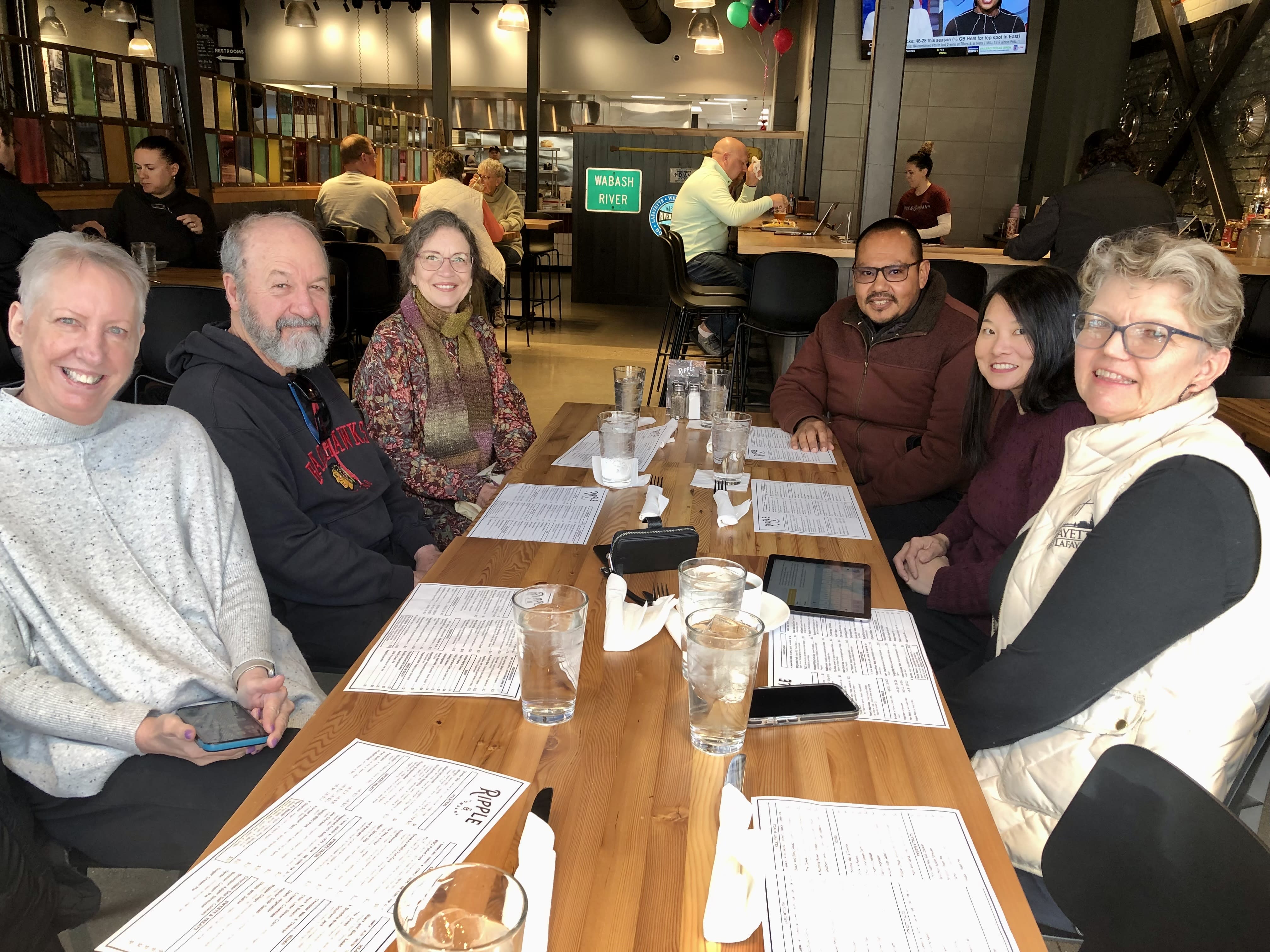 Ripple & Co is newly redesigned and repurposed from counter service to table service in the downstairs area. Chef Nik Emerick said the previous incarnation worked ok at lunch but was not as popular for dinner. Acting on customer suggestions and preferences, there is a new menu still centered on house-smoked meats and vegetables and a revamped dining space. Asked about the name, Ripple & Co, Emerick said it was twofold. Since East End Grill opened across the street in 2016 on the north end of Main Street, there is now a brewery, a wine bar, a new coffee shop, as well as Ripple & Co - a literal ripple effect in the neighborhood. According to their website: "Ripple & Company was created with the belief that every small act of kindness, whether it's a smile, a friendly gesture, or a shared meal can make a ripple effect in our community. That intention sets the tone for our friendly service and house-prepared menu."  

Emerick was a wonderful host, answering all our questions about the restaurant and the menu. He made it clear that the staff and the customers are equally important in his equation. If the staff is happy, there is incentive to make the customers happy. He is dedicated to that philosophy. Our server, Kaitlin, was a testimony to that idea. Her service was flawless, friendly and efficient.

What we ate:

Jo—Smoked Philly Fun-Guy - Smoked portobello mushrooms smothered w/cheese, onions, & green peppers. Jo had it without a bun and with roasted Brussels sprouts on the side. "Horseradish mayo set off the smoky mushrooms and cheese perfectly. Brussels sprouts deliciously roasted."

Tetia—Hot Pastrami - Smoked pastrami topped w/sauerkraut, Havarti, & remoulade on a Brioche bun. "Generous portion. Peppery crust of the pastrami balances the saltiness of the cheese and kraut. Brioche was the perfect bun for this sandwich –  buttery and delicious and the Brioche provided the perfect vehicle for an unctuous bite." Tetia had a side of Cheddar Mac & Cheese which is one of the restaurant's favorite sides, deservedly so.

Dan—Jerk Chicken Street Tacos - Smoked jerk chicken w/chipotle. Served with chips & salsa. "Tacos had very good heat balanced by chipotle ranch sauce."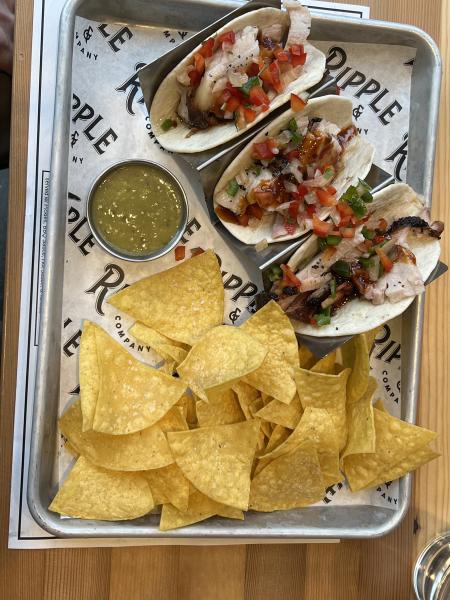 Nancy—The Desi Arnaz -  Our version of a traditional Cuban made w/ our house pickles. "Very tasty meat, spicy, and the pickles are great!" This was served with Ripple Chips, mesquite BBQ chips with homemade French onion dip. We all enjoyed trying Nancy's chips, which were smoky and delicious.  

Jerry—Peppered Pork Belly Street Tacos - Smoked pork belly w/hot & sweet glaze. Served with chips & salsa. "Really good and quite happy with the serving portion."

Margy—Buddha Bowl -  Chickpeas, Quinoa, mint, & veggies. This is one of the vegan selections. "The lemon dressing was a good topping for this healthy mix, but there wasn't enough of it!"

Linda—P.L.T. - Similar to a B.L.T., but made with our house smoked pork belly and lemon mayo. Linda ordered a side of the delicious roasted Brussels sprouts. "Pork belly was falling-apart tender and yummy; the baguette was just right and the Brussels sprouts were perfect."

Iseral—Three Empanadas (veggie or brisket). Choice of Soyrizo or Brisket. Garnished w/Cotija cheese & served with Salsa Verde. "Tasty, but I'd like the sauce spiced up a bit more!)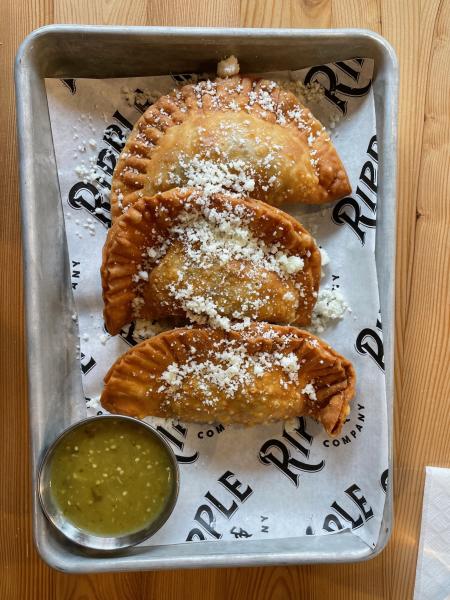 Kay—Tangy BBQ Pork Street Tacos - Smoked pulled pork w/bama sauce. (A white barbecue sauce made with mayo instead of ketchup) with a side of the other most popular side dish, Chili Lime Sweet Corn. "Loved the tender pork with the bama sauce; I could have eaten a bowl of that. Chili lime street corn was a great combo with the pork."

A look at our empty plates attested to how much we all liked our food, but we forced ourselves to sample the desserts. These are 5 offered: Chocolate Sea Salt Cookies (3), Bourbon Apple Streusel, Boston Cream Pie, Tartle (a chocolate mousse turtle tart from France!), and Sugar Cream Pie. The Tartle was the favorite followed by the house baked chewy, yummy Chocolate Sea Salt Cookies, Boston Cream Pie, baked-to order Apple Streusel (some felt a scoop of vanilla ice cream would be a good touch), and the Indiana state pie, Sugar Cream. All were delicious and the portions were ample. Save room!
We are happy to welcome back Dining Divas & Dudes! We can't wait for future reviews!
Enjoy these delectable images from Dining Divas & Dudes visit!