If you're looking for a Mexican restaurant that's a cut above the rest, look no further than Nom Nom Tacos and Tequila. Once you've experienced the colorful upbeat atmosphere, incredibly delicious food and drink choices, and impeccable service, you'll want to return for more!
Dining Divas & Dudes decided to visit Nom Nom Tacos and Tequilas at 102 N 3rd Street in downtown Lafayette because it was highly recommended by Diva Tetia Lee, and our glowing approval of our experience at Nom Nom is unanimous.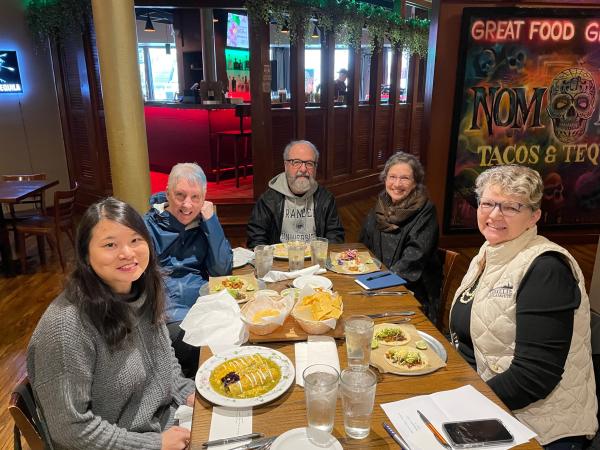 Upon entering the restaurant, we were escorted to our table by Paula, our friendly and considerate server. We couldn't help but notice the large mural on the wall, the theme of which was inspired by the Dia de Muertos holiday, and painted by Michigan artist Kevin Burdick, who owns Scraps Designs. Tetia told us that our local arts organization TAF helped facilitate the painting of this brilliantly colored mural.
We were greeted by Hector Ordaz, owner of Nom Nom, an energetic and creative man who has previously opened two other restaurants, and also works as a DJ. Hector told us that Nom Nom had a soft opening in February 2022, and a Grand Opening is in the works, although a date has yet to be determined. He said that one thing that stands out about downtown Lafayette is the welcome he received from other business owners, who have been warm and supportive, rather than cold and competitive. 
Hector explained that the food is exceptional at Nom Nom in that everything is handmade from fresh ingredients, including the delicious sauces and tortillas. The bartender, Dusty, told our group that the margaritas are infused in-house with fresh ingredients, and this process takes four weeks before it's ready to be served. From the menu: "Our trademark Margaritas – We infuse our 100% agave azul tequila for a minimum of 4 weeks to get these unique house specialty infusions."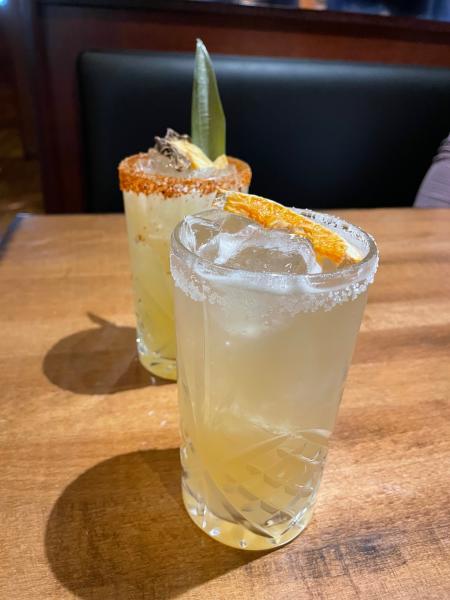 We were extremely impressed with the beautiful presentation of the food. This is not the typical Mexican restaurant that serves a couple of tacos with beans and rice on the side. Described as Modern Mexican Cuisine, Nom Nom offers a true, fine dining experience. From the delicate edible flowers to the stenciled powdered sugar design that decorated the platter under one of our desserts, this was a feast for the palate and the eyes. 
What we ate:
We shared chips with three sauces – Drunken Sauce (morita chile, pasilla chili, tomato, garlic, onion, beer), Green Sauce (avocado, cilantro, onion, serrano peppers, garlic), and White Sauce (mayo, plain yogurt, habanero pepper, garlic, onion, cumin). All of these sauces were tasty, and a few of us agreed that we liked the white sauce most of all. The chips were warm and crispy, the sauces just the right balance of sweet, spicy, and smoky. 
Jo  - Vegetarian Taco – Grilled portobello mushroom, asadero cheese, bell peppers, grilled onions, guacamole, served on beet tortilla. Phenomenal veggie tacos that had more guac than expected, given the current price of avocados. These were even better garnished with some of the white sauce.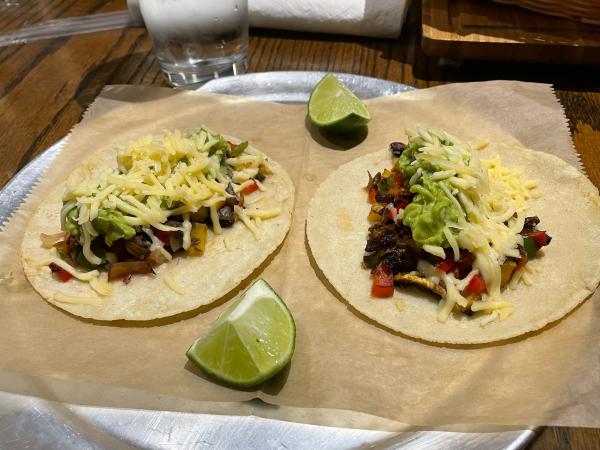 Tetia – Enchiladas Suizas – Stuffed with chicken, topped with sour cream, jack cheese, and green sauce. Delicious! Healthy portion of three enchiladas, which were topped with sweet corn. Plate was decorated with microgreens and roasted hibiscus. Gorgeous presentation!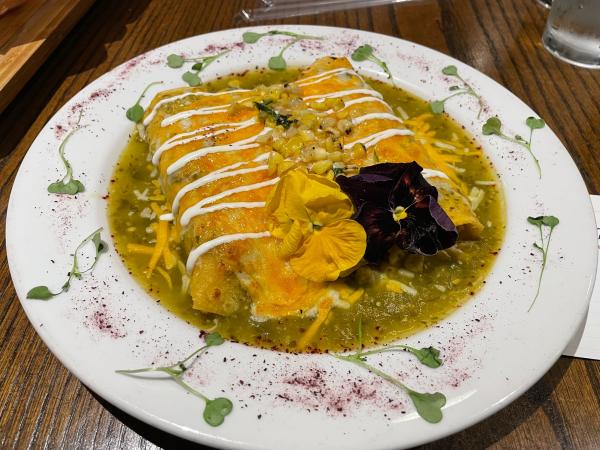 Dan – Triple Platter – One green chicken enchilada, one ground beef supreme crispy taco, one chipotle crema cheese quesadilla. Plate was decorated with lovely frilly edible pansies. Presentation was excellent! 
Linda – Al Pastor taco– marinated pork, pineapple, cilantro, salsa verde, and Carne Asada taco – Adobo marinated steak, melted oaxaca cheese, tomatillo salsa, onions, cilantro, lettuce. Linda said the pork seasoning was very balanced by the pineapple and the salsa verde, and the oaxaca cheese melds perfectly with the tomatillo salsa. There was so much food on the flour tortillas they nearly fall apart!
Nancy – Shrimp taco – shrimp tempura, vinegar cucumbers, cilantro crema, pico de gallo, slaw, and fish ensenada style taco – tilapia tempura, red cabbage, pico de gallo, pickled red onion, agave chipotle mayo. The blend of flavors on both of these tacos made them unexpectedly flavorful. The tempura was not soggy at all, and retained a light crispness in spite of the sauce. Loaded with cabbage, they were crunchy and quite filling.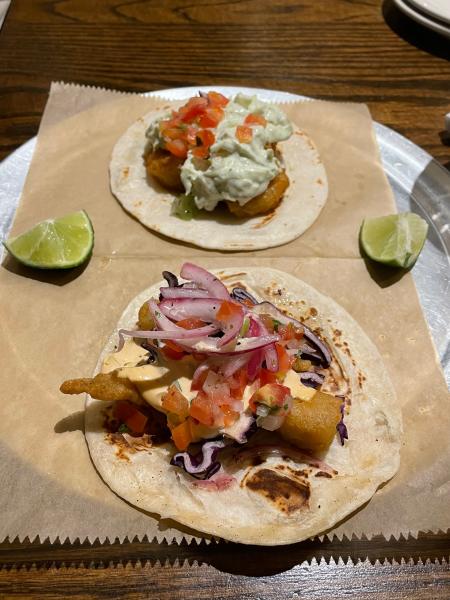 Kay – Nom Nom Nachos – Jack cheese, pico de gallo, cilantro crema, guacamole chipotle crema. Kay had pulled pork added to her nachos. She said they were delicious, and this appetizer was enough for a meal – probably even a meal for two. She enjoyed the perfect combination of ingredients. Kay also had the Shrimp Ceviche – Pineapple mango, tomato, cucumber, red onion, cilantro, tostones. Kay enjoyed the beautiful presentation of the ceviche with tostones (plantain chips), and the fresh lime and pineapple flavors. 
Margy -  Like Jo, Margy also had the Vegetarian Taco. She was impressed and appreciative of the excellent preparation of the "vegan option", which she said is treated as an afterthought at some restaurants, but not so at Nom Nom. The portobello was cut in small pieces and was not over or under cooked, had a good texture, and was very flavorful. 
Jerry – Like Dan, Jerry had the Triple Platter. In fact, he'd eaten it previously, and recommended it to Dan because he liked it so much.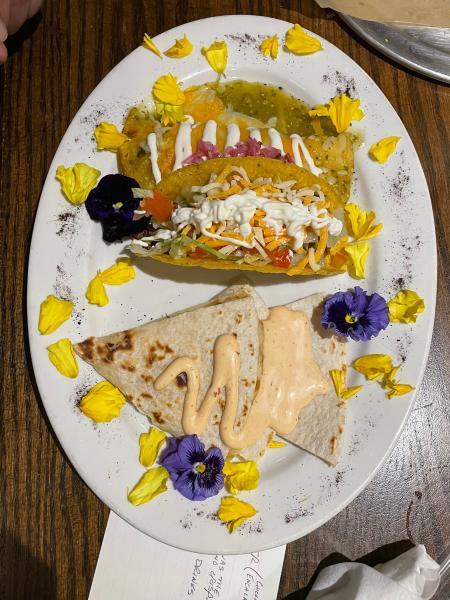 Desserts we shared – 
Churros – stuffed with caramel and strawberry, served with margarita ice cream and chocolate sauce. We all agreed that the presentation of this dessert was absolutely gorgeous! The dessert is served in a long stemmed glass with a delicate stenciled powdered sugar design on the plate that held the glass. The margarita ice cream was very refreshing with hot churros.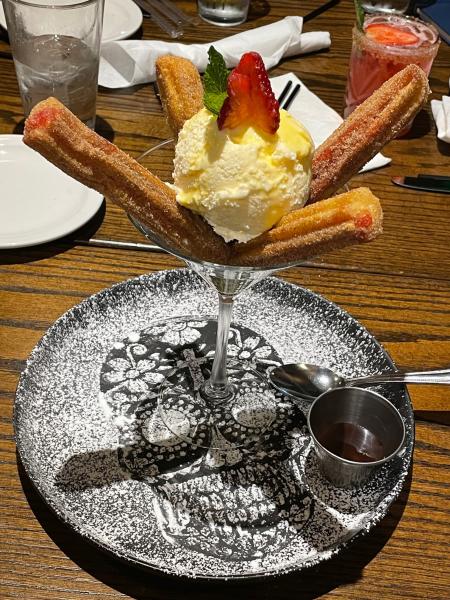 Nom Nom Pan de Muerto – From the menu: "Our signature dessert, a traditional bake filled with whipped cream, hazelnut spread, and strawberries". Subtle sweetness with fresh strawberries. Yummy chocolate surprises throughout. 
A few of us sampled the alcoholic beverages. Several Divas and Dudes tasted the hand crafted strawberry margarita, and a couple of us were treated to a shot of mezcal. We all thought the margarita was refreshing and tasteful. Jerry had a tequila flight – one entry level, one medium, and one high end. His favorite was the mid level. Margy had a jalapeño and pineapple drink that she thought was great!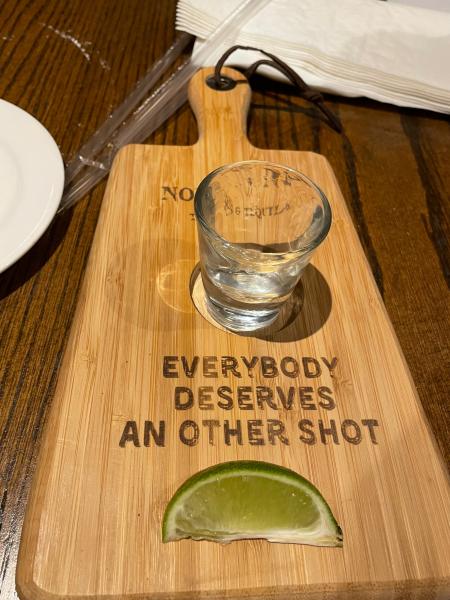 Be sure to visit Nom Nom and enjoy the great selections!
 
Dining Divas & Dudes review Ripple & Company
Looking for a neighborhood gathering spot with a lively atmosphere perfect for meeting up with friends or enjoying a meal with the whole family? Ripple & Company is the place! We are excited to share the...
Continue Reading