Full disclosure: I was initially intimidated yet excited when walking into The Spinning Axe. I've never picked up an axe, let alone thrown one, so honestly, I didn't know what to expect.
However, as soon as I got my initial throw out of the way, the nerves left, and the competitiveness slowly shined through. All in all, it was a great experience, and I recommend that everyone step out of their comfort zone and try something new and exciting, like throwing axes!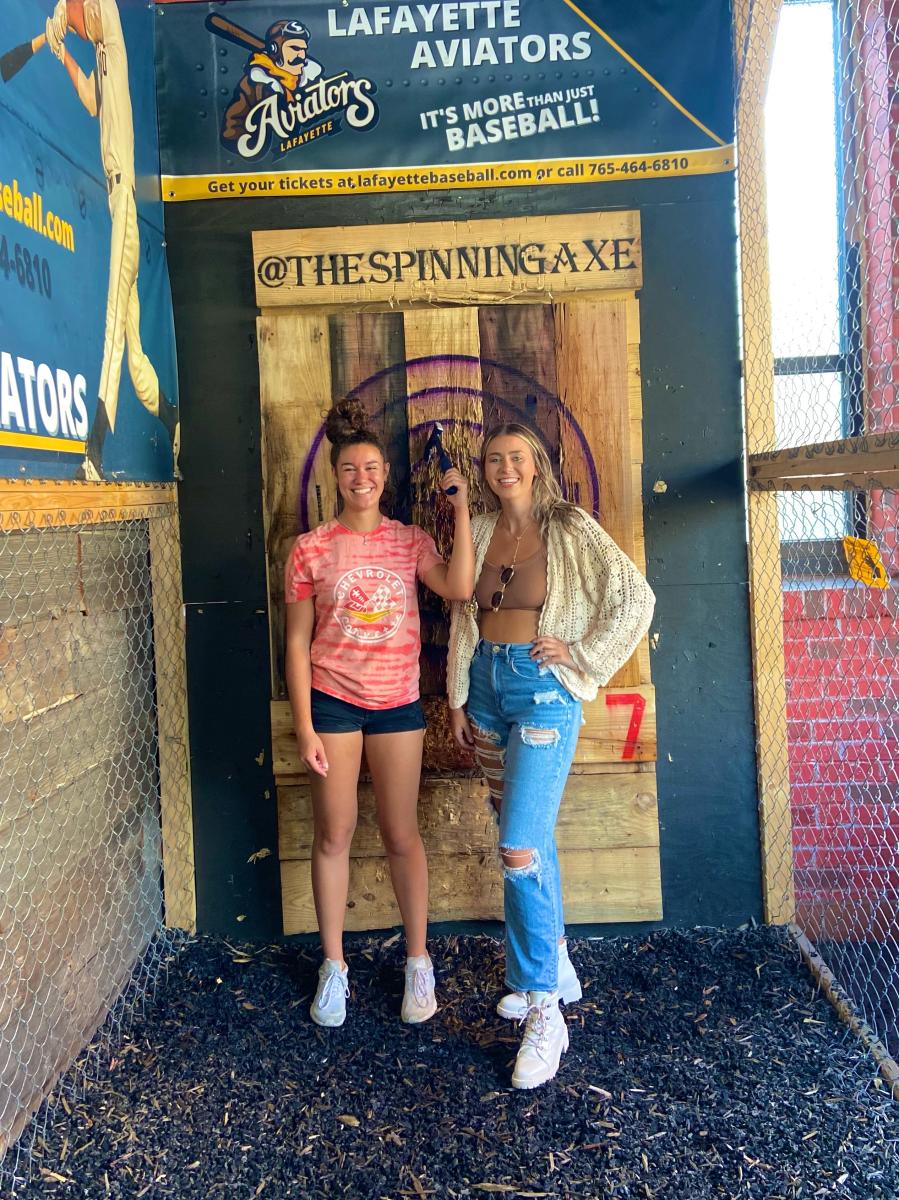 The origins of The Spinning Axe formed in 2020 when the owners, Barbara and Jason Whitenight, visited Bowling Green, Kentucky. The couple went to an axe-throwing site and brought back fresh new ideas for an axe-throwing space of their own here in Lafayette.
The Spinning Axe first opened in January of 2021. Unfortunately, Covid-19 put a damper on the plans, but the Whitenights remained optimistic while others had doubts. Barbara said, "We're either crazy or geniuses." It seems to me like they're geniuses.
Before my friend and I started throwing axes, the target wall was hosed down with water while another employee went through the guidelines of how to be safe and the proper techniques for throwing an axe. After that, the lane is all yours.
There are games recommended for you with clear rules on how to play, or you can casually throw for fun. Whenever help is wanted, the employees are more than happy to help and ensure you're doing well and having fun!
Now for pricing, you can buy an hour-long session per person. For adults, it's $22, and for children, it's $17. There is also a discount for the military and the fire/police department, and they can throw for an hour for $17.
One fascinating thing I noticed was the variety of people that come to The Spinning Axe. There were families with their children, couples young and old, and college students. There was even a promposal! That said, anyone can throw axes.
You'll never know if you like it till you broaden your horizons and test the waters with something new like axe throwing. My first experience was enjoyable, and I can't wait to go again!
Check out other exciting, fun-filled locations in the area on the Home of Purdue website!
Purdue University Student, Brooke Irgang, shares this blog. This blog is part of a series of articles submitted to Visit Lafayette-West Lafayette through a cooperation with a 400-level travel writing class at Purdue University.

Additional Purdue University Student Blogs: