Recently, Dining Divas and Dudes visited Yatagarasu, affectionately nicknamed, 'The Japanese Noodle Place'. In a 2017 J&C article, Emma Ambrose interviewed owners Eric Ni and Joe Yao, soon after opening. "A lot of people know ramen as that cost-saving dish they consumed in college …" she wrote, "But let's be clear: That is not ramen".
The concept of Yatagarasu combines two popular trends in the Japanese food industry – Izakaya & Ramen. "Designed for winding down after work … a popular spot for friends or coworkers to gather; to share a variety of small dishes paired with a selection of beer or sake."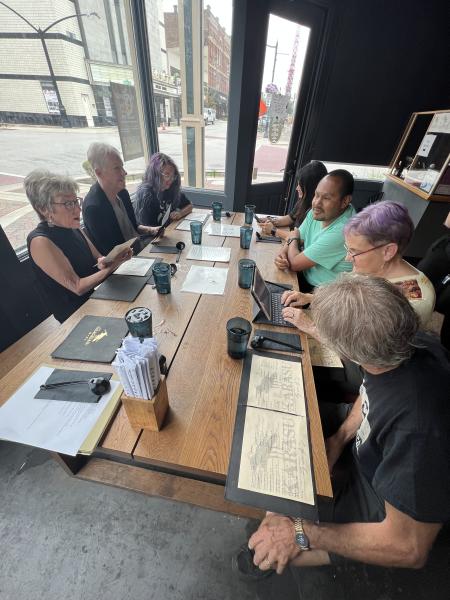 And the 3-legged crow on the sign? We learned that in Japanese mythology, Yatagarasu (three-legged crow) is a divine guide from heaven bringing peace to people. The owners chose Yatagarasu for their name and logo to provide a warm, cozy fine-dining experience, and to share a cultural experience.
Once settled at a cozy table, our host Ashley gave us a quick review of the menu. Ingredients are fresh, dishes made to order with everything from pork, beef, chicken, fish cake, shrimp, smoked salmon, octopus and soft boiled eggs; broth cooked for 8 hours; veggies like wood ear mushrooms, fermented bamboo shoots, ginger and seaweed among others; plus a variety of noodles: rice, green kale, and yellow.
Shall we get started? We began with small plates (appetizers), including; Gyoza Pot Stickers with chicken/pork filling,Takoyaki octopus meatballs, to which Kay exclaimed: "By far the best way of eating octopus I have come across".  Also in our lineup; Chicken Karaage, Calamari, Brussel Sprouts, and Edamame. All very tasty, crispy when they were supposed to be with a variety of flavors.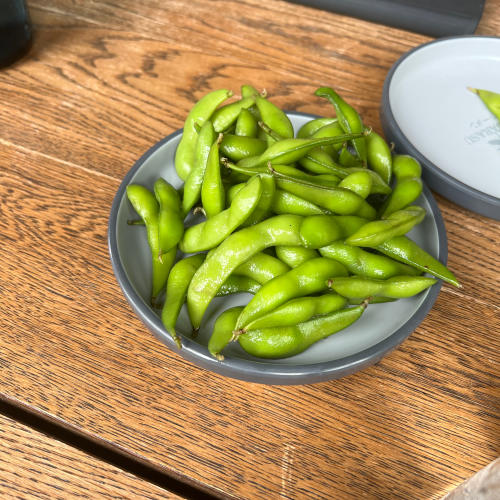 Kay & Linda split an order of Gyu Don, one of the non-ramen meals offered, with sticky rice, thinly sliced beef, caramelized onions, sesame, seaweed, a poached egg, and ginger.  "It was tasty and filling with lots of ginger, and toppings to personalize your dish. Glad that we split it."
Jo ordered the crispy Brussel Sprouts. They came out hot and just the right sort of flaky/crisp without flour or breading. "I loved them. The Brussel Sprout flavor was not covered up with breading that often makes everything taste the same. I enjoyed the spicy mayo sauce, probably meant for the octopus, but was also very tasty on Brussel Sprouts."
Whitney loved, loved, LOVED, the Gyoza pot stickers. She ordered the Spicy Chicken Miso Ramen and found it outstanding. "I couldn't stop sipping the broth! Excellent! Excellent! It was also beautifully presented, I really loved the assortment of toppings!" 
Tetia had the Tonkotsu Miso Spicy Ramen. The spice level was perfect! The presentation of pork Chashu, tamago, wood ear, menma, green onions, corn, and fishcake in a pork broth was picture-perfect. "The broth, had the perfect cloudiness that created a creamy and flavorful slurp."
Tetia's favorite appetizer was the Mix Gyoza. Perfectly pan fried and crispy on the outside. The mix of pork and chicken was wonderful and accentuated by the soy dipping sauce. The Takoyaki, octopus meatball, was her 2nd favorite. "Not for the faint of heart…if you don't mind munching on cephalopods, definitely order these. Umami, umami, umami."
Jerry ordered the Gyu Don and ate every bit of it, just the right amount of rice, and tasty toppings. Turns out he went back a second time and ordered the same dish, he liked it that much!
Iseral decided on the Volcano Spicy Ramen, but opted for the half-hot, or "mild" version. It was delicious, plenty hot, filling and full of flavor. He also promised he was coming back.   
Margy ordered the Veggie Ramen with veggie broth, tofu, corn, mushrooms, sprouts, spinach, green onion with green kale noodles. It comes in both regular and spicy broth. Margy took the safe route and ordered regular. In hind-sight she wished she had gone spicy! "Next time, next time!"
For dessert Jo ordered three Mochi Ice Cream "Little Moons" to share. These come in black sesame, strawberry or Matcha "I loved it with the gelatinous surrounding the ice cream! The black sesame was the best." Easily cut into pieces, they were perfect for sharing.
Yatagarasu will satisfy your ramen craving! Enjoy!
Explore more Ramen in Greater Lafayette!