Linnwood Tavern has been a neighborhood fixture north of downtown since the 1940s. Owner Gregg Glotzbach is proud to share that he is only the fourth owner in all that time. Another fun fact to know and tell is the number of times the building has been expanded to meet customer needs. Originally a 1-story building half its current size, it fronted onto Heath St, with angled street parking. Next came, a 2-story addition doubling the bar's footprint (taking away the front door parking on Heath … OH MY!!). Apparently, that expansion was not meant to be because the second story burned and was never replaced. Luckily the first story survived. Third and last add-on expanded the building to the west toward the alley for a bigger kitchen – and anyone who has eaten at Linnwood would agree that was a brilliant idea!! Don't believe it? Read on.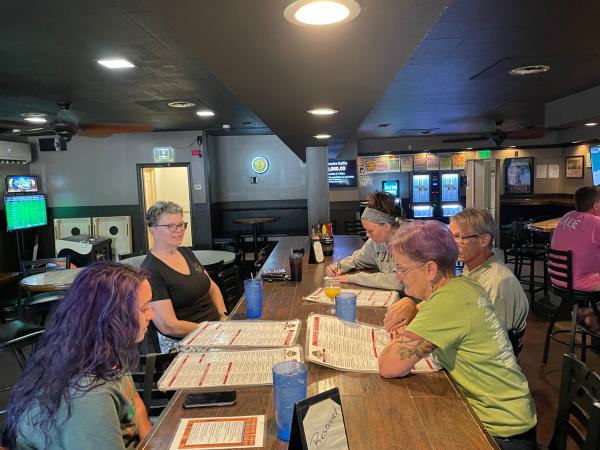 The bar has that familiar neighborhood sports bar feel, but no worries, you don't have to live in the neighborhood to be a regular. Although we learned that Lisa (restaurant Jack-of-all-trades), her daughters Alesah (bartender), and Amber (bar manager) all work at the bar. Then we began to wonder if you had to be a relative to fit in. You don't, and we did fit in, so you'll be fine too. It seems there is always something happening at Linnwood. Tuesday nights are very popular with a weekly progressive drawing. In addition to darts, virtual bowling, pull tabs and 9 TV screens, customers can expect to enjoy twice a week live music on Fridays and Saturdays and lively conversation 7am-1am, 7 days a week.
Smoking is allowed but was barely noticeable during lunch. Our server, Kendra, was very friendly and knowledgeable from the get go so we knew our experience was going to be special. Here are the food orders Kendra took.
 Jo
Our fearless leader went all out and ordered the veggie omelet with cheese. It came out packing some bacon inside at first, but was quickly fixed. Service with a smile … it's just as important as the food. Jo was thrilled that the bar serves breakfast items all day. "My omelet was hot with just the right amount of veggies and cheese, making it tasty. It's always nice to have a place to return to, knowing they can accommodate my weird food requests."
Kay
Eater of all things swimmy, ordered the Bang Bang Shrimp. Really? Seriously? At a corner neighborhood bar? Sounds like something you would expect at a gourmet restaurant, not typically bar food. The sauce was different than she has had before, served on lettuce and tomato salad. "I liked it a lot, not quite as hot as others I've had", but it passed Kay's "heat-o-meter".  The portion size is ideal to share as an appetizer, but equally perfect for lunch for those who don't like to share their shrimp.  It came with extra Bang Bang sauce, which was appreciated by fellow Divas and Dudes who wanted to give it a try. Kay admits she was surprised to see it as an option. But honestly, a quick glance at the menu and you'll find they have a pretty amazing number of upscale selections for a small local tavern.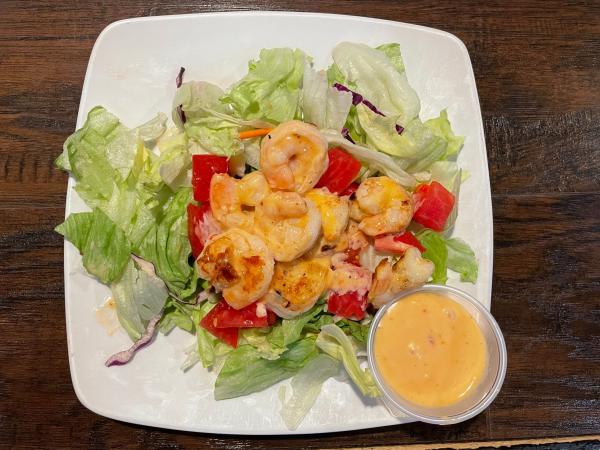 Whitney
Whitney had the buffalo chicken wrap with a side of tater tots ($1.75) that found their way into Kay's Bang Bang sauce. "The buffalo chicken wrap was tasty, but not marriage material until I added tons of hot sauce. The tots were great and my water was oh so refreshing!"
Tetia
Tetia chose the Corned Beef Hash. "The corned beef hash, is prepared traditionally and served with toast and eggs to your preference (over easy for me, thank you very much). The portion size was large and the corned beef hash had a perfectly crisp outside and moist inside. A great reminder that breakfast any time of day is wonderful!"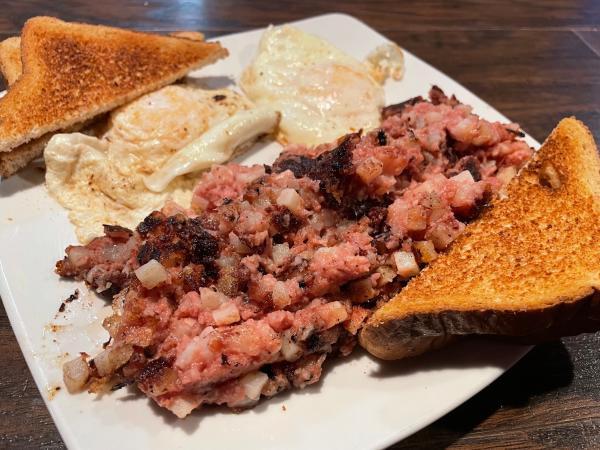 Jerry
This Dude is the closest we had to a Linnwood "regular" in the group. Jerry went all out and ordered a Taco Salad for the very first time. It was filling and if ordered again he said he would request an extra side of salsa/hot sauce. Are you seeing a spicy pattern here? We had a bunch of hot-heads with us that day. Other times when Jerry comes to Linnwood for breakfast, or lunch his favorites include: Meatloaf, Lasagna, and Scalloped Potatoes which are on a rotating lunch schedule. Be sure and check the posted specials board, which are different every month. FYI, Salmon is available every Friday and Saturday for dinner.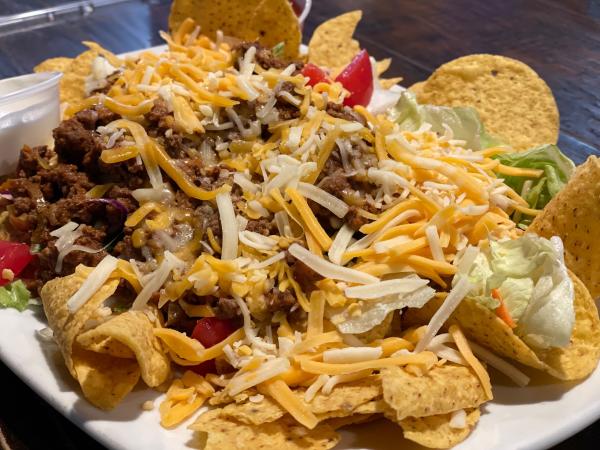 Margy
Our long standing veggie in the group, and third hot-head, decided to go simple. Grilled cheese with jalapenos, minus the bacon. Normally she comes to the Linnwood on Saturday mornings. Her go-to tends to be the veggie omelet, plus spinach, hot sauce, and hash browns (which are marrying material Whitney!). All this to say, the kitchen is very accommodating with fussy customers who always order items "plus or minus" off the menu.
Please note the meals are all reasonably priced. 
In closing, the Dining Divas and Dudes had a nice dining experience at the Linnwood Tavern. For more information about this bar and others in Greater Lafayette, click here.
Dining Divas & Dudes Reviews: