Find something unexpected in Greater Lafayette! Our community offers a plethora of unique places that you will find no where else. Venture out today to find one of kind items to buy as well as memorable experiences.
Where can you find ingredients for mocktails and a huge selection of non-alcoholic brews? At Generation NA, in their new location in downtown Lafayette on Main Street! Stop in and check out their huge selection at their all-non-alcoholic bottle shop! They even offer some seasonal flavored selections!
Plants, grow lights, planters, terrariums all with a view of the courthouse? Yep, you can find all that and more at Green Leaf Botanicals, downtown Lafayette on 3rd Street, just across from the courthouse. Go pick out your new favorite house plant and all the accessories! It may be the brightest place downtown!
Looking for meat for the week or a holiday meal, that was locally raised and processed and get a great cup of coffee at the same time? This Old Butcher Shop and Central Pork Coffee Shop off of Veterans Memorial Drive near 18th Street has you covered! All kinds of meat; local dry aged beef, pastured lamb and pork and non-GMO fed chicken, all displayed in great glass cases so you can see what you are picking! When you are done shopping, don't forget to drive thru and get your coffee!
Do you love the smell of books and the feel of flipping through the pages? Looking for a place to just browse and see what new read you can find? Check out Second Flight Books located near Columbian Park on Scott Street. You can browse room after room of new and used books, on two floors! Don't see what you are looking for, they can order it for you. Need a recommendation, they can do that too. Don't want to leave your house, you can buy it online. Yes, even the used books are on their website! They also now have a second location, downtown on Main Street at Main Street Books!
Pineapples, donuts and…. mermaid tails? Yep! Did you think I was talking food? Those are all bath bomb shapes you can find at Essentially Aqua on Main Street in Downtown Lafayette. And don't forget the cute dinosaurs! Besides bath bombs, you can find shower steamers, salt soaks, sugar scrubs, lotions, shampoo and conditioner bars, bar soaps, beard oil and balms, moisturizers, natural deodorant and so much more here! All made with essential oils and without all the chemicals and preservatives. You must check it out next time you are downtown. Can't wait? Check out their website too! You can order online as well.
Blueberry cobbler, orange cranberry muffin, lemon pound cake, pumpkin pie…. Can you smell it? Where's the bakery you may ask? Follow the scents to Hoosier Candle Company in the small town of Dayton, IN. There, you will find a variety of candle scents, not just baked good scents, all made with soy in small batches. All parts of their candles are made in the USA as well including the jars and wicks! You can also find home décor and plus sized boutique clothing!
Truly looking for baked goods? Go just a couple blocks in Dayton, to Combat Cookies! They are a veteran owned, 501 (c)(3) non-profit organization that bakes and ships cookies to US military members who are deployed overseas to increase morale. They are open on Saturdays to the public for you to purchase cookies, cupcakes or cake, donate funds or drop off cards to add to the cookie boxes. You can even submit a name and address of a deployed military member for them to receive a box of fresh baked cookies!  A great cause and you can get cookies in return too! Seems like a win win to me! Not available on Saturday? You can go online to donate. They also take special orders for events! Check out their website for more info.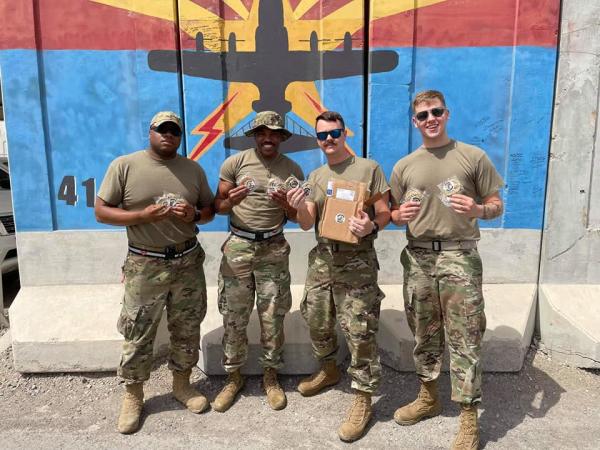 Want to learn a new skill? How about working with fire? Try taking a class at Inspired Fire Glass Studio and Gallery in Shadeland, IN. They have classes in fused glass, flameworking or furnace work. Not looking for a new hobby? That's ok they have premade artwork (glass work and paintings) by various local and international artists, for sale or just to browse. There is something for every budget.
Have a sweet tooth? Be sure to check out the "Sweetest Corner in Town" aka, McCord Candies. Here you can find chocolates and other candies including their world-famous candy canes (seasonally) made right there in their candy kitchen! Their candy canes have been shipped all over the world over the years. In November and December, you can even schedule a candy cane tour of the candy kitchen and see how they are made! This has been a local favorite since 1912! Did you know they also serve a small selection of food, soda fountain drinks and ice cream? We love their milkshakes! Mmmm!
Oooooooo! We love howling with the wolves at Wolf Park! Where else can a grown adult howl and not get weird looks? Anyway, did you know that Wolf Park also has an awesome selection of wolf merchandise? Shirts, stuffed animals, slippers, magnets, photographs, blankets, and even bottles of wolf fur! Now where else can you get bottled wolf fur? What do you do with it? I don't know but it's fun! If you are a dog or wolf fan, you should for sure go check out their gift shop and don't forget to hang around for a tour or a howl night while there! You'll have a howling good time!
Love fresh flowers? Did you know we have a florist in town that owns their own flower farm in town where they source most of their flowers? You can't get much fresher than that! Check out 21 Petals Flower Market near the Tippecanoe County Fairgrounds on Teal Road. You can even take a flower design class! They also offer a selection of succulents, vases, dried flowers and some locally made items.
Where is your favorite "unexpected" place that people may not know about in Greater Lafayette? We'd love to hear! Follow us on social media (Facebook, Instagram, TikTok) and tag #homeofpurdue and share!