Enjoy a late afternoon relaxation reboot at Lafayette, Indiana's local cat cafe, Lazy Cat Lounge.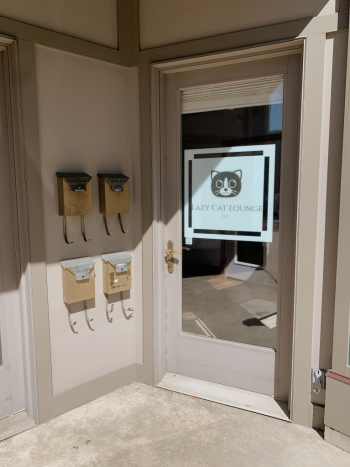 Lazy Cat Lounge was created by Zach and Kennedy Van Meter after a trip to Japan, where they fell in love with the local cat cafes. What might have seemed like a wild idea to Hoosiers (and Boilermakers) quickly became recognized as an unknown necessity. Since opening in November of 2019, over 120 cats have been adopted from Lazy Cat Lounge.
"It's just the perfect job," says Robyn Poole, Lazy Cat Lounge volunteer.
While the goal of Lazy Cat Lounge is adoption, it has also become a favorite spot for Purdue students to have a study break, senior citizens to find companionship, and families to spend a rainy afternoon. Lazy Cat Lounge also offers a cozy space to regroup for an hour or two if you are just passing through Lafayette, Indiana!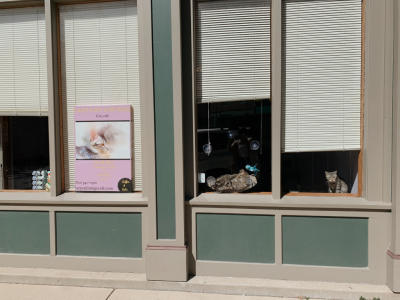 After walking through the lilac front door at 846 Main St. in Lafayette and stepping into the lounge decorated with plants, colorful velvet furniture, and feline-themed wall art, I already hear the pitter-patter of paws and the jing-a-ling of a bell collar coming to invite me in to stay. I look down to see a white and brown fluff ball falling to my feet, belly-up, ready for attention. "That's Marlon," says Poole. Marlon is a lap cat with countless sandpaper kisses to offer, and he quickly stole my heart.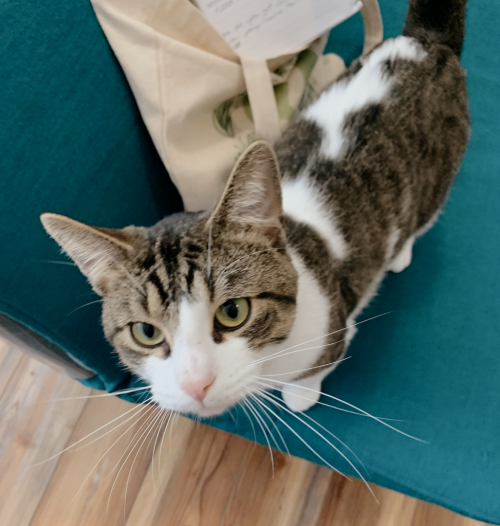 Visitors can relax in the spacious lounge for just $9.00/1 hour. There is a discounted price from 1 p.m.-2 p.m. on Fridays and for children under 10. You can book tickets online or walk-in. There is a selection of pre-packaged coffee drinks, juices, chips, candy, and more available for purchase to enjoy at the lounge.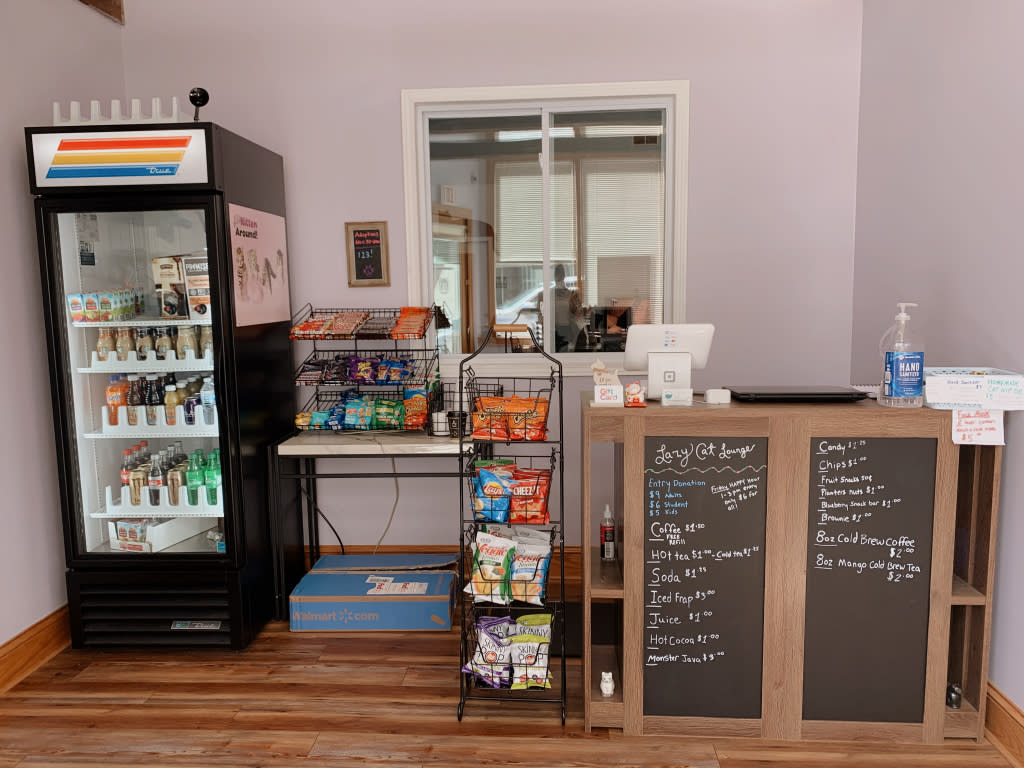 Lazy Cat Lounge his open Tuesday - Friday from 1 p.m.-8 p.m. and Saturday 11 a.m.-8 p.m. Customers are welcome to stop by after a late afternoon class or meeting.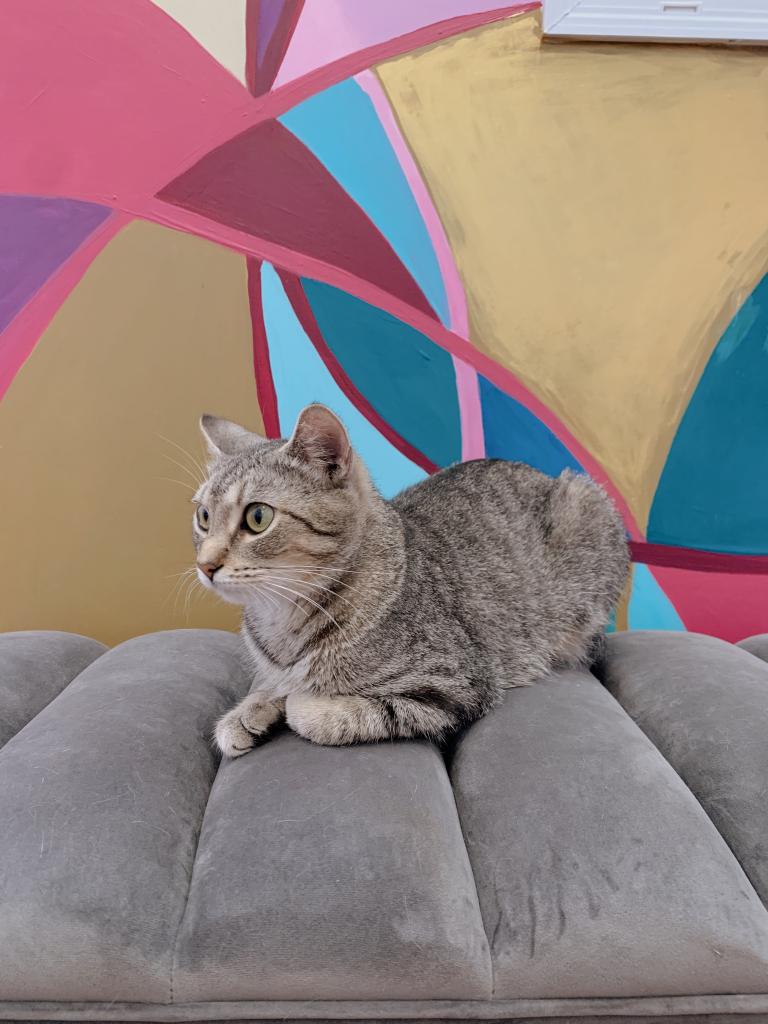 I don't see how you can leave the lounge without wanting to take every cat home. Poole chuckles and says, "Well, they each have their own personality you know," as she begins to point to and details each cat's quirks to me. Jax, who is named after Sons of Anarchy, is the all-around good-guy of the group. "He loves to play and is great with kids," Poole said. Mama Claire, the big talker of the group, had a litter of kittens last year. They have all been adopted. "Now it's her turn," Poole says hopefully.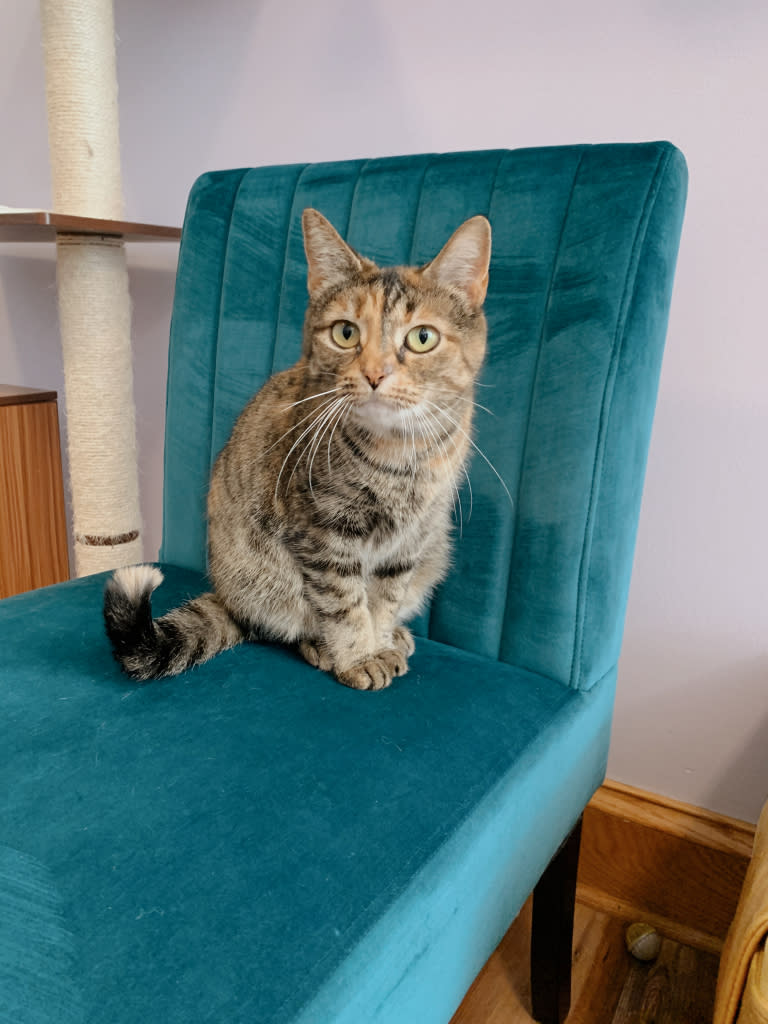 If you stop by Lazy Cat Lounge, consider donating toys (especially stick toys), litter, or food as well! Visit Lazy Cat Lounge to donate or book a visit. For more cozy spots to visit in Lafayette/West Lafayette, check out the Home of Purdue blog.
Purdue University Student, Hannah Louise Rollins, shares this blog.