Korean corn dogs have made it to West Lafayette! Flaming Kuma, located in the Wabash Landing at 342 E. State Street, offers a delicious culinary adventure in the form of Korean corn dogs.  For those who may be unfamiliar, a Korean corn dog is similar to American corn dogs but offers many different options for customizing your corn dog experience. This culinary delight is a popular street food in South Korea. They are a delightful fusion of the familiar corn dog and Korean flavors, resulting in a crispy, cheesy, and incredible snack. What sets Korean corn dogs apart from their American counterparts is the variety of coatings and fillings they offer.
Flaming Kuma is an eatery that radiates warmth and authenticity. The moment you step inside, you'll be greeted with friendly smiles and the irresistible aroma of freshly fried corn dogs. The cozy ambiance and the inviting decor make it a perfect spot for a quick bite, a casual date night, or a gathering with friends.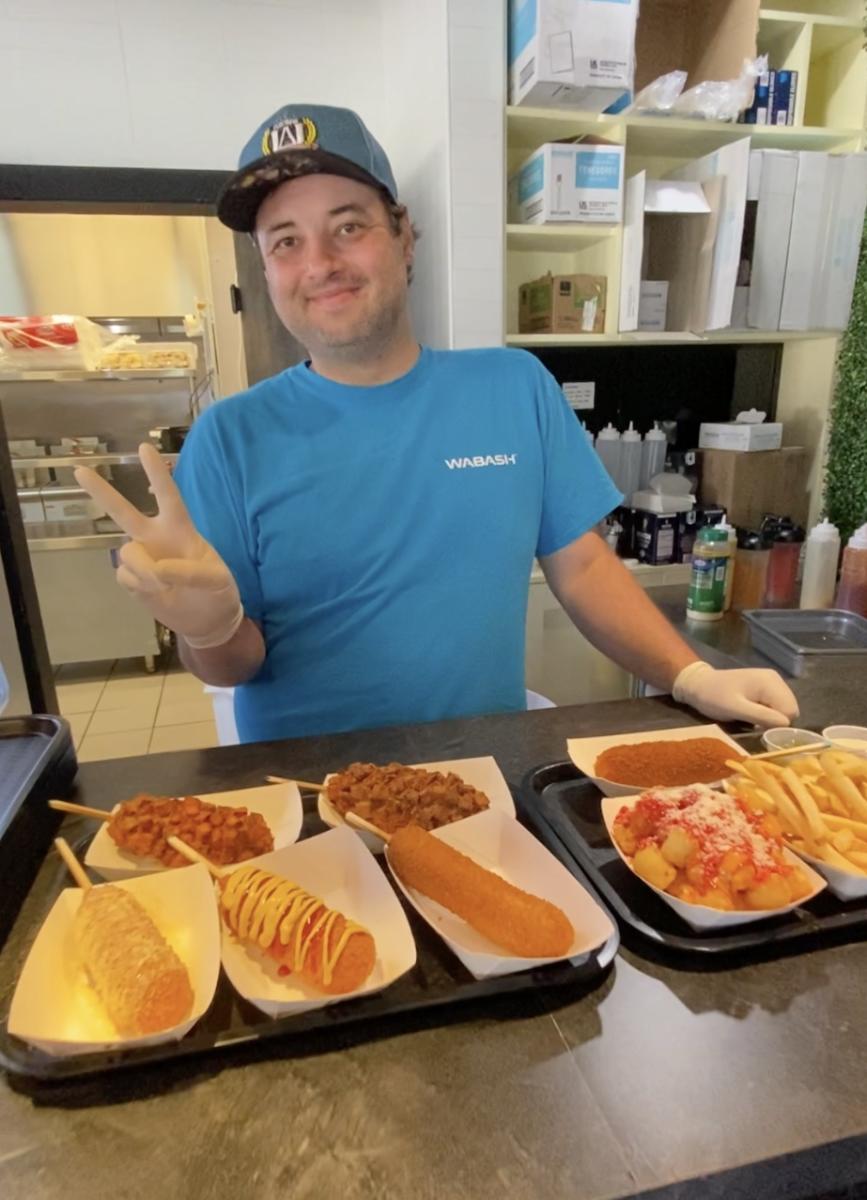 Flaming Kuma's menu has incredible variety, offering their Original, Nashville Hot, Potato, Sweet Potato, Ramen, American Classic, Churros, Hot Cheetos, Sweet Chili Doritos, Cheeseling, Spaghetti, and Fruity Pebble Dogs. After picking the outside of your corn dog, you get to choose the filling from beef sausage, jumbo hot polish, whole mozzarella, half beef half mozzarella, chicken sausage, and plant-based sausage.
For our tasting trip, we decided to order a bunch of options and try them all! We started out with a classic combination of the original and beef sausage. This was an amazing version of a classic. The beef dog was high quality and perfectly suited for the Flaming Kuma breading. This is the dog for corn dog purists looking for a high-quality classic.  Next, we sampled the Cheeseling with a whole mozzarella filling. The cheese-on-cheese combination was delicious. This could be great for kids or someone looking for a simpler option. The American Classic offers the original crust with Ketchup and Mayo on top and we opted for the mozzarella filling. This was a crowd pleaser in our group!  We also ordered the Nashville Hot with the half beef half mozzarella filling. This packed the perfect punch that wasn't overly spicy and matched perfectly with the fillings. For our sweet option, we decided on the churro with mozzarella. The cinnamon coating and potato crust complemented the mozzarella providing a sweet and savoring combination that was to die for.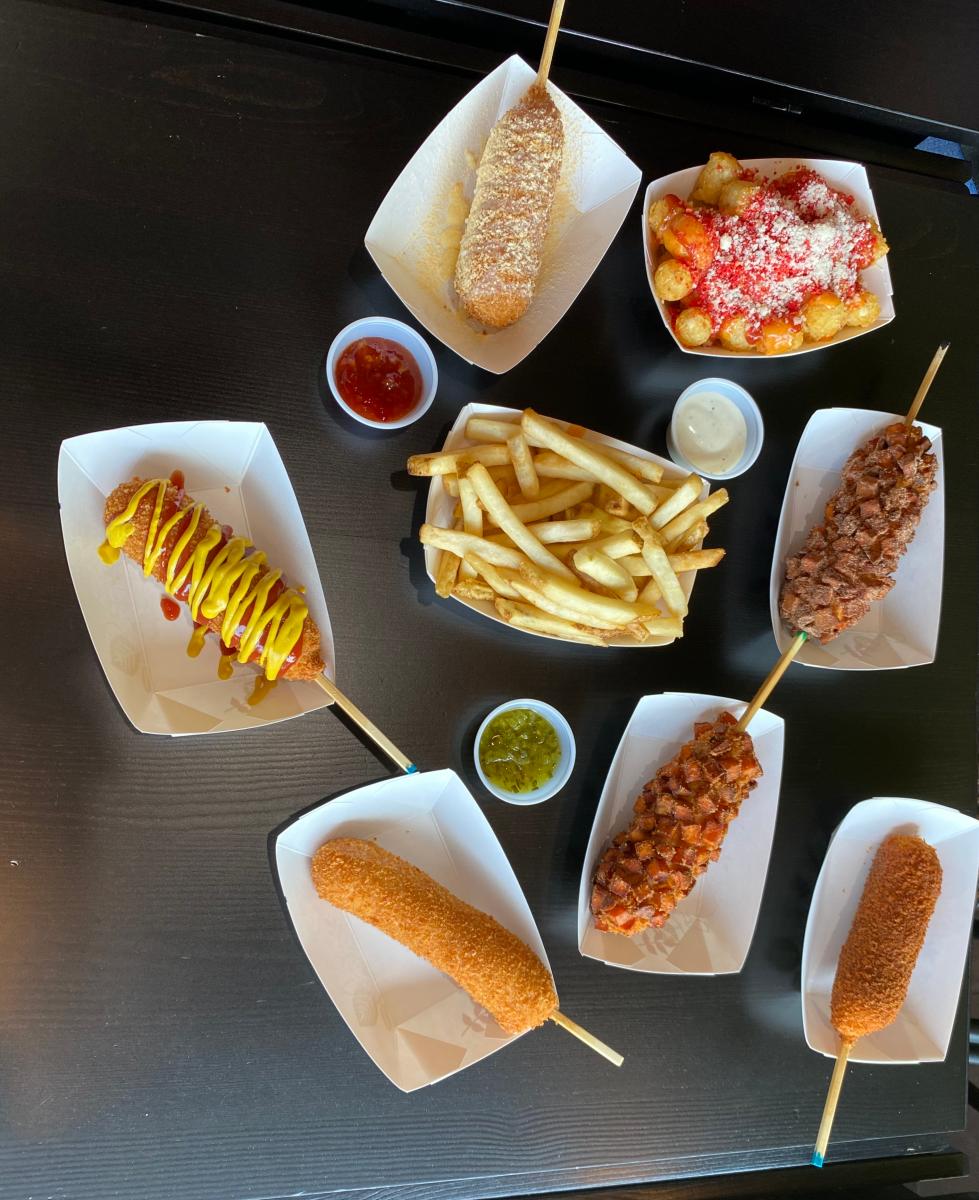 Heidi, the resident vegetarian was excited to be able to join in on the corn dog experience! She said "Flaming Kuma provided an amazing vegetarian Korean corn dog, an option most restaurants do not provide. On the outside of the treat was crispy sweet potato pieces, full of flavor and the perfect texture. The vegetarian dog itself was hard to differentiate from the typical beef, adding to the experience. Not only was I offered a vegetarian option, but it was equally as delicious!"
The Flaming Kuma tots were a mouth- watering side that everyone who visits should get. Golden brown and crispy tots are covered in Hot Cheeto crumbs, spicy mayo, Parmesan cheese, and ketchup. These tots have a perfect spicy kick, and you will be thinking about for days afterward!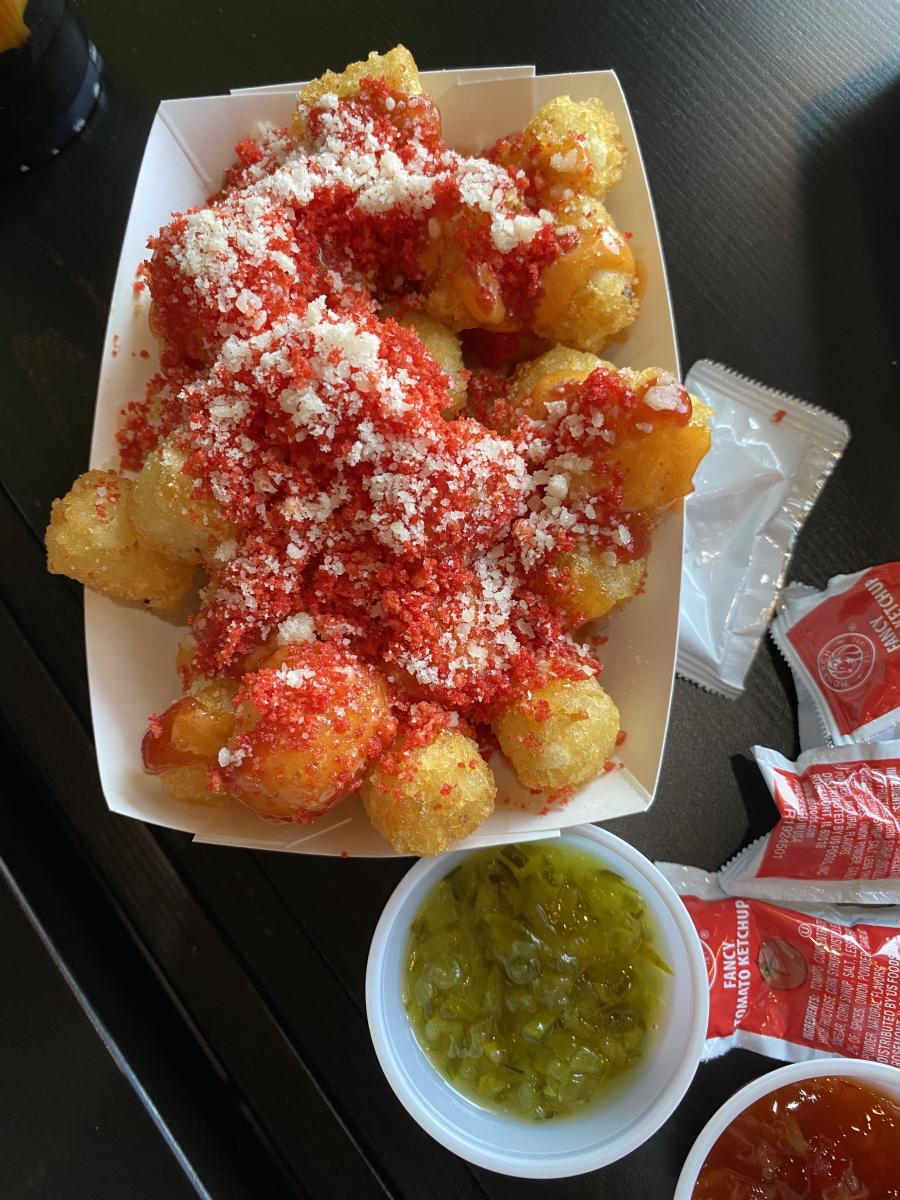 Flying Kuma also offers bubble tea, lemonade, and slushies. The Brown Sugar Milk tea has a perfect level of sweetness which complimented the boba and brown sugar drizzle. It was delicious! A great addition to all the flavors of the day is Flying Kuma's irresistibly sweet and tart strawberry lemonade. It left us feeling energized and refreshed.
Flaming Kuma in West Lafayette is a culinary adventure that introduces you to the delightful world of Korean corn dogs with creativity and passion. Whether you're a student seeking comfort food, a local foodie looking for the next great taste, or a visitor exploring West Lafayette, a visit to Flaming Kuma is an absolute must.
So, the next time you find yourself in the area, make sure to stop by Flaming Kuma and experience the magic of Korean corn dogs for yourself. Your taste buds will thank you, and you might just find your new favorite snack in West Lafayette.
Visitor Information Specialist, Margaret O'Connor, shares this blog.