Being new to the bar scene can be pretty daunting, at least that's how I felt. I recently turned 21, and I had no idea what to order or what I would like. I thought, why not "Go Ugly Early"? This motto was used by Harry's Chocolate Shop during prohibition as a code to customers to do the exact opposite, which would be to "come pretty late" and have secret late night celebrations. Although it wasn't in secret, I decided to find out what would make me go ugly early by going to West Lafayette's oldest bar and trying a selection of drinks I think new bar-goers or visitors should try out.
Purdue University Student, Alyssa White, shares this blog. This blog is part of a series of articles submitted to Visit Lafayette-West Lafayette through a cooperation with a 400-level travel writing class at Purdue University.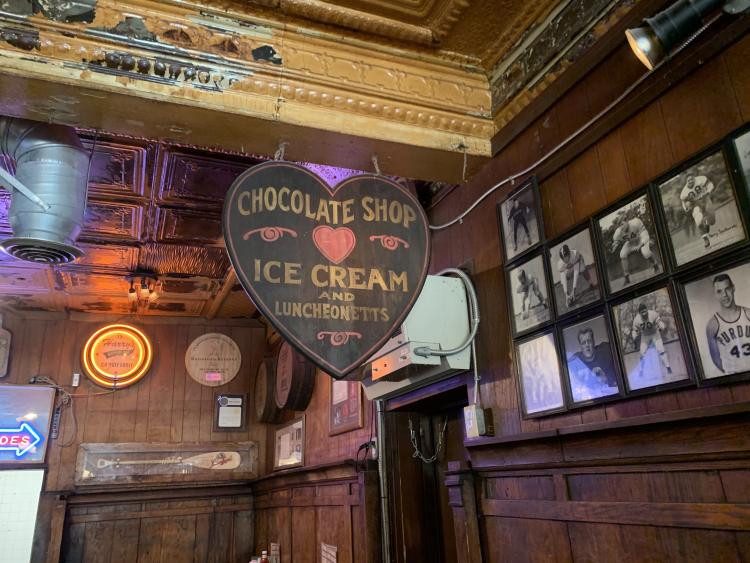 Harry's is known to have a "secret menu," although it really isn't a secret anymore. This menu includes a long list of mixed drinks that have become some of Harry's most popular drinks among its frequenters. My goal was to try them and give any new 21-year-old or visitors to the area a good recommendation so an authentic Harry's experience could be had. With the help of my friends, we set out to try what Harry's had to offer. So, let's start off with what is debatably the most popular drink.
Sipping Something Strong
Baltimore Zoo: Vodka, Gin, Rum, Triple Sec, SoCo, Amaretto, Grenadine, Coke, Sour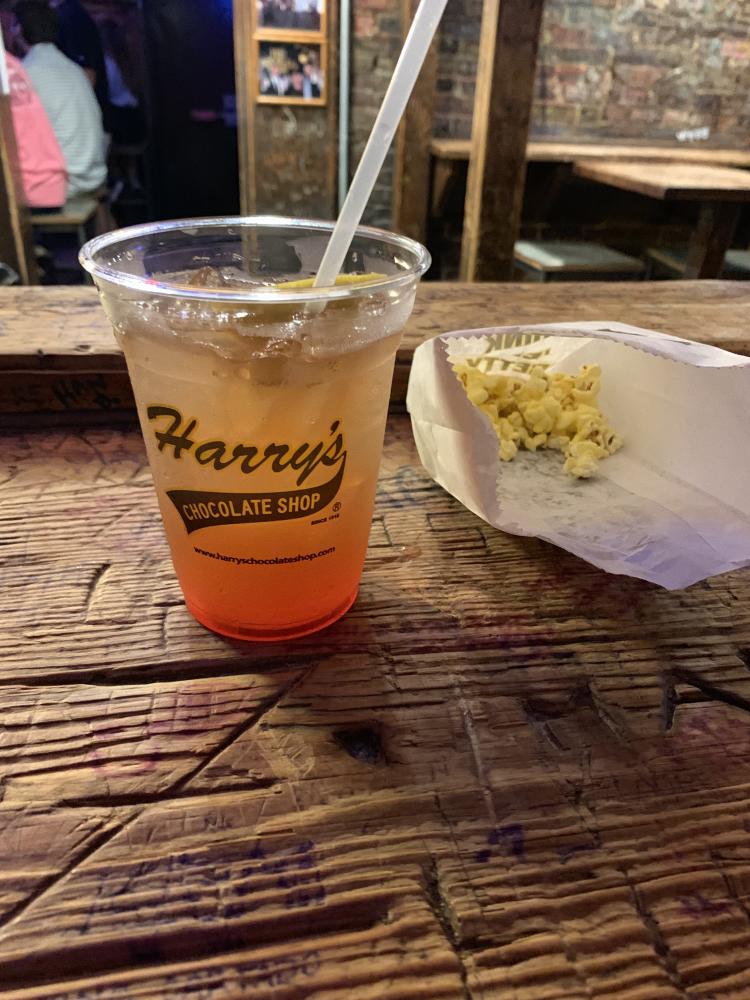 My first drink at Harry's was a Baltimore Zoo, and it definitely did not disappoint. I had asked the busy bartender what he thought was Harry's most popular drink, and he said that it had to be a Baltimore Zoo by far, although he didn't have time to tell me why. With five different types of alcohol, you can definitely taste what you are drinking. I would recommend this to those who enjoy strong but sweet drinks.
Green Dragon: Vodka, Gin, Rum, Triple Sec, Melon, Sprite, Sour
My Harry's obsessed friend, Emily, went ahead and ordered a Green Dragon and really enjoyed it. She said that she could taste the alcohol and that it was more sour then sweet and in her opinion, "it tastes like lime." This would be recommended to those that like strong drinks with a sour, melon and lime taste.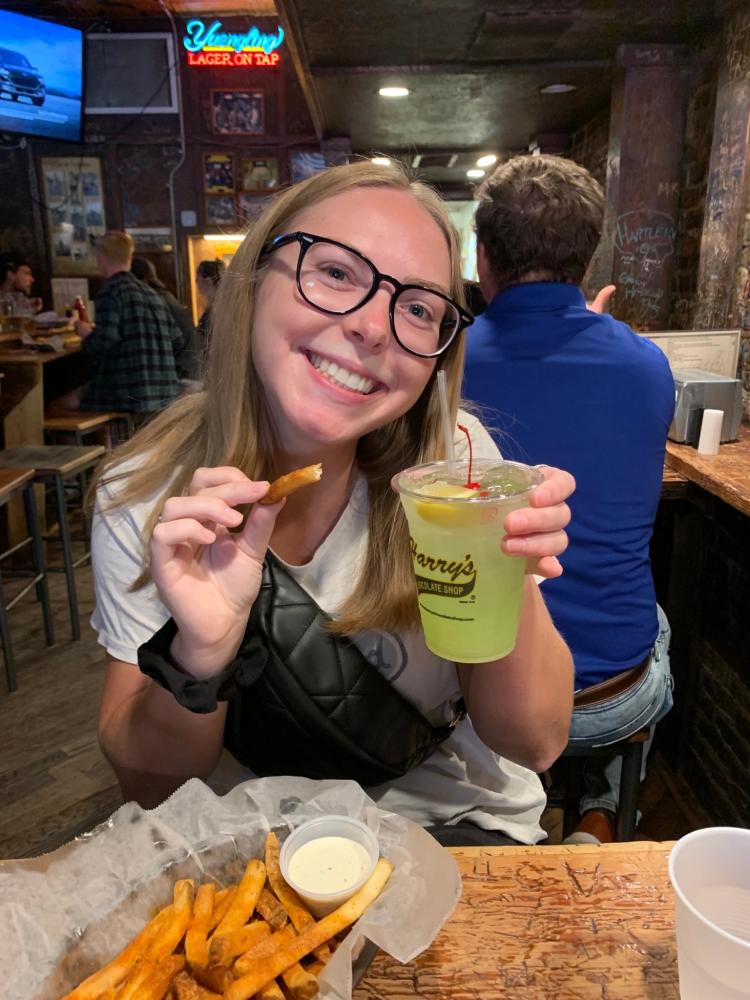 Emily has her Green Dragon along with French Fries topped with Harry's spice and ranch
For your Sweet Tooth
Grasshopper: Crème de Menthe Dark, Crème de Cacao Light, Half and Half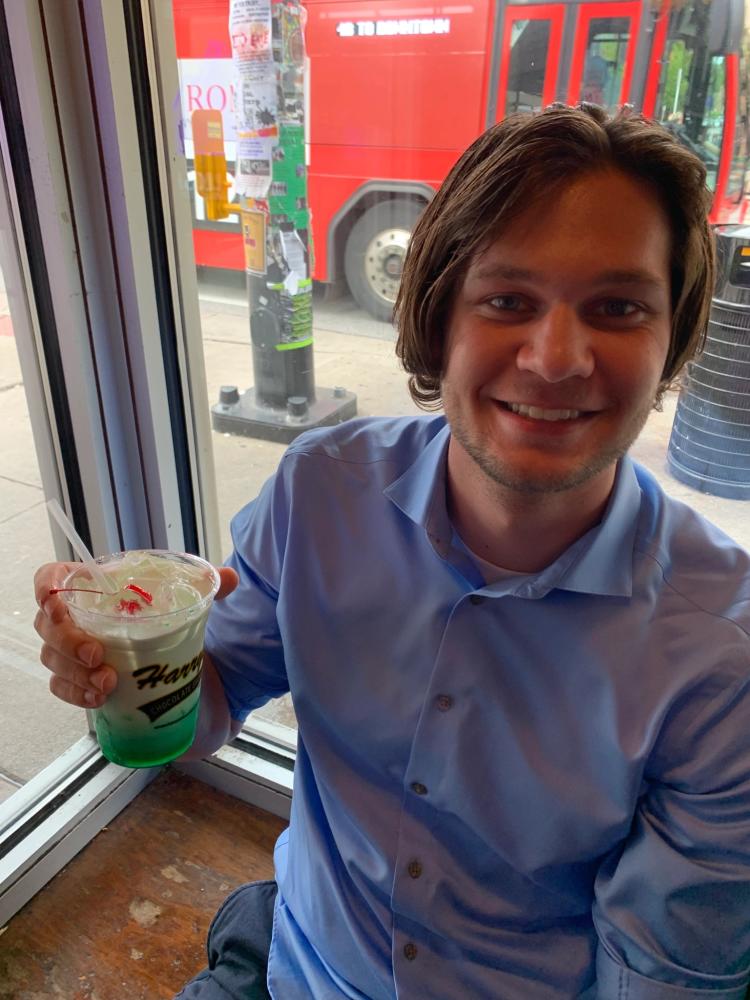 The next drink I tried was a Grasshopper. When I was asking around for drink recommendations, one of Harry's bouncers suggested the Grasshopper. My boyfriend Gavin ordered a Grasshopper for us to share and after trying it, he noticed that it is very strong if it isn't mixed well enough so be sure to stir it well. He described it as a "creamy mint, with a similar aftertaste to a thin mint."
Dirty Shirley: Vodka, Sprite, Grenadine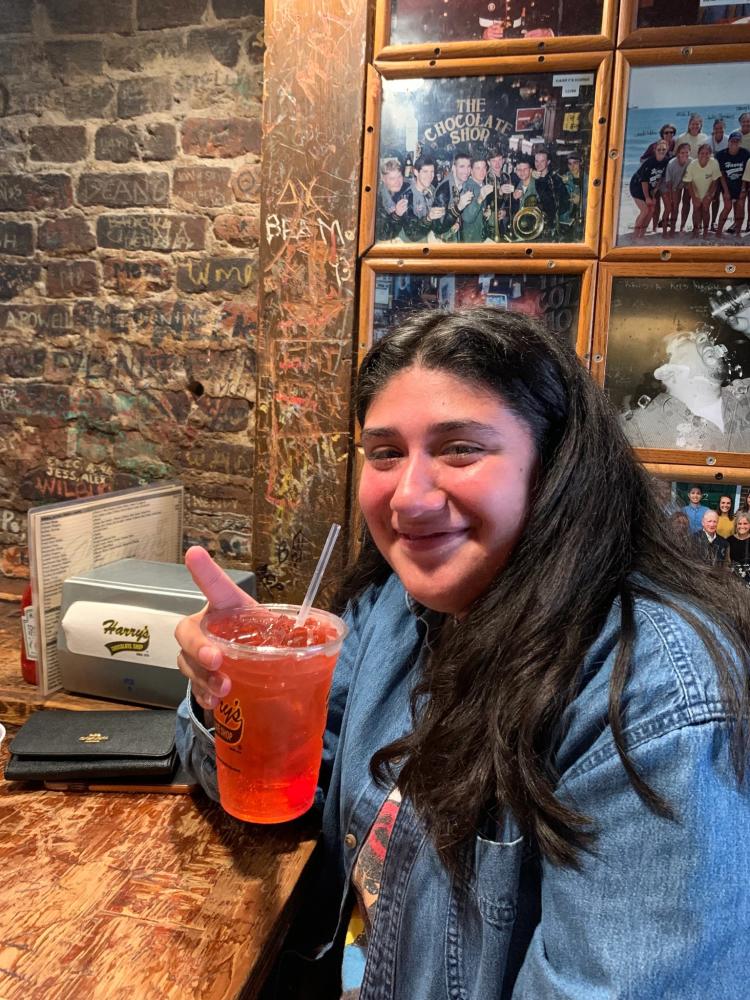 On to the Dirty Shirley, with my amazing friend Sofi trying it out. The difference between the Dirty Shirley and the Alabama Slammer is the strong taste of grenadine that makes this drink have a more artificial cherry taste, making it much sweeter than the Alabama Slammer. I would recommend this to people who enjoy extremely sweet cherry candy, but in a drink form.
Electric Lemonade: Vodka, Gin, Rum, Blue Curacao, Sour, Sprite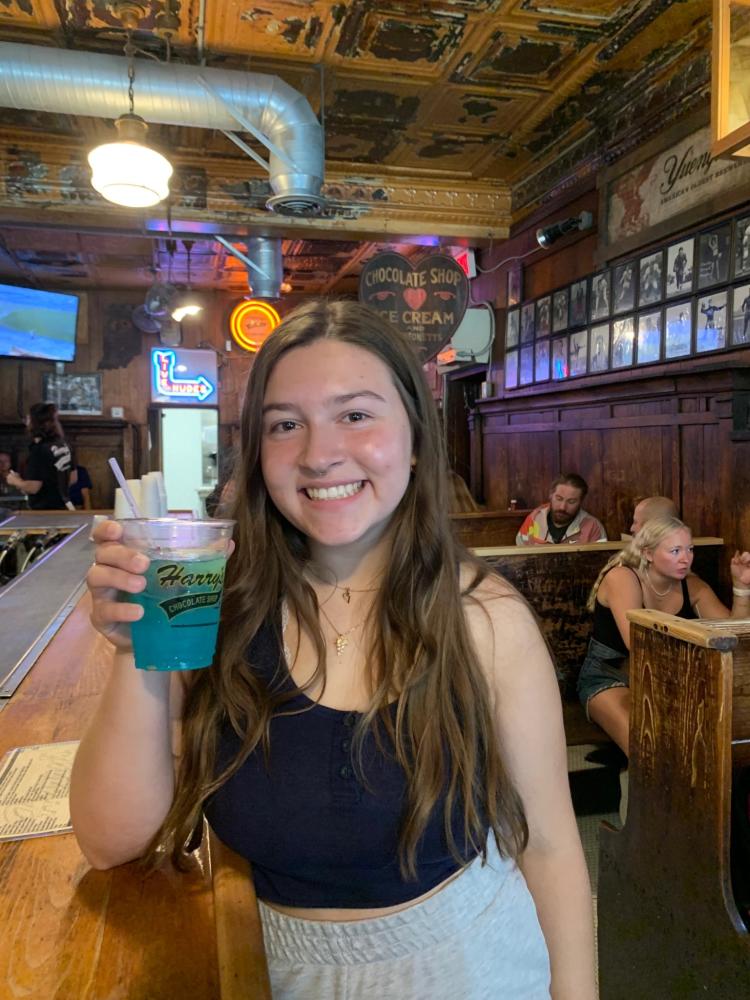 Next up was an Electric Lemonade. I really enjoyed this drink, as I was able to taste the sweetness of the Sprite since the alcohol in this wasn't overpowering. I would recommend this to those that like lemonade as well as sour gummy lovers, since it has sour mix that you can really taste.
Fruity and Fun
Blue Hawaiian: Malibu, Blue Curacao, Pineapple
My lovely roommate Arely tried a Blue Hawaiian and absolutely loved it. She said that it is "the perfect balance between alcohol and pineapple, but not too strong." I would recommend this to coconut and pineapple lovers alike, as the combination goes well together along with alcohol in the mix.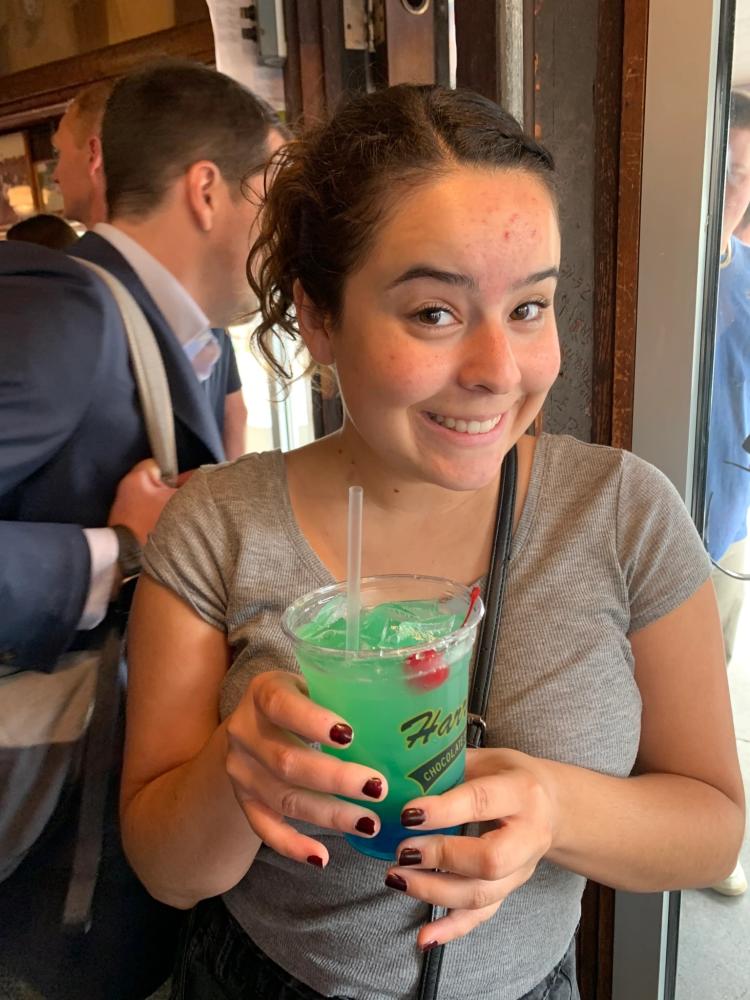 Alabama Slammer: Amaretto, SoCo, Gin, Sprite, Sour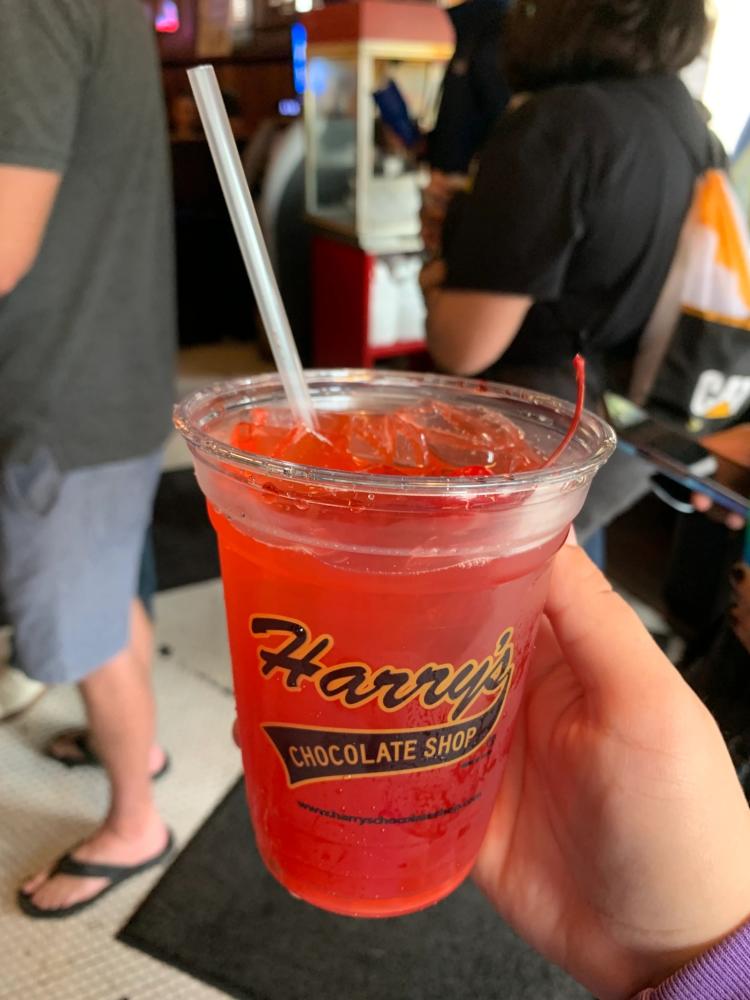 I don't think I can recommend this drink enough. This drink is for sweet, fruity drink lovers, which I would consider myself. It has a cherry flavor with a bit of lemon, which comes from the Sprite that is in it. It's the perfect balance between mixers and alcohol, creating a sweet drink that I really enjoyed. If you're not sure if you like the taste of alcohol or just love sweet flavors, I would highly recommend this.
Long Beach: Vodka, Gin, Rum, Triple Sec, Cranberry, Sour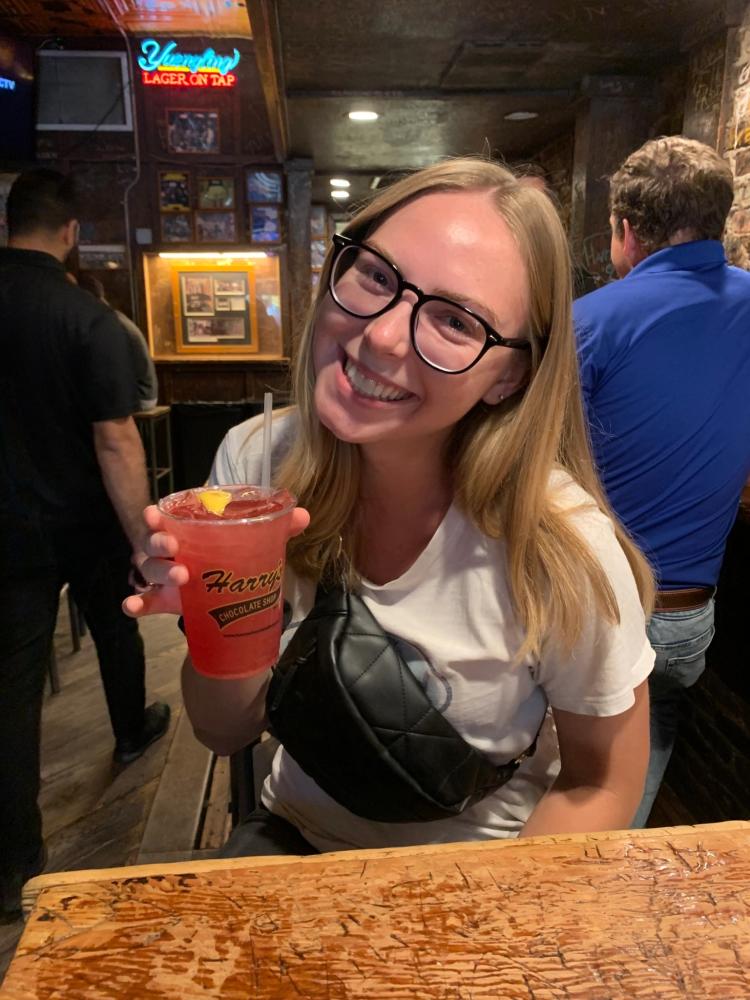 The final drink review is on a Long Beach, and Emily thoroughly enjoyed sipping on this drink. The one ingredient that makes this drink different from a Long Island is that it has cranberry in it instead of Coke. Emily would recommend this drink to anyone who enjoys the flavor and sourness of cranberries. She said, "I want to be sitting on a beach drinking this; it's giving sunshine, slight breeze."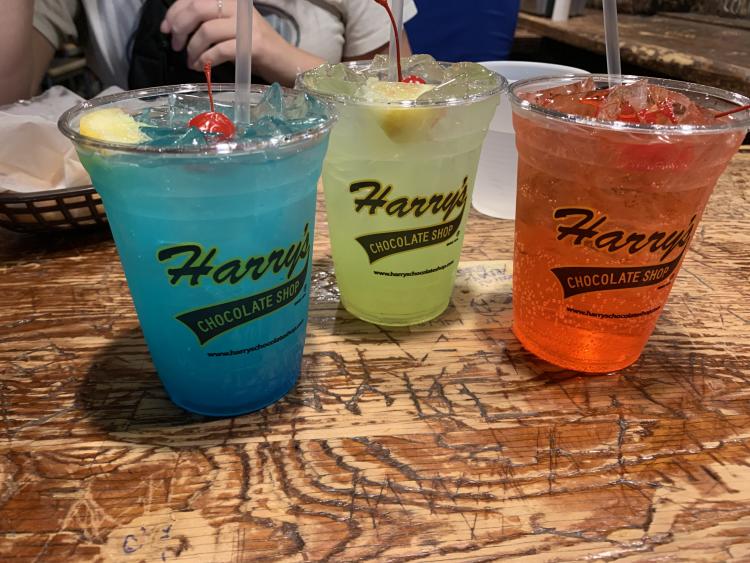 From left to right: Electric Lemonade, Green Dragon, and Dirty Shirley
Harry's Chocolate Shop is a great place to visit and try out different drinks if you aren't yet comfortable with the bar scene. Hopefully this list can help in getting a sense of what you may like to try, especially when visiting Harry's. Check out HomeofPurdue for other great places to grab a drink. You can also find out more about Harry's and its rich history at Purdue; I hope you can go visit!
Happy Drinking! (To those 21+)