You're lying in tent wrapped up like a burrito inside your sleeping bag. The crickets' chirp is loud but peaceful, and the stars are shining like diamonds in the black sky. Camping couldn't be any better- unless you had your dog right by your side. 
The season shift from summer to fall is prime time for fishing, bonfires, and camping trips, so I decided to take my dog to Ross Camp, one of Tippecanoe's local campgrounds, for a weekend in the wilderness.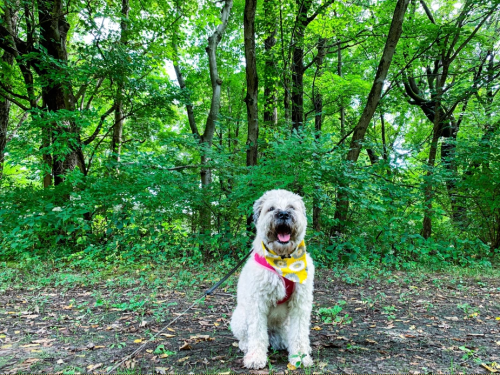 Ross Camp is about 15 minutes west of Purdue's campus and features 15 modern and four primitive sites. The modern sites are $21 a night and have access to electricity, running water, restrooms with four showers and four toilets and waste disposables. Primitive sites run $5.25 a night, and while they are just a simple plot of land with a fire pit, it is only a short walk away from the rest of the modern amenities. Reservations are required to secure your spot, and you can do so by calling Tippecanoe County Park Department  at (765) 463-2306.
Many of the modern plots were reserved by RV campers and housed people staying for longer than just a few nights. My dog, Coco, and I found a spot in one of the primitive campsites to call home. It was a small plot of land that fit my three person tent perfect and was nestled in between two tree fences that provided privacy from any neighbors.
When it's time to eat, Ross Camp provides plenty of picnic tables for munching. There are tables scattered throughout the modern sites, as well as a covered picnic area located near the entrance to the campground. This was Coco's favorite spot to go because it had an open field for her to run and meet other four-legged friends.
The whole campground is pet friendly, so feel free bring your furry friend along. Coco is very loving, so she made sure to greet everyone staying nearby with tail wags and kisses. Even though she is mild-tempered and trained for off leash traveling, Ross Camp requires all animals to be on a leash.
On top of that, if you are going to bring your woofer along, make sure you clean up after them. The campground was very neat, and it was apparent everyone had the "leave no trace" mindset. Similarly, quiet hours are from 10 p.m. to 7 a.m., so make sure you and your canine companion respect these hours so everyone can enjoy their time at Ross Camp.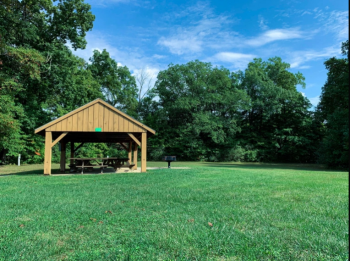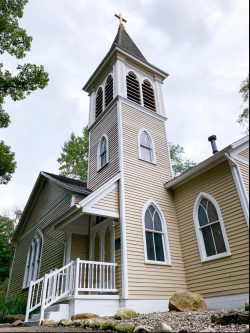 Before heading off to bed, Coco and I wandered around the other parts of Ross Camp. To our surprise, we found barrack style dorms, a dining hall used for wedding receptions and banquets, an A-framed lodge, and a small, old chapel. While we never entered any of these buildings, this small campground had a lot more character than previously thought.
Ross Camp is a great local campground for weekend getaways or weekly vacations. It is located near trails for hiking and close to the Wabash for fishing. For more information about this campground or others in our area, visit HomeOfPurdue.com.
Purdue University Student, Jacquelyn Ham, shares this blog.