Climbing up onto Neil Armstrong's bronze shoulders, hanging off the unfinished P, those are simple ways to tell everyone, "Hey, going to Purdue is fun, look at these cool statues!" 
I thought I could count on one hand the number of public artworks available on Purdue's campus. 
I was very wrong. 
As I woke up early one blustery Saturday morning to meet my friend for a simple south campus statue walk, I did not know I would soon encounter unique and whimsical works of art that would make me want to scour the entire campus for more.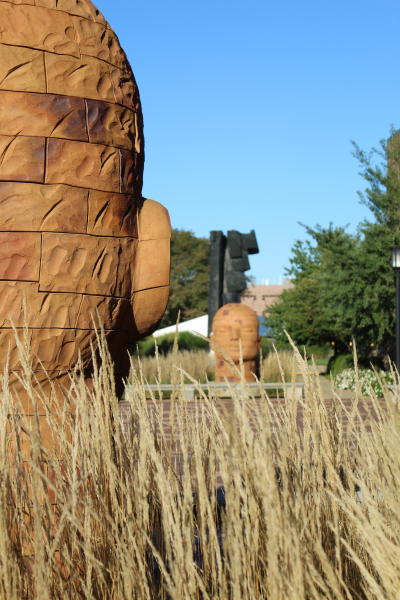 "Brickhead Conversations" – Pao Hall
The first statue was one I had seen many times before. Two gigantic heads, a dozen or so yards apart, staring at each other across a courtyard filled with the sounds of chirping birds. It took me a long time to realize that these chirping sounds were actually coming from inside the heads themselves. "Brickhead Conversations," a sculpture by James Tyler, a sculptor whose specialty is entirely giant heads of brick, creates a serene atmosphere that is perfect for studying in or for simply listening and catching a small glimpse of nature. If you stand at a certain place in the courtyard, you can see both of the heads in your peripheral vision.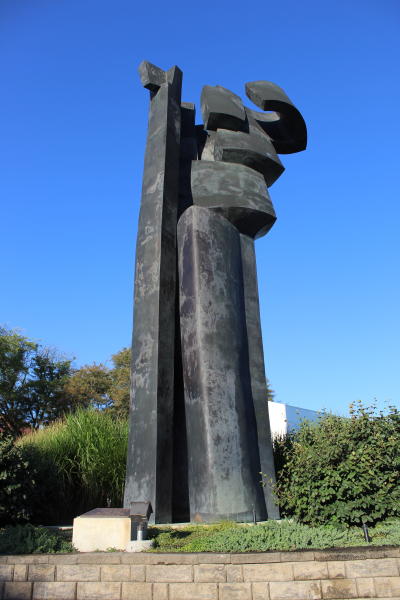 "Transformation" – Pao Hall
Visible from the conversation heads stands a resolute stone statue 40 feet high and made of dark bronze. Created by Faustino Aizkorbe, a Spanish sculptor who specializes in bronze statues, "Transformation" was commissioned as a gift from the class of 1952 during the 50th anniversary of their graduation. It is an incredibly resolute piece, and although I was incredibly small next to it, it still made me feel powerful, like I could do anything I wanted.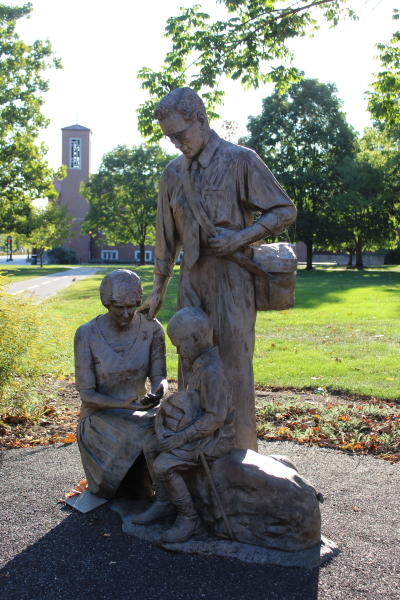 "Entomologist" 
The "Entomologist" statue sits right under a small cluster of trees on the agriculture campus and consists of a man, a woman, and a child. The man stands over the woman as she shows a butterfly to a child. Getting close to this statue feels like you're listening in on an intimate moment, part of a silent conversation about the butterfly in the woman's hand.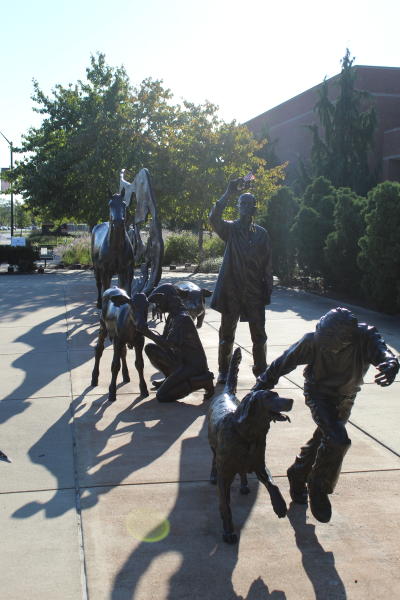 "Continuum"
The last sculpture I visited took me a while to find, as it was all the way over by the veterinary sciences buildings. But it was well worth the hunt. My friend and I spent most of our time at the "Continuum" statue, connecting with the life-size statues of animals, trying to climb onto the bronze horse, and having a blast taking pictures. This is because this is one of the more charming of the sculptures, with statues of humans and many other types of animals walking away from what looks like a sculpture reproduction of an ancient painting. It's incredibly fun to interact with and also leaves us with a sense of appreciation for the wide variety of animals that the veterinary science school gives us information about.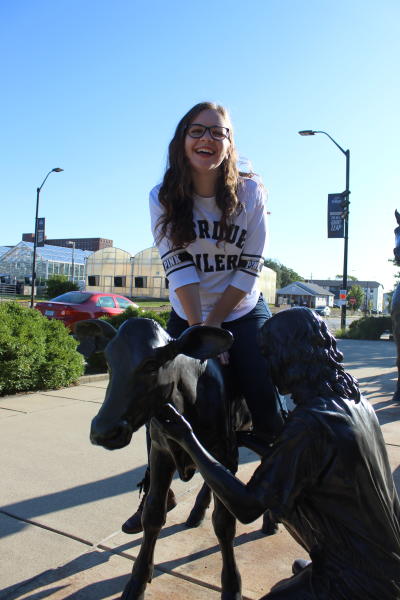 Overall, this statue walk took me across the entirety of the southern campus, and I was able to explore parts of Purdue I had never seen before, even after being a student here for so long. I was so excited to know more about these statues and interact with them, and this way I have more things to show my friends and family when they come to visit me. For more information on Purdue statues and other fun activities, visit HomeofPurdue blog.
Abby Craig, Purdue University Student, shares this blog.