The Lafayette – West Lafayette area is full of folklore and ghost stories if you look hard enough. While things are very different this year due to Covid-19, there are still ways you can explore history and get your spook on while remaining safe and social distancing. Why not start by checking out one of the many cemeteries in the area?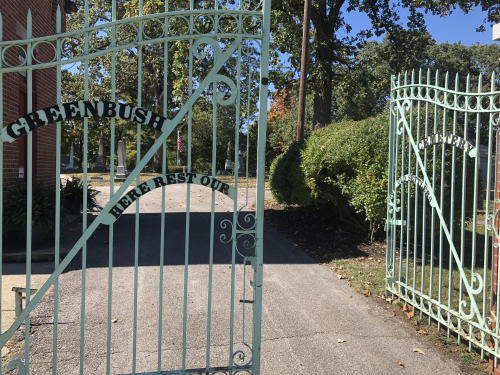 Greenbush Cemetery is a great place to start! This cemetery holds a lot of history, it is the oldest cemetery in the area, but not the first. The first cemetery was originally where St. Boniface Catholic Church is now. It was called the Lafayette City Graveyard and was part of a Native American Burial Ground. When the Church was built all of the tombstones and graves were moved to the current Greenbush Cemetery location. Greenbush Cemetery has a very pretty setting. You can even see some buildings on Purdue University's campus from there if in the right location. Several large, old trees give just the right amount of shade and while I was there, I saw several birds that have made their home there. It's very peaceful.
Several notable people are buried in the Greenbush Cemetery including, the founder of the city of Lafayette, William Digby. Some other notable local people buried here are Judge Cyrus Ball and Dr. Richard Benbridge Wetherill. Judge Ball was originally from Ohio, born into a somewhat poor family of farmers. He decided he wanted to become a lawyer and eventually achieved his goal. After passing the Ohio and Indiana Bar, he started a general store in Lafayette with his brother. He then became Justice of the Peace in 1831 and served for five years. He served in various other positions as well including one of the first toll collectors on the Wabash and Erie Canal. Then in 1840 he was elected one of the three associate judges for this district. Does the name Dr. Richard Benbridge Wetherill sound familiar? The chemistry building on Purdue's campus is named after him. Wetherill was a local surgeon and chemist. One of the many topics he studied was the analysis of the water of artesian wells in Lafayette. He was a member of the Indiana State Medical Society as well as many other medical associations. He was a large landowner and Director of the First National Bank in Lafayette.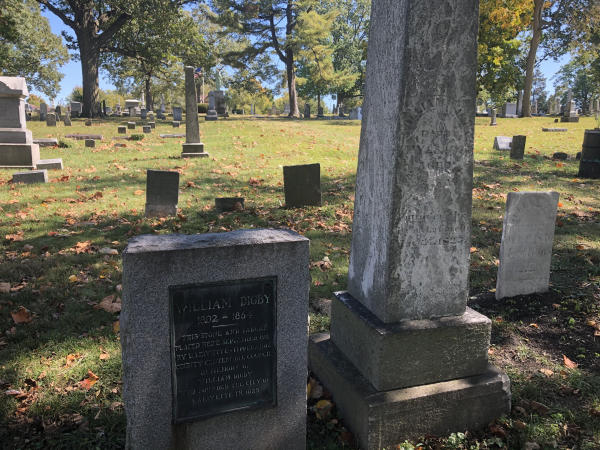 One curiosity of Greenbush Cemetery is why there are Civil War Solider Gravestones, especially the 38 Confederate markers there when the Civil War was not fought in this area. The pointed topped stones represent the Confederate soldiers that died in a temporary hospital that was established here during the Civil War. The other soldiers marked with curved topped stones are 22 Union soldiers, who were killed in a horrible train wreck on Halloween night in 1864. As the story goes, it happened about eight miles south of Lafayette on what is now known as Dead Man's Curve. A sixteen-car cattle train was coming south from Chicago. On the same track, coming north from Indianapolis was an eleven-car passenger train carrying about 500 Union soldiers going home on leave. We will never know exactly why these two trains collided on the curve. Some say it was because one train was late, others say it was the fault of a new time schedule, neither of the trains had a flagman at the curve, as was the required rule. Whatever the cause, it was too late to avoid the crash by the time the engineers saw the other train. Many were injured and 35 were killed. Doctors offered medical help from Lafayette and farmers in the area offered assistance and provided rides into the city. Most of those killed are buried at the Greenbush Cemetery site and a monument listing their names were dedicated in more recent times.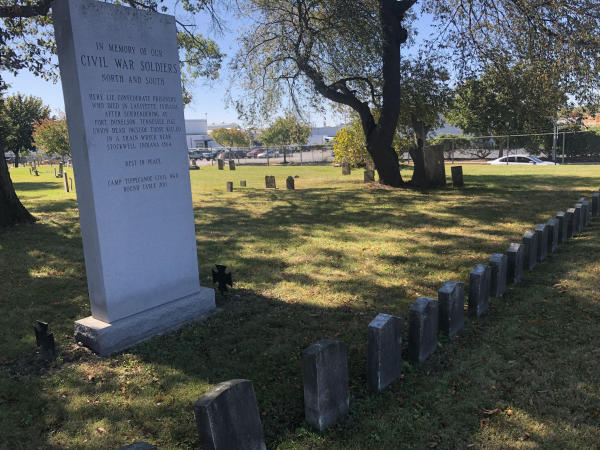 As Greenbush Cemetery became full, Spring Vale Cemetery was developed and has roots tied to John Purdue, who helped establish the cemetery. The cemetery has many go- getters of the time including several US Congressmen, a Civil War Union Brevet Brigadier General, World War II Congressional Medal of Honor Recipient, and a United States Olympian Gold Medalist.  Ray C. "Deac" Ewry, an eight-time Olympic Gold Medalist, won Olympic Gold Medals in high jump, broad jump and triple jump competition in the 1900, 1904 and 1908 Olympics and was a Lafayette native who had polio as a child. Moses Fowler, a leading businessman in the area who came to town with John Purdue is also buried here and has quite the sizeable monument, also made to look like a miniature Washington Monument, a popular trend of the time. It's size is very impressive. It's quite surprising especially toward the back of the cemetery. You will see many headstones that are made to look like the Washington Monument in this cemetery, there is a couple sections with several, all in different colored stones. Local lore also says there is a man buried there who didn't believe in God that said when he died he hoped that snakes just crawled all over him. Supposedly to this day, you can go to that grave and see snakes there. Another story is that of Martin P. Jenners. Martin died when he was 87 years old in a boarding house where he had rented a room for eight years from accidental asphyxiation from an unlighted gas stove. He had no children. He was buried under a tombstone that he had erected himself 14 years before he passed away. People search out the tombstone because they find the inscriptions interesting. One of the inscriptions on the tombstone reads: "My only objection to religion is that it is not true." Another says, "No preaching, no praying, no psalm singing permitted on this lot." Springvale has many beautiful large old trees, that cover the cemetery almost completely in shade. It's very beautiful but also gives it an erie vibe, perfect for Halloween time.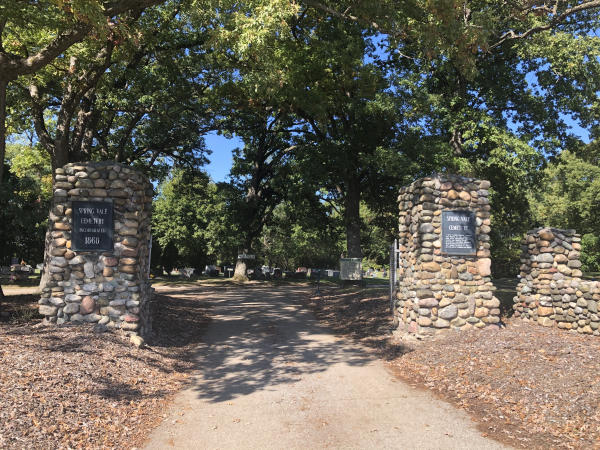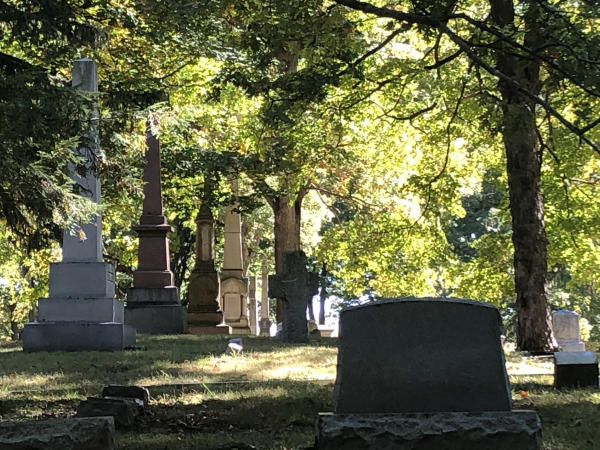 Row of Stones to resemble Washington Monument
Did you know, there was a cholera epidemic in the area in the 1840s and 1850s? The disease spread so quickly they couldn't build coffins fast enough. They buried people at night and in mass graves in order to not cause mass hysteria with the number of deaths and the help stop the spread of the disease.   The mass graves are located at Fink Cemetery. This cemetery can be found at the corner of S. 18th Street and Ortman Lane/ 300 S.
Take a stroll through one of these or other cemeteries in the area and let us know what stories you discover! If there are stones that catch your attention and you want to learn more, look the name up on https://www.findagrave.com/ or try visiting the Arganbright Genealogy Center at 1001 South Street in Lafayette to do some research on your own. Even if you don't have relatives in the cemeteries, some of the stories and even the gravestones themselves can be interesting. Be sure to look at the headstones that look like trees in Greenbush Cemetery. They are all carved from Indiana Limestone and some have embellishments such as doves to represent significant events of that person's life. I almost walked right by one, thinking it was a real tree!  You might find some of the symbols on other stones in all the cemeteries to be intriguing as well.  Some are religious symbols, some represent military experience or a fraternal organization. Go explore and see what you can discover.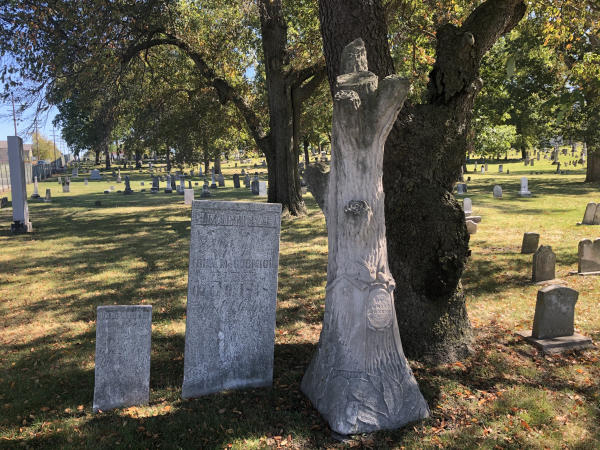 When visiting the cemeteries, please remember to be respectful and leave behind only footprints.
Sources: