Who says doughnuts can't be both breakfast and dessert? West Lafayette and Lafayette have many great locations where you can satisfy your morning hunger or your sweet tooth with some delicious doughnuts. So grab your friends, your children or your grandchildren and make an outing out of visiting these amazing shops.
Mary Lou Donuts
Open since 1961,
Mary Lou's
is one of the statement shops of Lafayette, and it is home to some of the best doughnuts in the area. It prides itself on freshness and quality, and inside its shop is a center of community for townsfolk and students alike. The specialty doughnuts include the massive apple fritters and blueberry doughnuts, but they have more than 80 flavor combinations. The company offers many other services, including delivery and drive-thru, and it sports its very own
doughnut truck
. You can find the truck's location by visiting the
Mary Lou Donut Truck Locations
Facebook page. In 2022, to the delight of the community, Mary Lou's opened a second location off of South Street near I-65. I came for breakfast, and I tried the blueberry glazed cake doughnut, which has a true blueberry flavor with hints of cinnamon. It's not too dense, but it's definitely filling.  This shop features specialty pastries including cupcakes, cookies and danishes, but they also serve fresh doughnuts.
O'Rears
most famous doughnuts include the fried cinnamon crunch doughnuts and the fried apple fritters. Other doughnuts include the tiger tails (vanilla and chocolate twists), Bavarian cremes, French cremes and raspberry cremes. On weekends, the shop makes special lemon and chocolate-filled doughnuts. Most of their doughnuts are yeast, but they do offer a small selection of cake doughnuts. I came for breakfast and tried the fried cinnamon crunch doughnut, which was delicious! The cinnamon-roll-flavored yeast doughnut was topped with caramel icing, crushed nuts and butterscotch chips, and the flavors together made me want to melt in their goodness. Open only in the morning, this doughnut shop features a variety of cake and yeast doughnuts you can grab on-the-go because it's not a sit-down restaurant. However, you can purchase coffee or bottled beverages from a refrigerated cooler in the shop to pair with your doughnut.
Corlew Donut Co.'s
specialty doughnuts include the apple fritters and the tiger tails. Not to be outdone by the other flavors, their special cinnamon doughnuts having a variety of toppings including caramel icing, chopped nuts with chocolate icing, and cinnamon sugar. I tried the tiger tail for breakfast, which was ginormous; it's the equivalent of eating two doughnuts. I ate it all in one sitting! Chocolate and vanilla flavors are intertwined in this yeast doughnut, and it is topped with glaze frosting. 
Hammer Donuts
Hammer Donuts, recently relocated and opened a storefront Downtown Lafayette. Located right on Main Street, diners can grab donuts to go or sit and enjoy their donuts in the donut shop. There are a variety of flavors to try, including jelly-filled, Bavarian creme-filled, cherry, red velvet and more. Their specialties, however, are the apple fritters as well as the cereal-topped doughnuts featuring Lucky Charms, Fruity Pebbles, or Captain Crunch. No other shop in the area features these cereal creations; they definitely conquer breakfast and dessert. I came for a snack and tried the glazed strawberry cake doughnut, which was small but also dense and thick, and it was the perfect combination to make me feel satisfied. 
Rose Market
A new addition to the Greater Lafayette area showcasing wonderful donuts is Rose Market, located Downtown Lafayette. Have any food allergies? Rose Market makes donuts that are vegan and/or gluten free, while also tasting delicious. Sara Erickson, Director of Communication with VLWL, shares, "My 4 year old son has severe egg and dairy allergies. His sister's favorite treat is a donut and most are made with eggs and dairy milk. When Rose Market opened, we were one of the first to try their specialty donuts, and loved them. Now we are regulars every week!"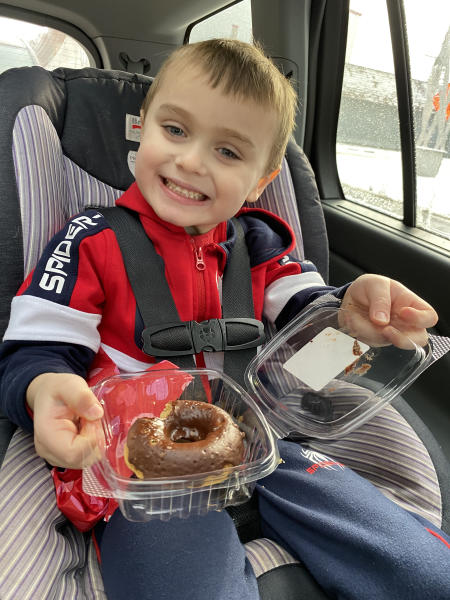 If you're in the area, check out some of these amazing doughnut shops and find your favorite one for breakfast or just a sweet treat excursion. For more information about Lafayette-West Lafayette food and shops, click here.
This blog was wrriten by Purdue University Student, Kayla Groen. This blog is part of a series of articles submitted to Visit Lafayette-West Lafayette through a cooperation with a 400-level travel writing class at Purdue University. Visit Lafayette-West Lafayette updated this blog in 2022.