Pizzeria, Pizza Place, Pizza Parlour, Pizza Shop, Pizza Joint… whatever you call it, here is a top 8 list in the Lafayette – West Lafayette area!  
Bruno's Pizza & Big O's Sports Room! When talking pizza in Greater Lafayette, one really must mention Bruno's Pizza & Big O's Sports Room! It's been a local favorite since 1955! The restaurant may have changed a bit, but the food hasn't!  If you have been around the area long enough you may remember the old restaurant, Bruno's Swiss Inn across the street from the current location. Although I was very young, I have fond memories of going there with family and was very glad when they built the new building, they still had a couple rooms with Swiss inspired decor. Now they have been in the new building since 1998 and many more fond memories have been made over Bruno's Pizza (and lasagna, manicotti, Bruno Dough, and our favorite cheese balls!). Now they are just offering carry out and are open for events, but you still won't be disappointed by the food. It's still the same pizza you have always loved! You can still watch them hand toss the dough through the window as you walk in the front door to pick up your order. Always fun to watch! The pizza has a thicker crust as you would expect with hand tossed and the dough is so delicious! We love the Boilermaker Pizza which has sausage, pepperoni, ham, bacon, onion, green pepper, mushroom, and black olive on it. But really you can't go wrong with any of their pizza's, they even have dessert pizza! The dessert pizza is the regular pizza dough with peanut butter as the sauce, covered in cheese and then topped with chocolate chips. It's different but surprisingly very delicious! In addition to the pizza my family loves the house salads (they have so many toppings! Things like beets, golden raisins, hard boiled eggs, and sunflower seeds that you don't see everywhere but make for a really yummy salad!), manicotti and lasagna! Get the meat sauce! You can thank me later! MMMM! And seriously, don't forget the cheese balls and Bruno Dough too! 😉 I always love using the left-over sour cream and a lot of times ask for extra, from dipping the cheese balls to dip my pizza in too. Call me crazy but there is something about their pizza and their specific sour cream that is just amazing together. Just try it. I only do it with Bruno's though, try any other pizza that way and I'd be saying it's crazy! HAHA!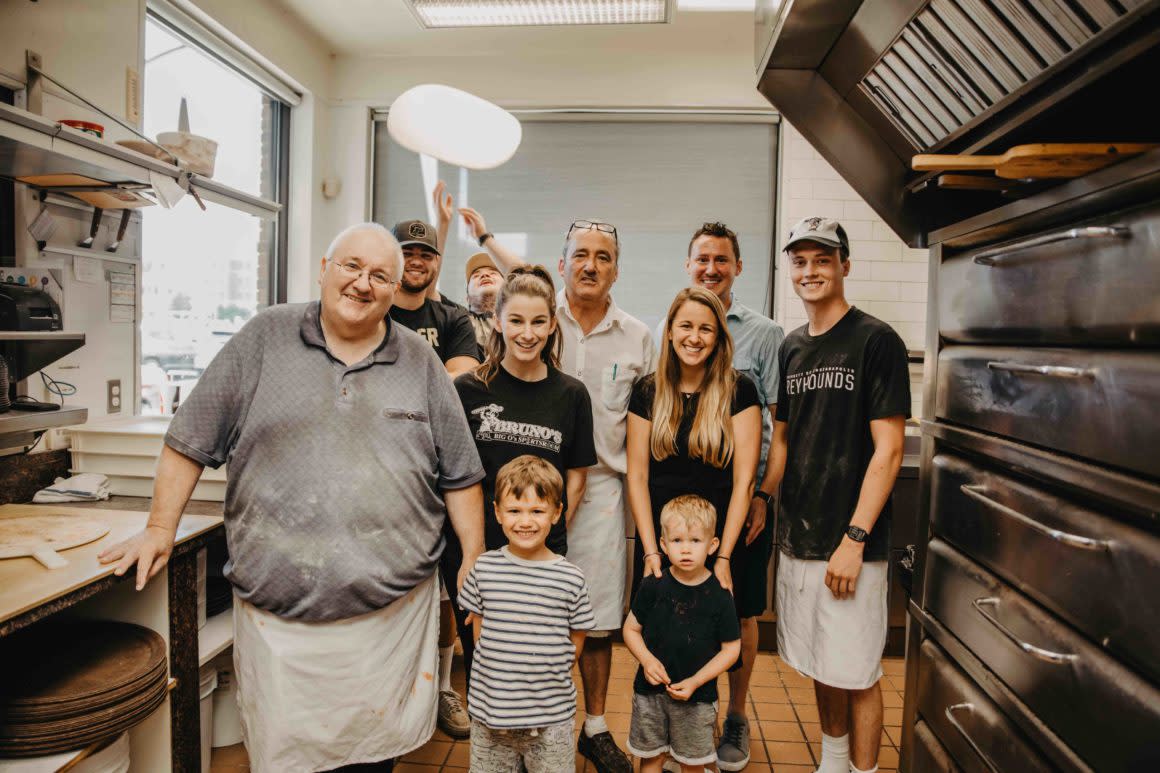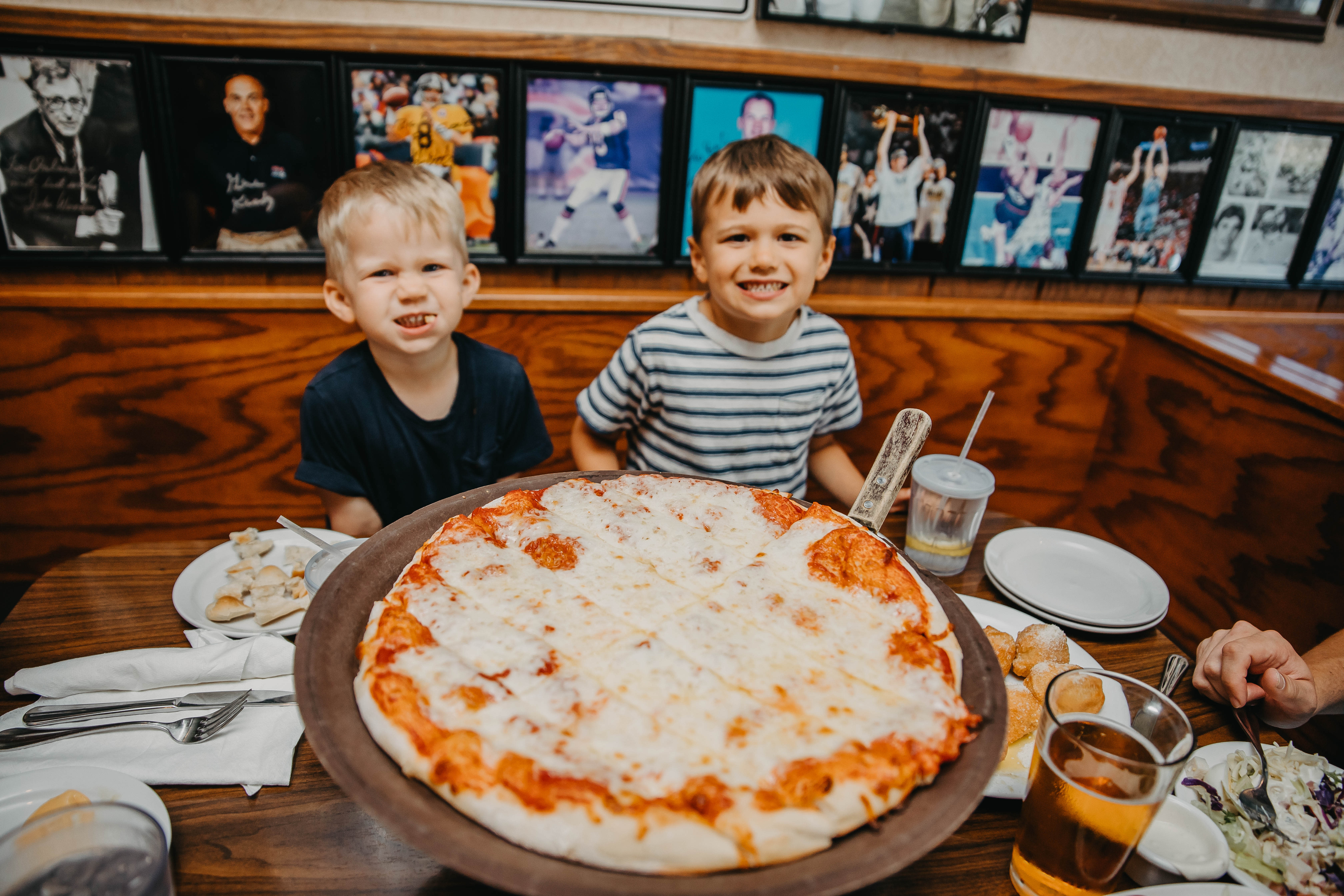 Arni's. This pizza restaurant is another long-standing local pizza tradition; they've been around since 1965! The original owner, Arni, opened a Pizza King restaurant to begin with but soon made some changes and made it his own. That's why there are so many similarities between Arni's and Pizza King though. Arni's pizza is a thin crust pizza that is loaded with toppings! Our favorite is pepperoni and mushroom but again you really can't go wrong. We love that the pepperoni is ground up pepperoni and not sliced pepperoni, really giving you tons of pepperoni flavor in every bite! Hungrier than just pizza? No meal at Arni's is complete without an Arni's Junior (or Senior) as well! It's a salad with lettuce, chunks of turkey, ham and the cheese cubes they use for the pizza, radishes, green onions and croutons. We recommend trying it with their house made French dressing. We haven't found any French dressing that compares anywhere. It's a unique tang that is so scrumptious!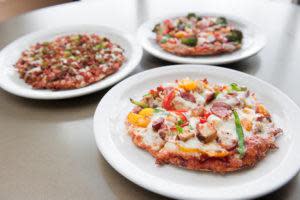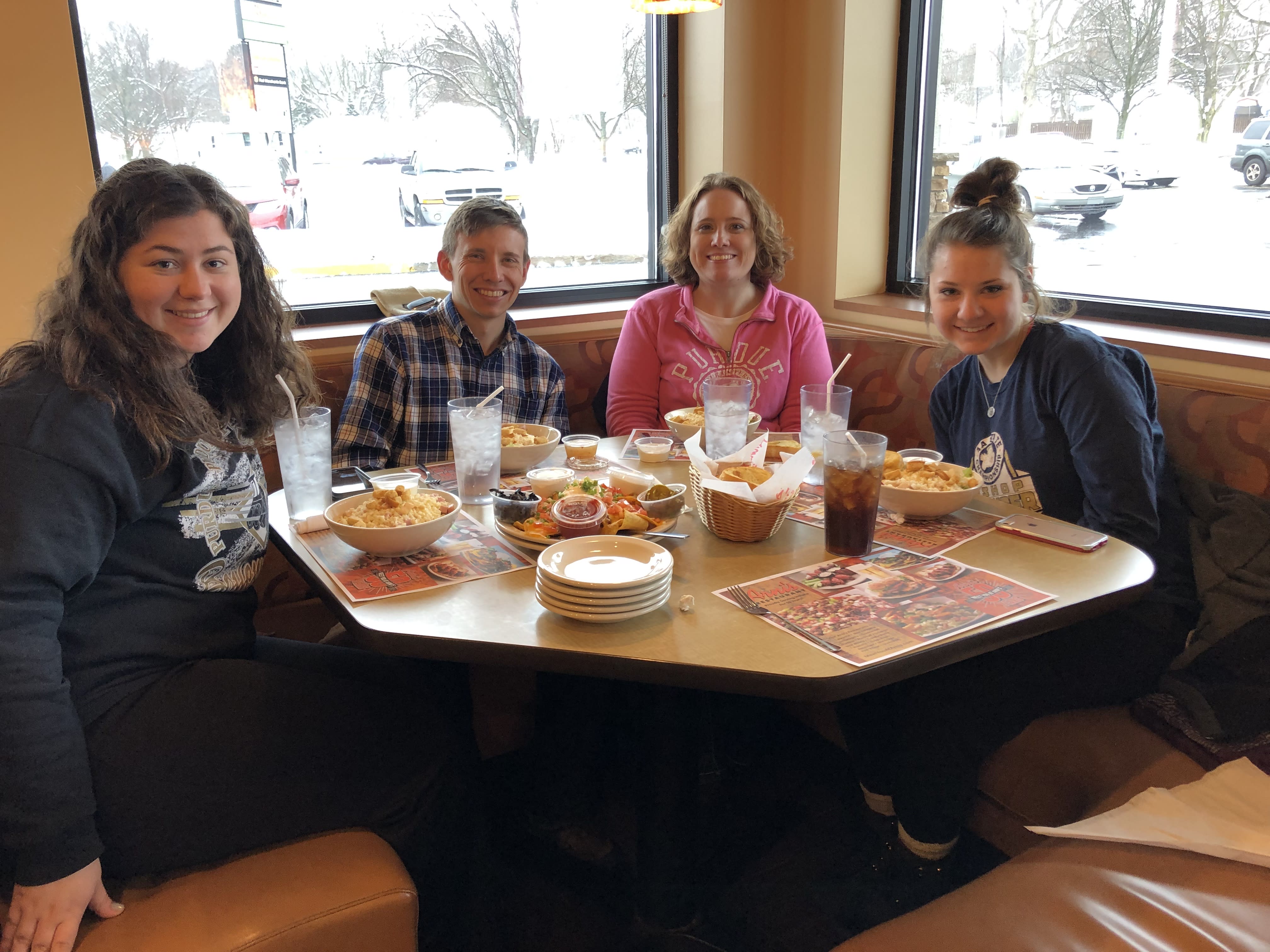 Teays River Brewing & Public House. A somewhat surprising place to find great pizza is at Teays River Brewing & Public House. They have fantastic flatbread style pizzas! All cooked in their woodstone oven! My favorites are the Four Cheese (this has a garlic cream sauce on it that's divine!) and the Margherita! My toddler loves their kids cheese pizza too! (Mom and Dad love it because there is always plenty to steal a few bites- or a slice- and take some home for lunch for her the next day!) We usually get burgers or entrees here, so we haven't branched out a lot for their pizza, but they do have a good variety and they are so delectable! The atmosphere is great here too and what's better to go with your pizza than some beer!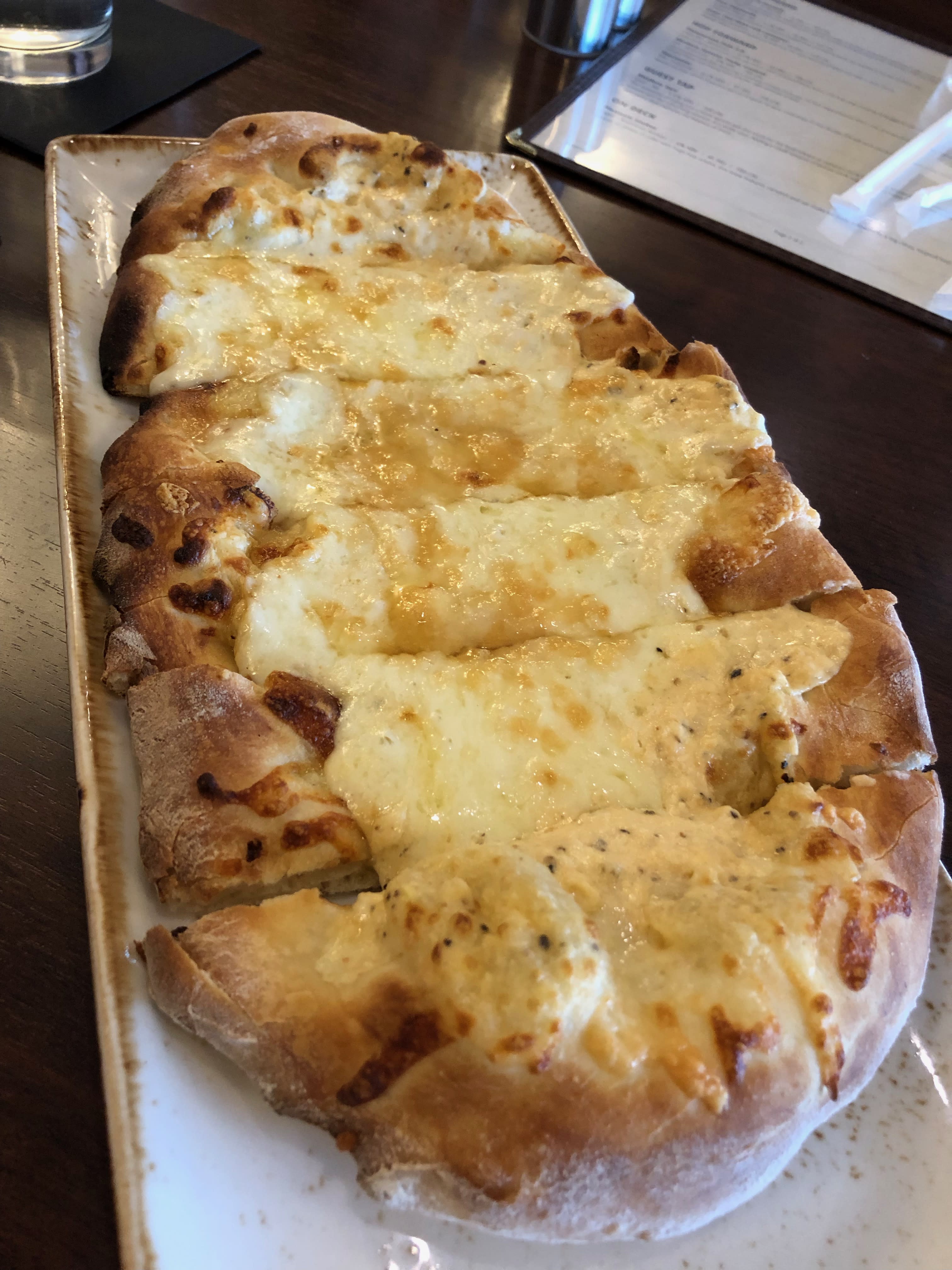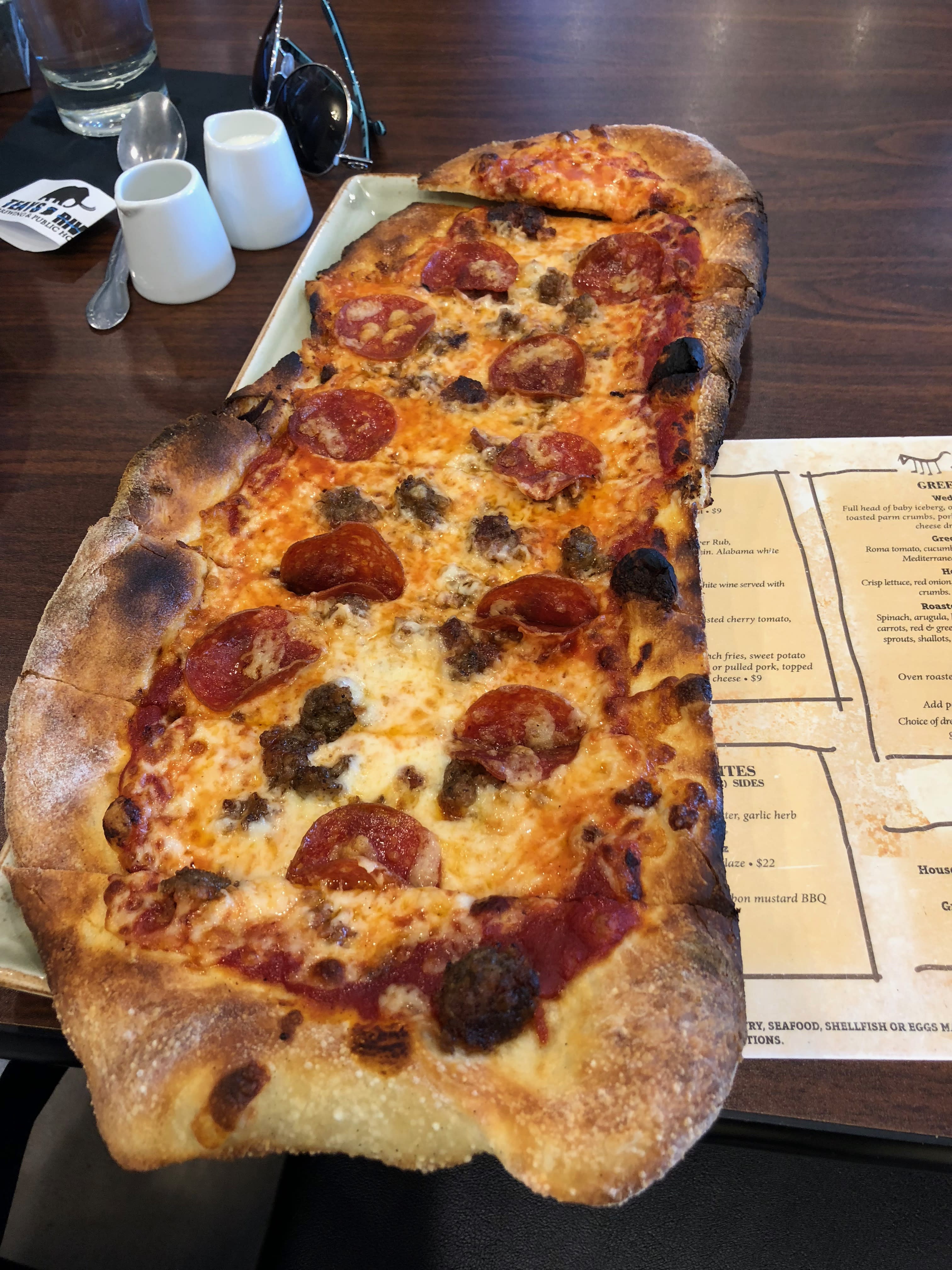 Puccini's. We love Puccini's! We typically get calzones when we eat here, but that's just a folded pizza right? HAHA! I do like their regular pizza as well. I really love some of the unique flavors they come up with! Like their twice baked pizza. It is new potatoes, bacon, green onions, smoked gouda and Puccini's buttermilk herb dressing! Potatoes! And ranch dressing! On a pizza! Now who thought of that one? It is fabulous though! I never would have thought I'd like it but it's great. It's not something I order all the time, but if there is a group of us and we are ordering several pizzas this is a nice one to throw in there for some variety! I'm looking at their pizza menu a bit closer than normal today and notice there is quite a lot of different combos that you wouldn't think of on a pizza! How about a BLT pizza- bacon, lettuce and tomatoes with mayo! Or there are several with shrimp on it! Shrimp? On a pizza? Wow! Going to have to go back and try some of these! I typically make my own calzone with artichoke hearts, black olives, mushrooms and feta cheese and get garlic butter instead of marinara to dip it in. Oh, so amazing! The outside is crispy and buttery while the inside is soft and full of toppings and melty cheese. MMMM! My hubby loves the meatball calzone as well and we can't have Puccini's without having their spinach artichoke dip and side salads with their ranch dressing! Oh, so tempting! (Note, if you must eat gluten free, they have a note on their menu saying most of their menu items can be made gluten free.)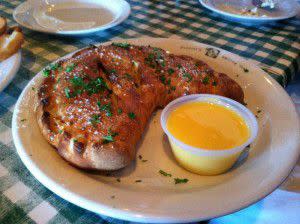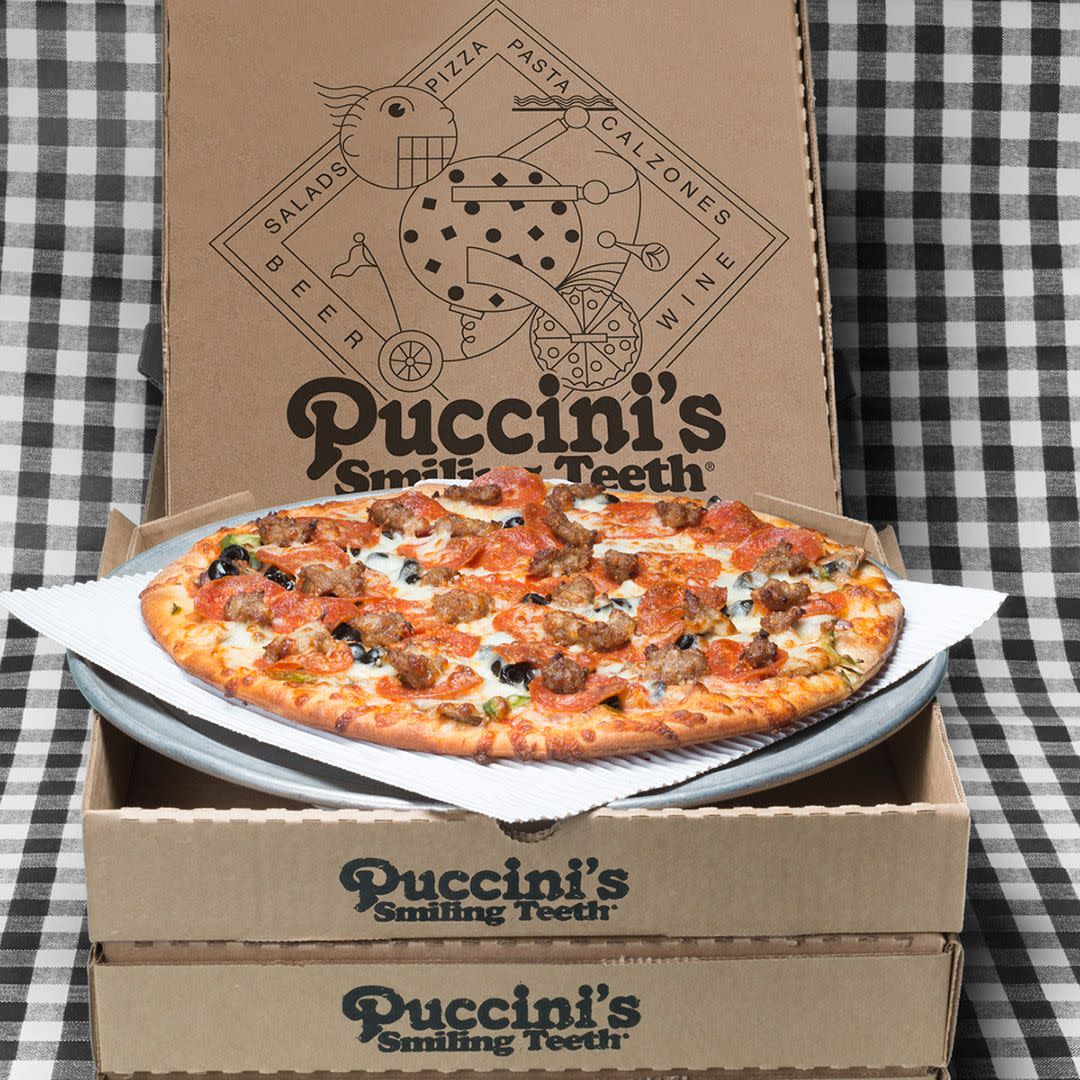 Azzip Pizza, look at that name again…. A…Z…Z..I…P, look familiar? It's just pizza, backwards! Fun right? I really love this stop on our pizza favorites because all the pizzas are made to order, right in front of you! You go up to the counter, tell them what size you want and what style you want. You can have your typical pizza crust, sauce, cheese, toppings, yada yada yada or get this, you can have a salad on your pizza crust! Or even better, you can do half and half! That's what I like to choose- you get the best of both worlds! So, you say your style, then the type of crust (they have a cauliflower crust I've heard is heavenly!) then you pick your sauce and toppings or tell them the selection you want of their specialty picks. They run it through the oven on a conveyor belt, right there in front of you, and when you are done walking from the toppings to the register, it is pretty much done! Blows my mind every time! I don't know why… I guess I don't get out much. I love salads with my pizza though and with the half and half you get the best of both worlds. I love the salad side because they drizzle pesto and cheese on the crust before they cook it so it's almost like a really amazing crouton on the bottom. Then you get to pick your toppings for the salad part as well. Great anytime but especially for the lunch break!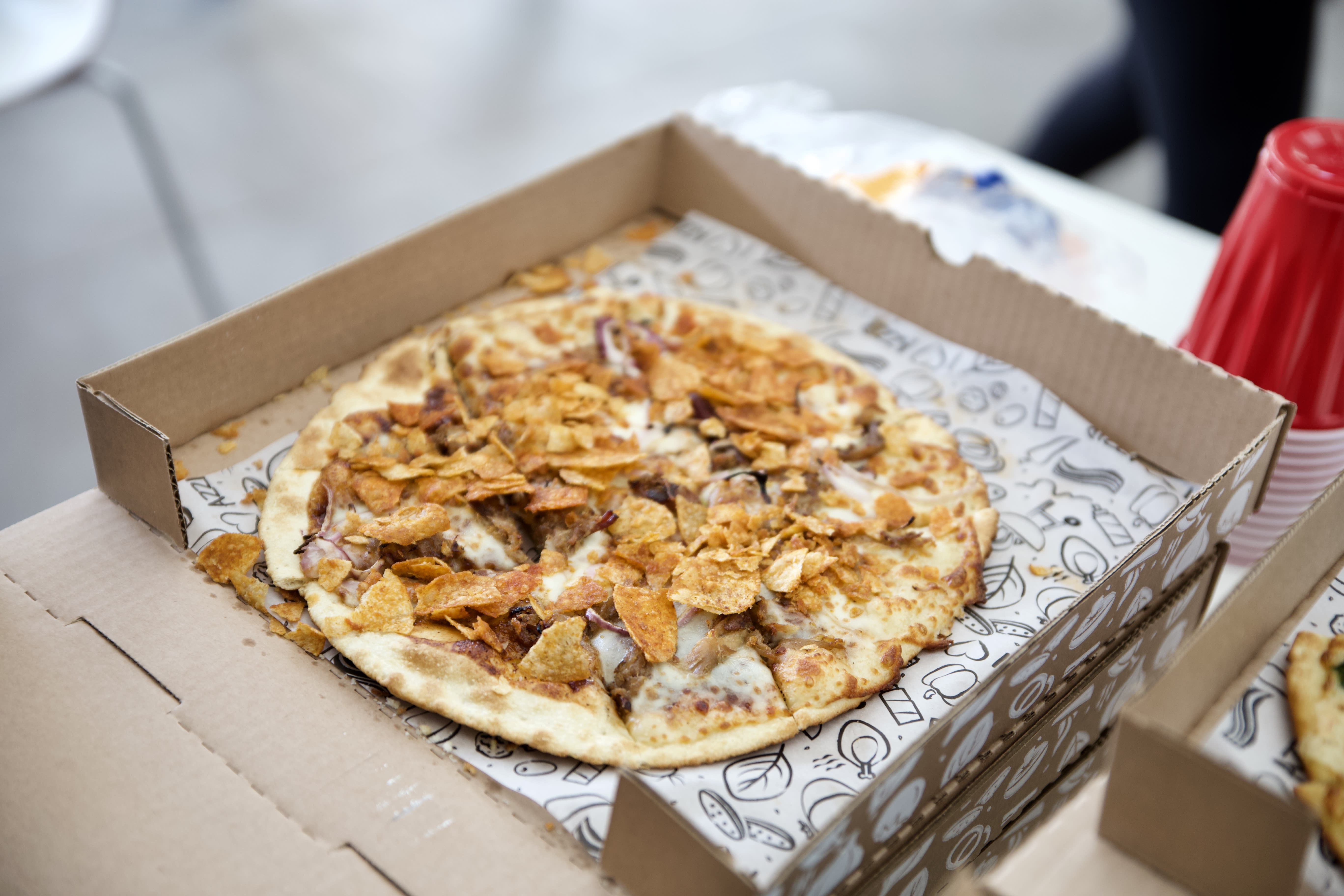 The Dock 231. If you are on the south side of Lafayette, have you tried The Dock 231? We live on the Southside and are just out of the delivery range for most places, and we love that they are near our house and we fall within their delivery zone! Their pizza is great! We like just their basic deluxe, but they have a variety of specialty pizzas as well! We've always wanted to try their TexMex Pizza but haven't had the guts to try it yet. I'm sure it's delicious though! Check out this description: "Refried beans and cheddar cheese to start… out of the oven we add a bunch of shredded lettuce; more cheddar cheese; lots of diced tomatoes and red onions all topped with crumbled taco chips. Served with salsa…" Really hungry? Check out their bobbers or stuffed nibblers.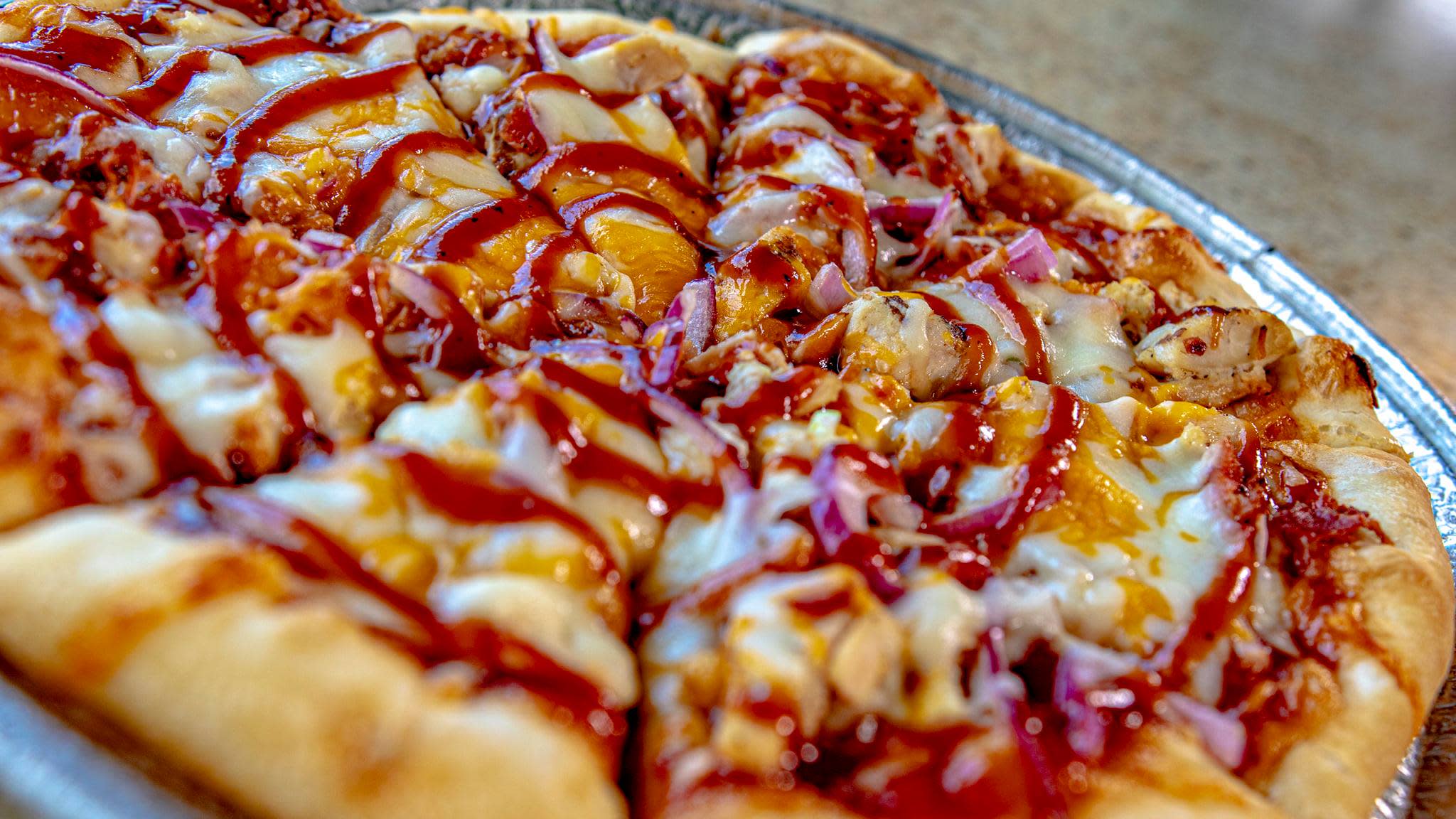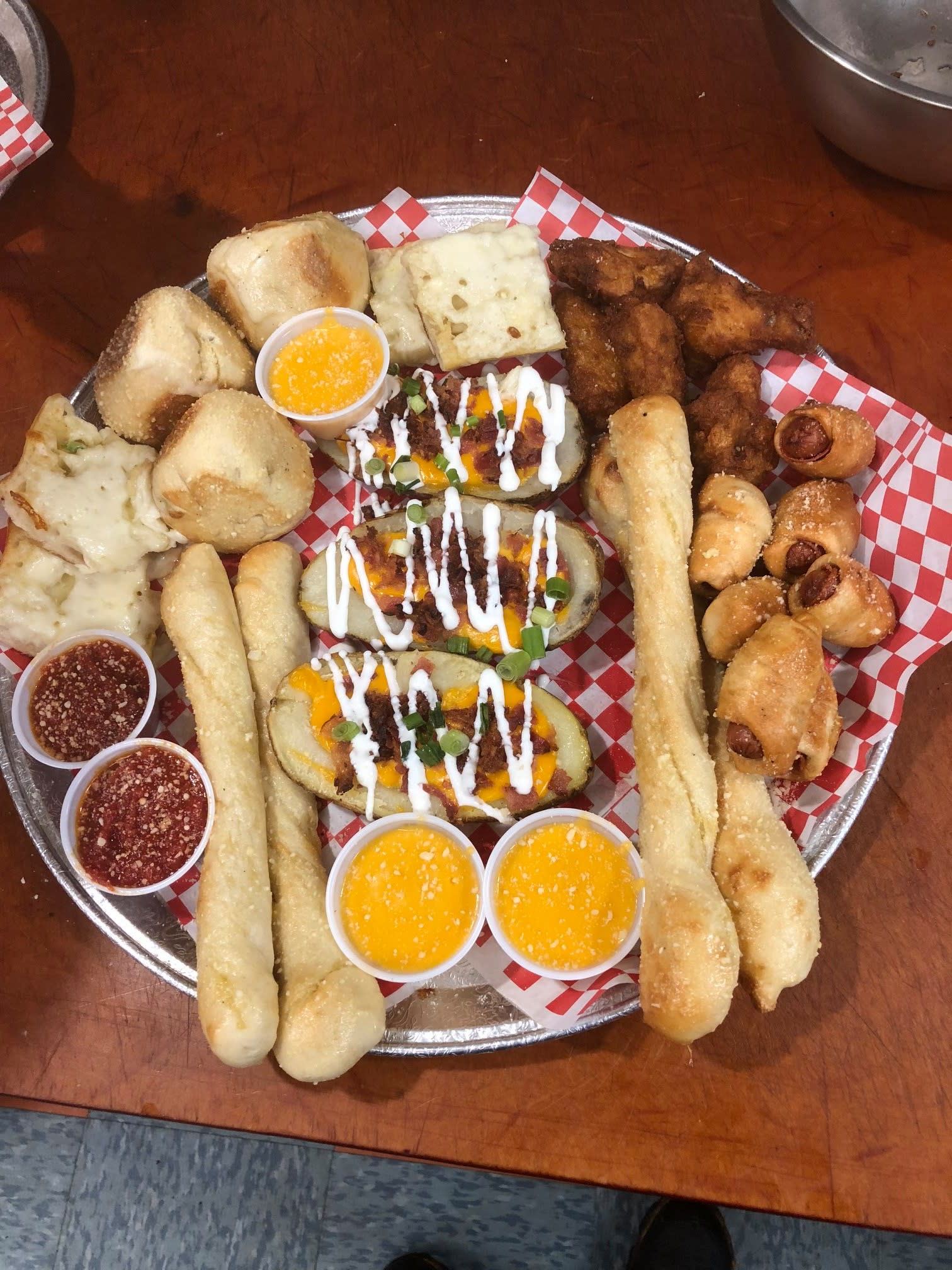 Parkway Pizza & Subs. I must admit the next place I really haven't visited a lot but the couple times I have been there it's been fantastic! It's Parkway Pizza & Subs! I need to think about them more! They are really a hidden gem. They have a lot more than pizza too! You can also find sandwiches, salads, wings, pasta, kebobs and Mediterranean cuisine. I've only had their pizzas that I can remember but need to go back to try some more. I remember their crusts having a very distinct flavor that I loved. It's been so long, I think I need to try it again! Who's going with me?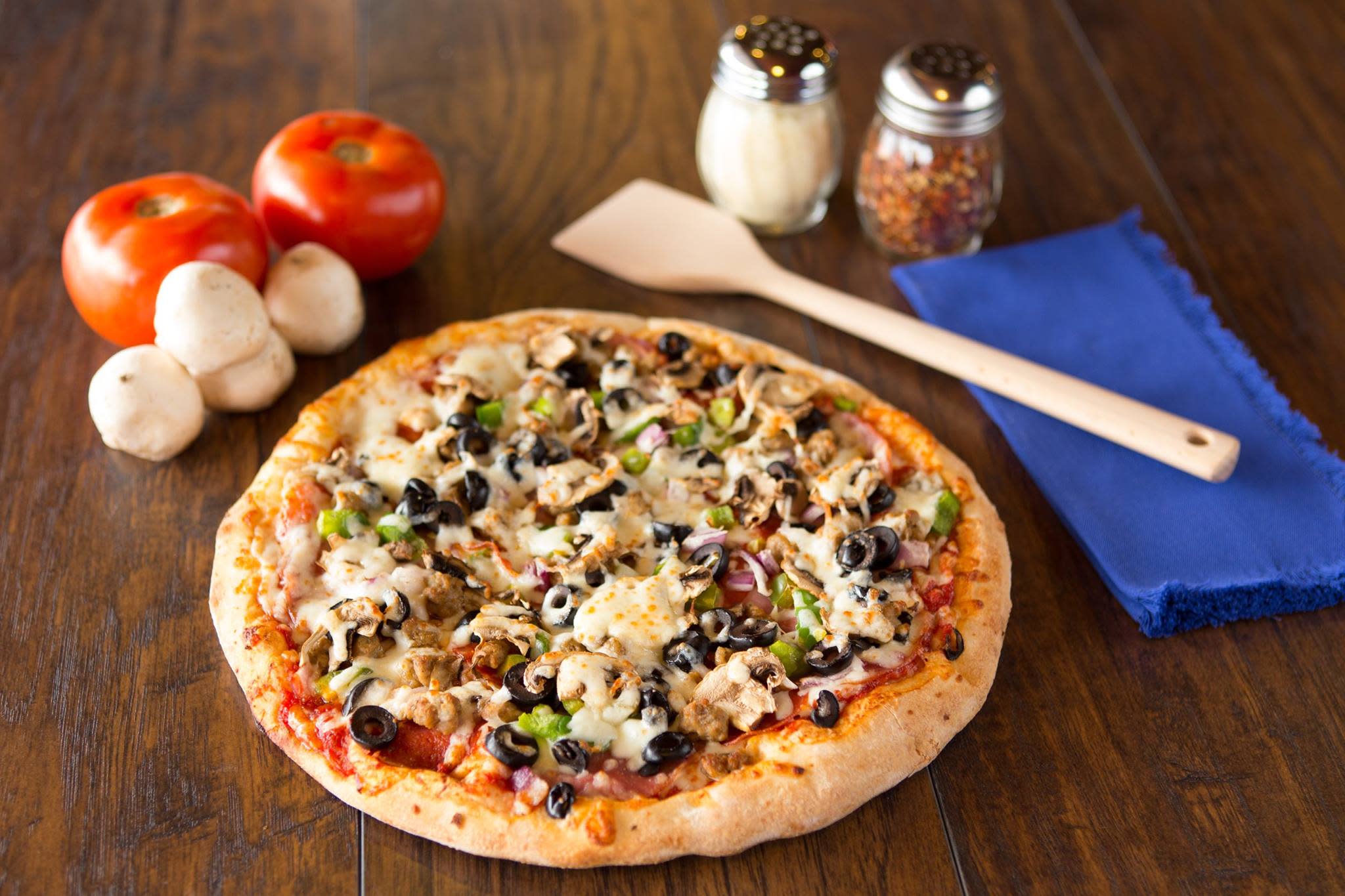 Big Woods. One place I have not been yet but is for sure on my list of places to try is Big Woods. I hear their pizza is great and you even have an option to build your own choosing from several crusts, multiple sauces, and tons of toppings. There is even an option for a cauliflower crust for all you gluten-free or keto eaters out there! Hmm. Going to have to move this up on the must try list. "The Gatherer" on their menu sounds awfully yummy to me too! The description on the menu says: "Fresh spinach, roma tomato, caramelized onion, mushroom, black olive, smoked gouda, and a mozzarella blend on a garlic-infused olive oil base." WOW! Mouth is watering right now! Honey, what's for dinner tonight?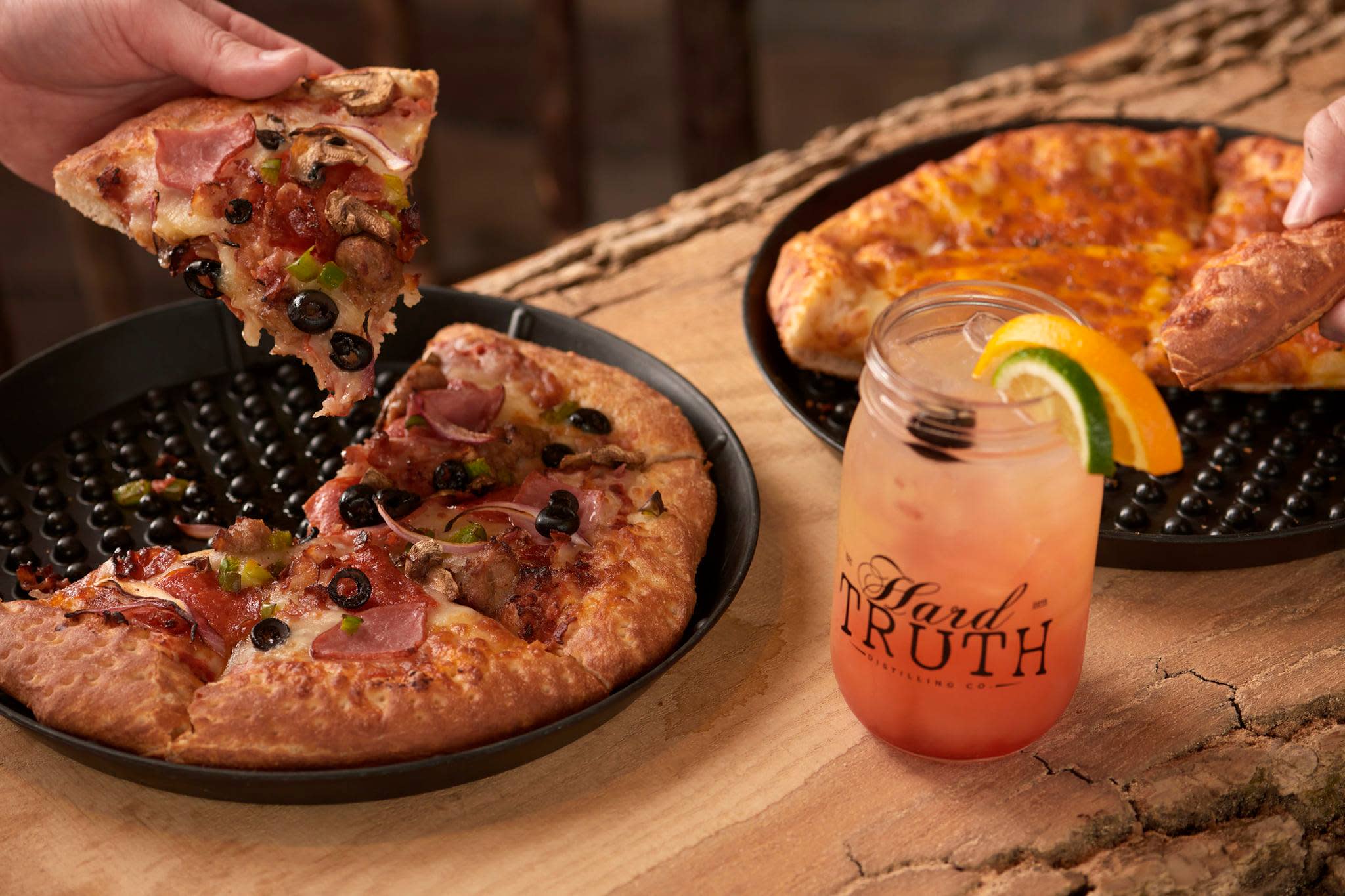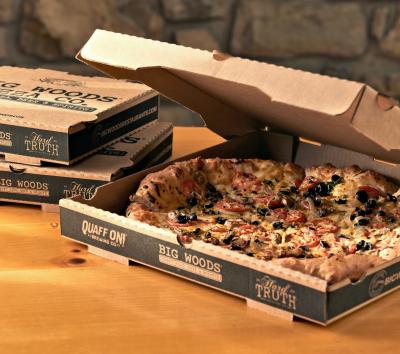 Wow! I never realized just how many different kinds of pizza there are… or how often my family eats some form of pizza! Hmmm. We love our local selection of pizza restaurants, there are so many more! What's your favorite?