Downtown
Platted in 1825 by trader William Digby, the original town was only sixteen square blocks. Thanks to its location at the northernmost navigable point on the Wabash River, and its transportation ties to the Wabash and Erie Canal and multiple rail lines the small town grew rapidly throughout the 19th and early 20th centuries.
Lafayette has a diverse and unique collection of buildings dating from the mid 1800s to contemporary time. Examples of remaining early architecture include the John Purdue Block located at 6-12 2nd Street. John Purdue, the namesake of Purdue University, built the original row of twelve units for his business block in 1845. Four of the original twelve bays remain and now house a popular downtown bar and several office suites.  The large arched windows on the west side of the building were used to load and unload merchandise on the Wabash & Erie Canal.    

Other notable buildings in the downtown area include 536 Main Street (Built in the late 1860s, the second empire style building has served as the location of McCord's Candies since 1912), 330 Main Street (Built in 1877, and featuring a cast iron façade, the former location of the Perrin Hardware Company has ties to the Perrin neighborhood – both bear the same family name) and the Big Four Depot, constructed in 1902 and moved to its current location at Riehle Plaza in 1994.
The most spectacular and imposing piece of downtown architecture is the Tippecanoe County Courthouse. Built between 1881 and 1884, courthouse is actually the third built on the same location. The building style is Eclectic with a strong Second Empire influence.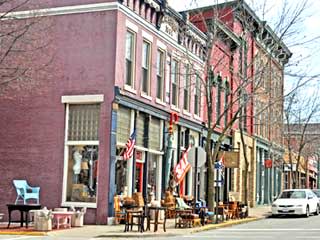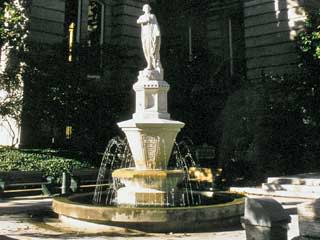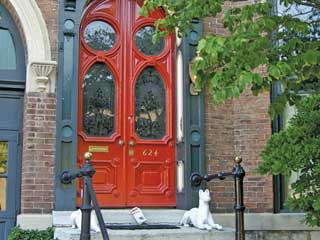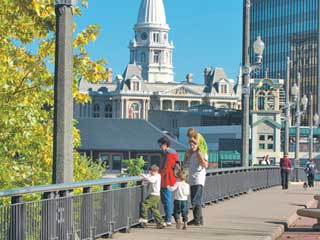 Downtown and the courthouse square host a variety of activities and festivals throughout the year including Dancing in the Streets, the Taste of Tippecanoe, Downtown Gallery Walks, Round the Fountain Art Fair, Uptown Jazz & Blues Fest, Art on the Wabash Fair, Octoberfest, Dickens of a Christmas, OUTfest and Mosey Down Main Street to name a few. Full a listing of downtown events, venues and festivities, visit
www.ReadySetGoDowntown.com xxx• xxxwww.lafcal.com xxx• xxxwww.tippecanoearts.org
explore the Downtown's Plaque Properties