Lafayette-West Lafayette, Indiana has some burgers that you might want to build a monument to after trying them.
The first buns that come to mind are those of the Duane Purvis Burger at Triple XXX Family Restaurant. Now this isn't just any old burger. This is a burger that will make you muster the courage to try it. The problem is that while it is fresh ground (every day in house) sirloin it also has PEANUT BUTTER on it. Once you've taken the step, you will not be disappointed. Shocked? Don't be - the key is not to have too much peanut butter on the burger as it could easily overwhelm it but the smoky, nutty flavor is an amazing compliment. Greg Ehresman, the burger's creator shares, "You either love it or you don't".  This statement says it all.  This burger is the one that choosy KIDS will choose.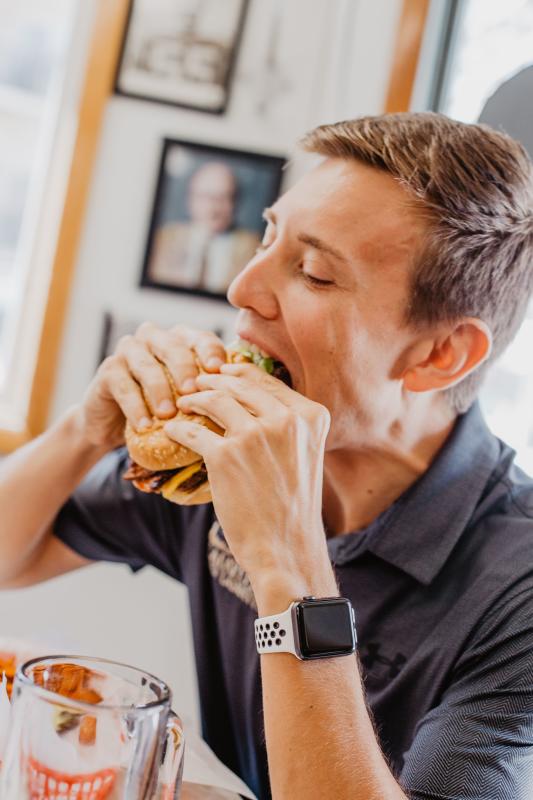 Sgt. Preston of the Yukon was a television and radio series depicting the life of a Canadian Mountie in the Northwest Territories. Sgt. Preston's of the North is a "saloon" and restaurant in Historic Downtown Lafayette that has attempted with photos and décor, to re-create this atmosphere of turn-of-the century Canada and its appeal. They have a beautiful outdoor patio, as well as being known as one of the "local" regular spots.  Their claim to fame is the Preston Burger. At first glance the Preston Burger is, well… A burger. Yes, it's a full half pound of juicy, certified angus beef cooked to order and traditionally served with mayo, ketchup, mustard, lettuce, tomato, pickles and alfalfa sprouts.  Every month the chef creates a new burger. Feel like taking on some Thai. The Preston Thai Burger would be a great fit for you. How about a trip to Jamaica via a scrumptious meal on a bun? Preston's has got you covered. The Black & Blue is always a favorite. Okay, so if you STILL aren't pleased you can create your own right then and there. How about a burger with grilled onions, mushrooms, sprouts, three cheeses, and Thai sauce??? That's right. You don't get charged more you just GET more. It's a customizable burger. It also happens to be one of their best. 
We would be remiss not to tell you about DT Kirby's Kirbside Burger. This was a flavor powerhouse! It is perfectly stacked and loaded with generous portions of home fries, onion rings, house chips, lettuce, dice tomatoes, fried pickles and house sauce!  All this deliciousness is packed inside a fresh pretzel bun with just the right amount of salt crystals glazed over the top!  This local bar serves a lot of great creations all designed by the owner, who wanted to create a good old fashioned Chicago style bar where people drop by for a drink and a bite on their way to an event.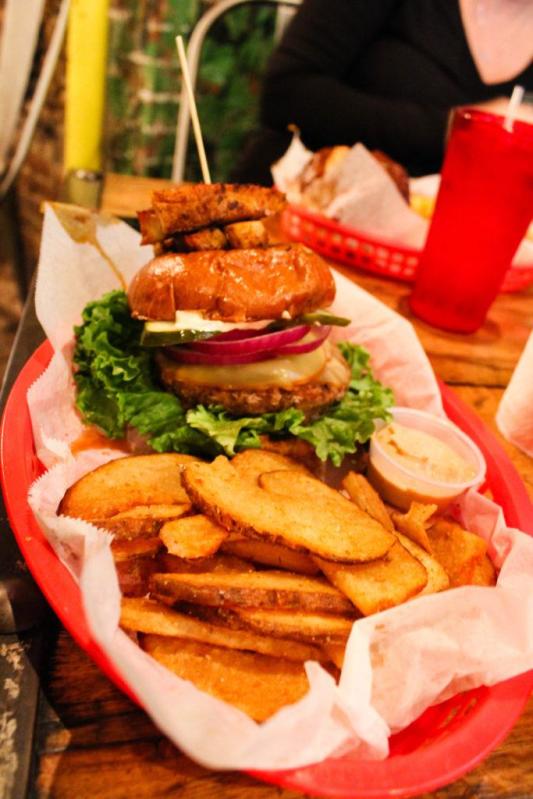 Ever tried a beer burger? You can at Teays River Brewing & Public House. The Ultimate Beer Burger from Teays River is a mouth-watering 8oz. burger patty. The hob mayo, beer cheese, and onion jam add a distinct flavor to the already beer marinated patty. With the first bite, you will taste an explosion of cheesy, beer-alicious dreaminess!
Visit Lafayette-West Lafayette to sample these Burger Superstars!  You will leave completely satisfied.