The cold weather here in Indiana has a tendency to keep people trapped in their homes. No one wants to be outside when it is so cold that it feels like your fingers may fall off, right?!  Well don't worry…there are plenty of fun things to do in Lafayette-West Lafayette that will keep you warm indoors!
If you're looking for some family fun, there are plenty of options to keep you and your children entertained that do not involve building snowmen or snowball fights. To get some physical activity in, check out Climb Lafayette, Get Air Lafayette or Elite Air. Climb Lafayette is an indoor rock climbing gym that can accommodate all levels of climbing, from beginners to advance, and will for sure keep your child moving and active without being stuck outside in the cold. This is an awesome activity for all, as they offer something for each age group and ability levels, as well as complementary yoga sessions for all members and day pass holders! Get Air Lafayette is another great option for families trying to stay active in the winter. It is an indoor trampoline park that offers trampoline jumping, dodgeball, a foam pit, and specific areas only for the little ones, making It appealing to many age groups. Elite Air features over 50 trampolines, including the famous angled wall trampolines, foam pit, dodge ball and slam dunk zones.  Jumping around at both of these parks will be sure to help you and your family get some energy out!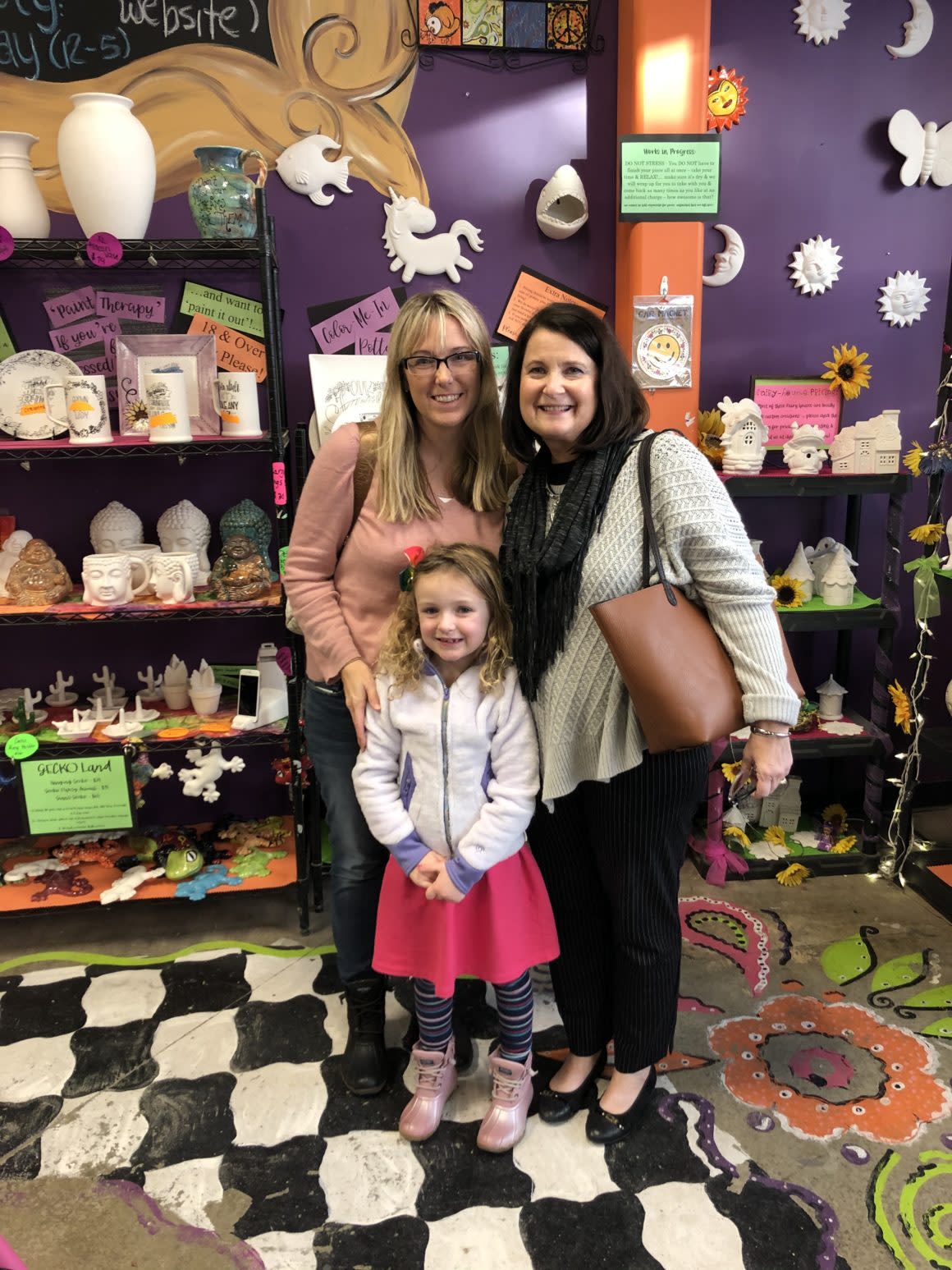 For the art lovers in town, there is plenty to do on a cold snowy day in the greater Lafayette area. If you're looking to paint your own pottery, check out The Creative Clayground or All Fired Up to create a unique piece of pottery of your own. At these 2 art studios you have the freedom to paint your own unique designs on any of the pieces they have to offer to make it your own. Maybe you're not as creative and looking for a little more guidance? Painting with a Twist offers an artistic experience with more instruction to help those "soon to be" professionals. And you can enjoy it all with a glass of wine to help you relax and appreciate your masterpiece.
Silly fun at Painting with a Twist

Good times!

Date night at Painting with a Twist
If you're looking to exercise your brain this winter, we can help with that as well. Consider trying the escape rooms at Rugged Xscape or Mission: Breakout and see if you can use the clues to make it all the way out in time. Or head over to Merlin's Beard to enjoy some board games with good company, food, and drinks. If you prefer video games, make sure to stop by Main Street Amusements and enjoy the largest public collection of pinball machines in Indiana!
So, it looks like there are no excuses for being bored in the house this winter with all of the activities that can be done indoors. Take advantage of all that the greater Lafayette area has to offer and have some fun while staying warm and cozy!! Please note this is just a fraction of the indoor activities in Lafayette-West Lafayette. Check out HomeOfPurdue.com for a full list! Also, watch for another fun blog in January with more creative activities!
Zoey, Purdue University Student and VLWL Intern, shares this blog.