I scream, you scream, we all scream for ice cream! Ice cream just makes everything better, right? Lafayette-West Lafayette has lots of wonderful options. Here are 6 of the greatest ice cream locations in our area!
1. My all-time favorite is Silver Dipper! They have two locations in the area and serve Chocolate Shoppe Ice Cream that is made in Madison, Wisconsin. This is true hard scoop ice cream, not soft serve, yogurt, or custard. Ice Cream! Their ice cream is so smooth, creamy, and loaded with flavor! My all-time favorite is zorreo which is a very dark chocolate, they call it Zanzibar chocolate with Oreo pieces, chocolate chunks and a marshmallow ripple! It is awesome anyway you eat it! I love it by itself or smothered with more marshmallow cream, as part of a banana split or even better, as a milk shake! Mmmm! Not a chocoholic? How about Peanut Butter Cookie Dough? It's your typical cookie dough ice cream with cookie dough chunks and chocolate chips but also has a peanut butter ripple through it. Perfect combination! Ok, but that still has chocolate. Can you tell, I'm for sure a chocoholic! How about Black Cherry? The Black Cherry has a very smooth, creamy texture and huge black cherry chunks. You really do get a cherry flavor in every bite! My daughter loves the cotton candy flavor. It is pink and blue and really does taste like you are taking a bite of cotton candy instead of ice cream. It's super sweet! I also love the Rainbow Sherbet, it's just nostalgic for me more than anything as I used to always get that as a kid. There is a new one I just tried recently, Burnt Butterscotch! It was amazing! I'm not typically a huge butterscotch fan but I will for sure be getting this again! So many good flavors here! If you can't decide, I'd suggest getting several mini scoops or if you want to try them all, try the mini monster! The mini monster is a mini scoop of EVERY flavor! Do you know how much ice cream that is?? Well, they have 49, year-round flavors plus the seasonal and the no sugar added and Italian Ices and Sherbets! That is well over 50 scoops!!! You better be bringing lots and lots of friends! It takes 3 mini scoops to make one regular scoop but still that's a lot of ice cream! Several of my friends took me to get a mini monster for my birthday several years ago. There were 6 grown adults, and we couldn't eat it all! It was great though! Oh and don't forget they also have ice cream cakes! This is my favorite birthday cake! It's regular cake on the bottom then ice cream on top and decorated with icing. Oh man, is it rich but oooh sooo good! They have premade cakes, or you can call and order a custom cake with a couple days notice. We love the custom cakes because you can choose what flavor ice cream you want. I once had one with my two top favorites- Zorreo and Peanut Butter Cookie Dough… In the same cake!!! HEAVEN! Anyway, just go check them out! I promise they will have an ice cream flavor you will love, I'm sure! They offer indoor and outdoor seating at both locations.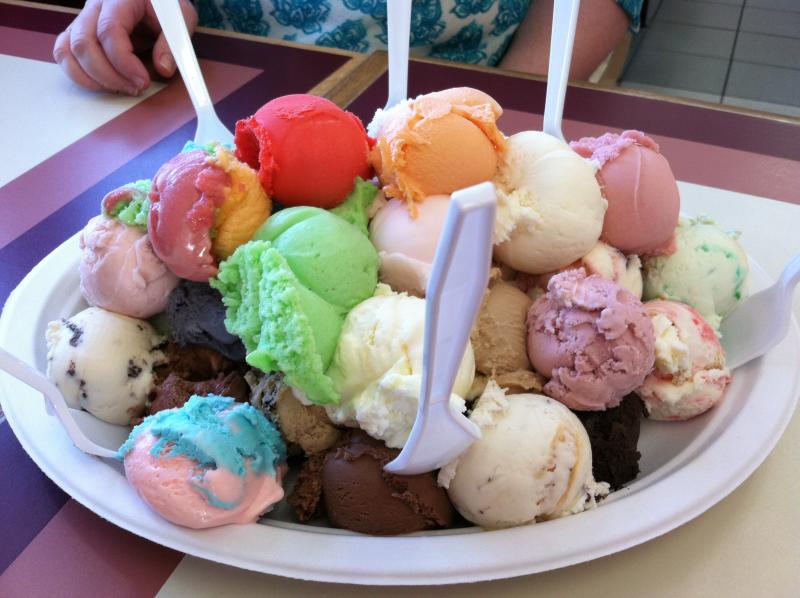 2. The Original Frozen Custard and The Igloo Frozen Custard both have been local traditions for years! The Original Frozen Custard started it all with their location near Columbian Park. Started in 1932 with just the vanilla frozen custard, then expanded to other flavors, the famous fruit drink and then a soda fountain, then added other locations and the rest is history! Today the fourth and fifth generations are working at the business! Their custard is the best! It is rich, super smooth and creamy. You can really taste the difference the cream and egg yolk make in this tasty treat. According to their website, it contains less air than ice cream or soft serve which would also explain the rich flavor I suppose. Also, I didn't know this before but looking at The Original Frozen Custard's website today, I found interesting that the custard is one of a kind and is the same recipe the original founder, Charles Kirkhoff used. The mix is custom made, especially for them by a dairy that keeps the recipe safe and secret. We love the twist the best, it's the best of both worlds- chocolate and vanilla. It also says that The Original Frozen Custard is one of Coca-Cola's oldest accounts, they have been working together since 1934! We really love the fountain drinks though. The fruit drink is my favorite, a mix of orange, pineapple, and lemon juices… with lots of sugar!  It is super sweet but so yummy, especially on a hot day! It sounds crazy but the ice really makes the drink. They serve their drinks over the small little pellet ice. I really love to eat the ice too when the drink is all gone, get every little tidbit of flavor out of that cup! The sweet tea and Cherry Coke and Cherry Sprite are some of our favorites too! Don't forget the sundaes and novelty items. We love Aunt Kathy's Dirt Sundae, Nut Bar, and the Custard Cookie.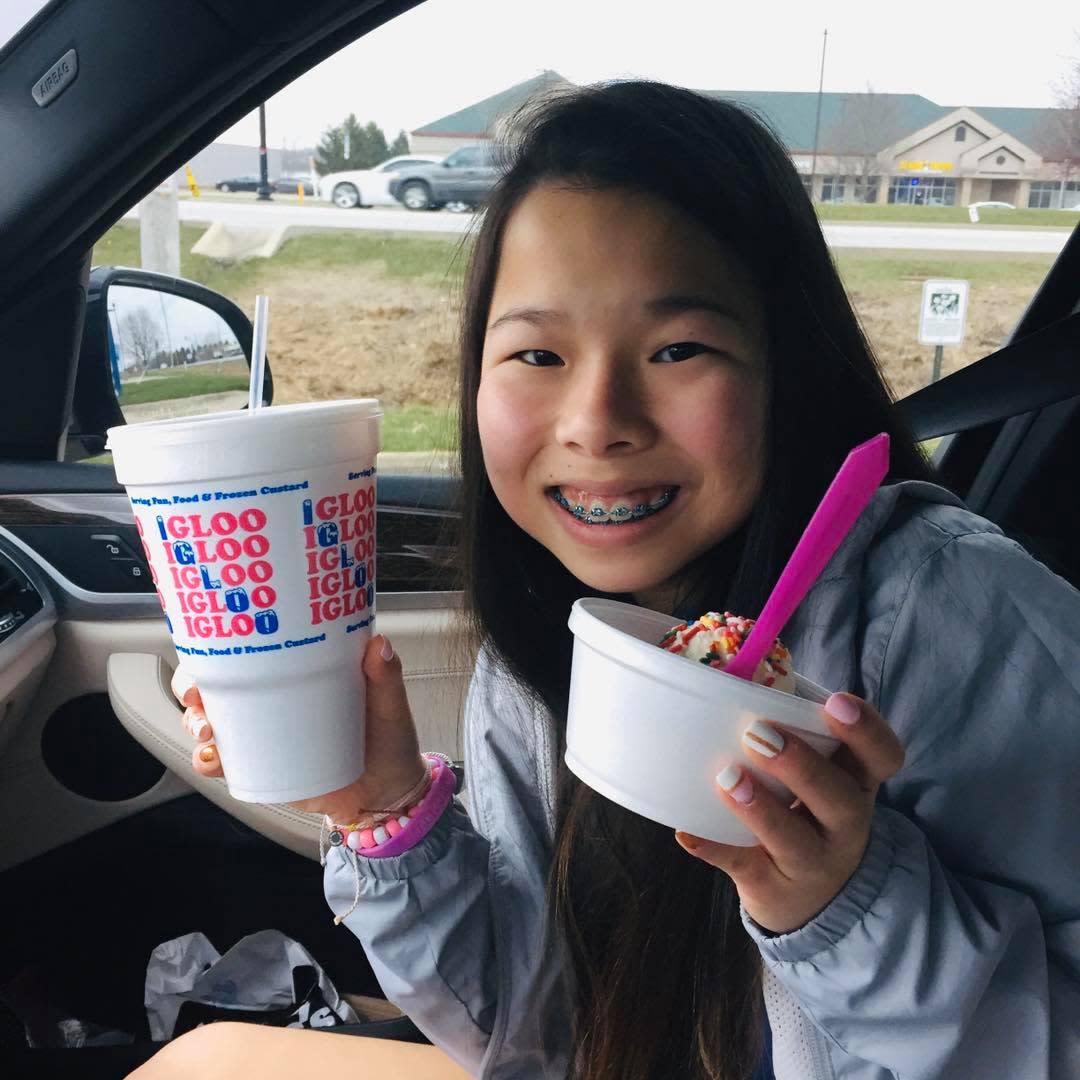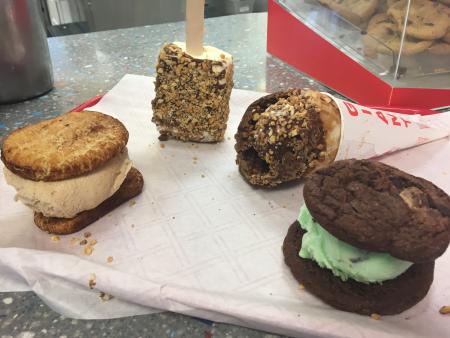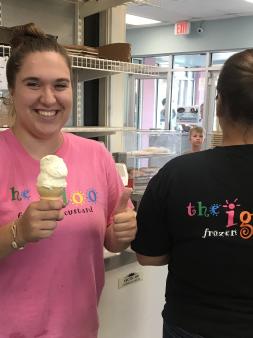 3. The Pink Walrus is our favorite frozen yogurt spot! The restaurant has such a fun feel with all the bright colors and the tabletops are made of lots and lots of pop bottle tops. We always like looking at them to see how many different sodas we recognize. There is always a variety of frozen yogurt flavors. The Hawaiian Pineapple is one of my favorites! We always have fun with the toppings as well! I LOVE when they have the cheesecake bites! It's just the perfect amount of graham cracker and creamy cheesecake. My daughter of course loves the sprinkles, frosted animal crackers and gummy bears. They also have a great selection of nuts and popping boba and lots of sauces! It's so fun to get to make your own sundae. The frozen yogurt is good on its own too though.  They also have a food truck that you may see at events and out and about!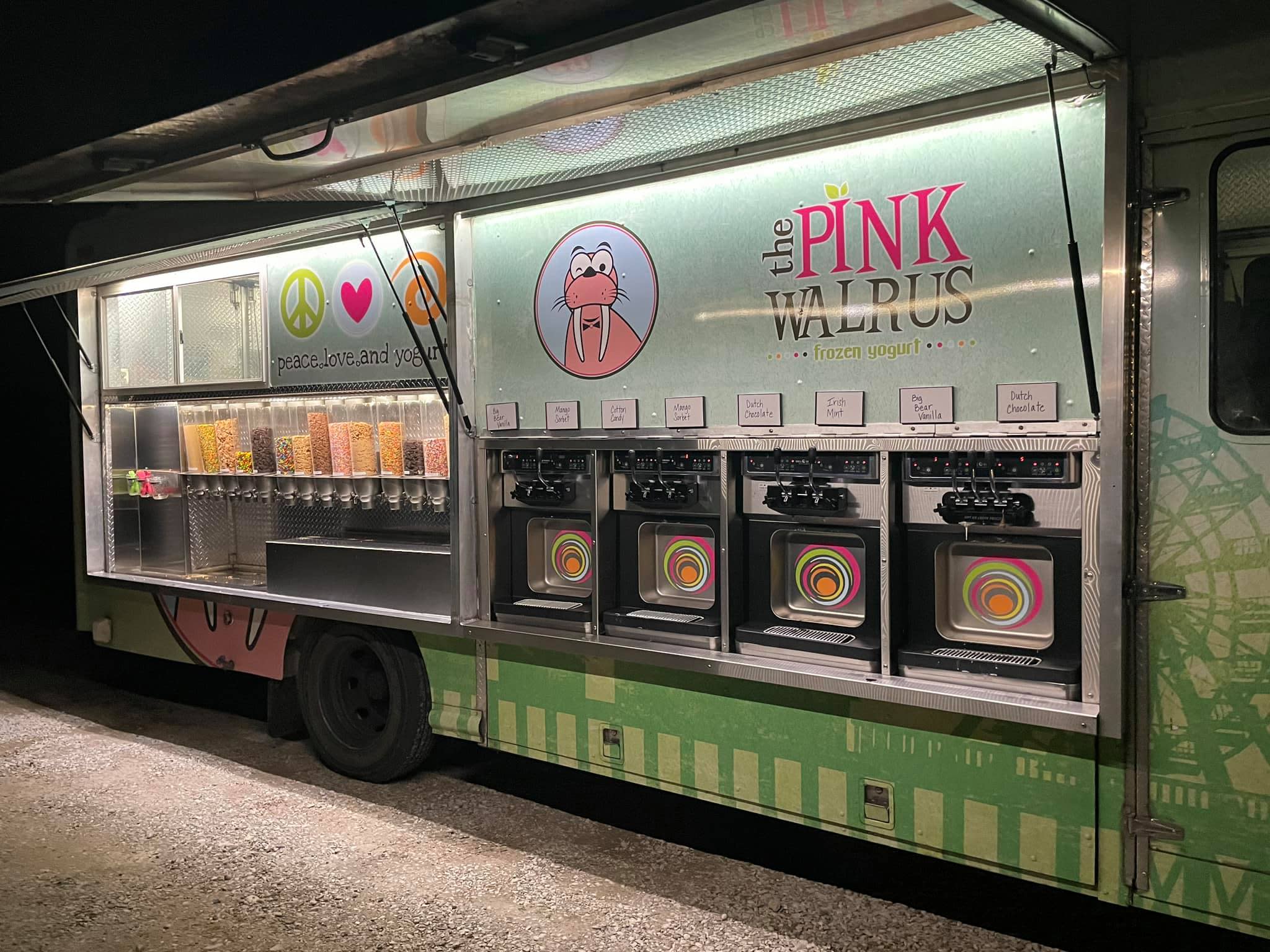 4. Budge's is another local tradition, serving Lafayette since 1942! I have to say, this is one I don't think about often but really need to visit more! Located in the North end of Lafayette, across from the old St. Elizabeth hospital on 14th Street. Their ice cream is a soft serve ice cream. I love that you can have dipped cones here. They dip in Chocolate. You can also have your cone topped with sprinkles, Fruity Pebbles or Oreos too! They are really known for their flavorburst cones though! They are so pretty! It's vanilla soft serve with your choice of flavoring on the edges. They have Blue Goo, Butter Pecan, Bubblegum, Black Raspberry, Banana, Apple, and Orange to choose from. What's your favorite flavor? Their flurries are very popular too! The soft serve mixed with your choice of toppings kind of like a shake but not as smooth/ mixed. They also have a fruit drink (I've never tried, love the custard's so much but must do a taste test now to compare!), fountain drinks, sundaes, floats, etc.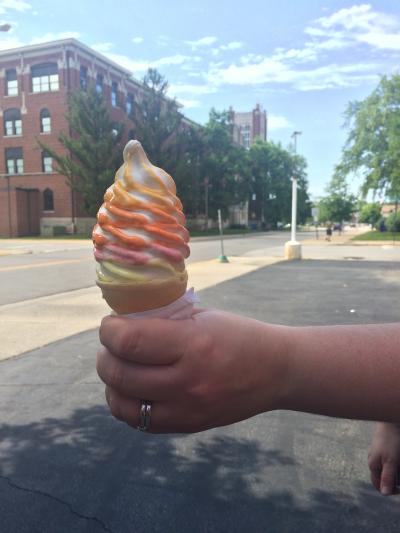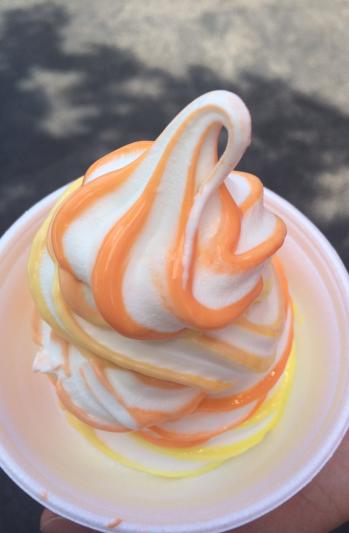 5. McCord Candies yep that's right, you may know McCord's for their candy canes or chocolate candies, but did you know they have ice cream and a soda fountain too? Now the ice cream is good, but they really make the list for the Chocolate Hot Fudge topping! The hot fudge just makes it. It's homemade and so delicious! Every last ooey gooey drop! It's so thick, rich, and of course warm! Makes any ice cream great! We really love the milk shakes from McCords too! My favorite is the Oreo Shake! I love that they are located right downtown too, makes for an easy stop after dinner or while shopping. It's fun to be able to sit upstairs and just people watch as people come in and out. Fun fact, this building originally was built as a home! If you've ever seen the staircase leading up to the third-floor candy kitchen, it makes more sense now why the staircase is so elaborate and beautiful! It's been a candy store though since 1912 and has had the name McCord Candies since 1947. It really does have an interesting history. Visit their website for more. We always love seeing the red and white striped awning when downtown! You sure can't miss it!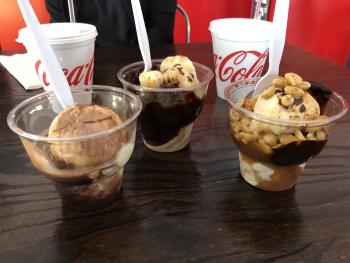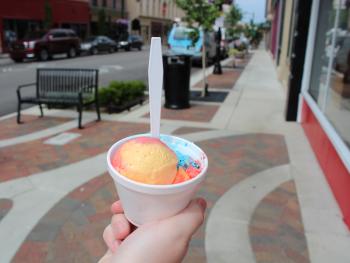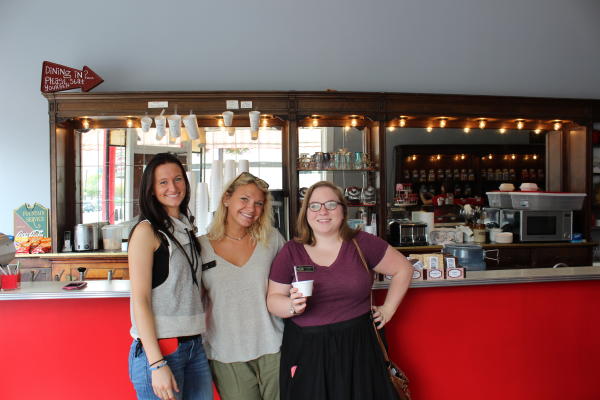 6. Miss Sugar is a somewhat new addition to my favorite list, and I like it mainly for the uniqueness. This is Thai Ice Cream. It's cool because they roll the ice cream. You choose your favorite flavor, they have 13 to choose from, then your toppings (up to 3) and then one drizzle for the top. So interesting because they spread the ice cream out on a cold stone then use a tool to peel it up and it rolls as they do it so you have several ice cream rolls when they are done. Each bowl is a piece of art! They are so beautiful! I haven't had a lot from here but love the strawberry lady with strawberries, whipped cream, and butter cookie with strawberry syrup! Give it a try!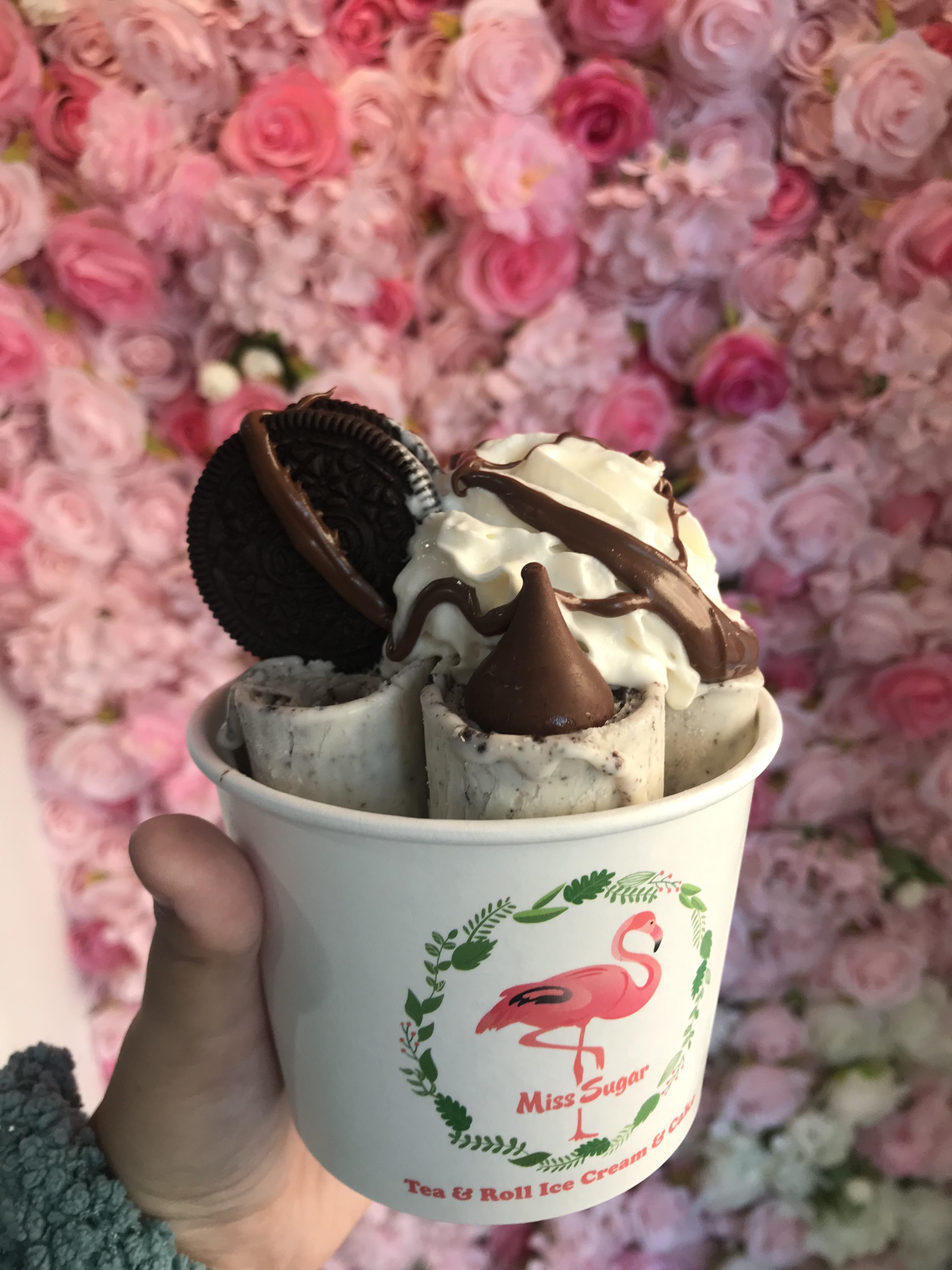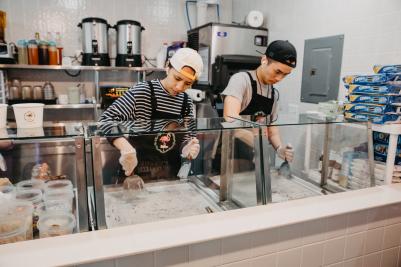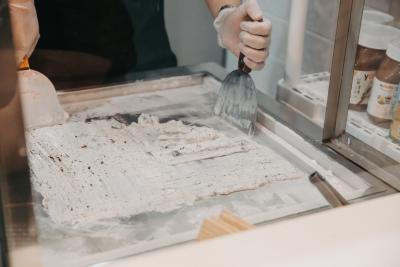 Do you have a favorite ice cream location that's not on the list? I'd love to hear about it! Ice Cream is my all-time favorite dessert! Always up for trying something new. Been to these places listed here? Tell us your favorites!