Summer fun starts at Greater Lafayette's 2 water parks!
Tropicanoe Cove is an outdoor water attraction open from Memorial Day through Labor Day. Features include zero-depth entry into a fully-accessible interactive water playground, lazy river, a 300-foot twisting and turning tube slide and two high energy plunge slides. The facility also has a concession area and seating to accommodate up to 1200 guests per day. In the mornings and evenings, guests can work out during the "water walking" exercise times by walking with or against the current of the lazy river.
Contact: Lafayette Parks Department
1915 Scott St.
 Lafayette, IN 47904
(765) 807-1500
Here is a description of the various features at the Cove.
 Frog Pond:  With beach like entry the main leisure pool offers over 168,000 gallons of crystal clear watery fun for everyone.
 Sunfish Bay:  A fully accessible interactive water playground designed with the little ones in mind.
 Dolphin's Delight:  Little tikes can swim with the dolphins as they slip down our miniature slide.
 Crawdad Corner:  Our wet and dry sand playground was created especially for the kids.
 Cattail Crik:  Grab a tube for a relaxing trip through the gently flowing water of our lazy river.
 Banana Peel:  Enjoy the slippery sensation of the 300 foot twisting and turning tube slide.
 Gator Walk:  Take the challenge of walking across the water on lilly pads with only the aid of a cargo net.
 Toucan Chute:  Two high-energy slides plunge you right into the Frog Pond.
Cove Café:  Our concession offers a variety of snacks, meals, and Arni's pizza and salad.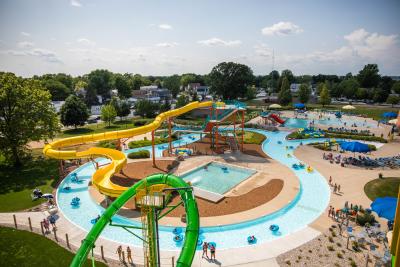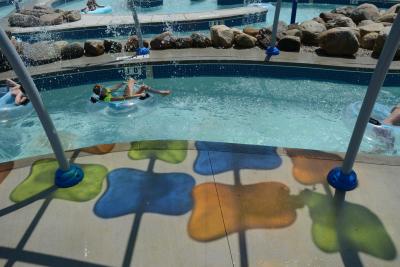 This water park is located within Indiana's newest state park, Prophetstown State Park.  The $6 million aquatic center is the only Indiana State Park with an aquatic center that includes water park-like features. With a capacity of 700, the center features dual 30-foot water slides, a Lazy River area that spans an equivalent of two football fields, an adventure channel, a zero-entry pool with play features and an aquatic activity area with basketball.  The park features glacier boulders and many types of native plants and trees in an effort to preserve the past.
Contact: Prophetstown State Park
5545 Swisher Road
West Lafayette, IN 47906
(765) 567-4919