Weekend Update!  Looking for a fun weekend getaway?  Or are you a local looking for entertainment close by?  Check out the endless possibilities for fun and relaxation happening this upcoming weekend.
In Lafayette this Friday, from 6:00 pm to 9:00 pm, taste delicious wines at the Wine Tasting Party at Adelino's Old World Kitchen. The event will feature wines of the Mediterranean and light finger foods to complement the wines along with wine experts at each station to inform and enhance the tasting experience. There will also be short performances by the
Chorale
members.   An event not to be missed! Our Purdue Women's and Men's Basketball Teams both take on opposing teams this Sunday, November 6 at Mackey Arena.  Watch the season opener at 1:00 pm as the Purdue Women's Basketball Team play against Edinboro.  Cheer our Purdue Men's Basketball Team to victory against Southern Indiana later in the day at 5:00pm. My husband and I have season tickets and my husband declares himself the ultimate #1 Purdue fan.  Share how you show your team spirit.   Boiler up!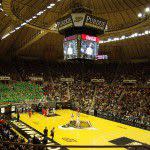 For more information about other fun events taking place this weekend please visit our website at www.HomeOfPurdue.com.