[caption id="attachment_4922" align="alignright" ]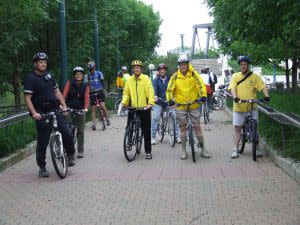 Photo taken from Bike to Work 2007![/caption] One of the most popular questions we get from our visitors here at VLWL is, "Where are the bike trails in Lafayette and West Lafayette?" And it's not just visitors, sometimes our local patrons aren't aware of how many places there are to bike in our two great cities. Whether you're interested in off road trails or you're trying to find that perfect paved path, we've got something to offer the bike enthusiasts.
Offroad Trails
Our two great cities have four amazing off-road dirt path trails for beginner, intermediate, or advanced
mountain bikers
. All except the Haan Trail are multi-use trails open to hikers, runners and mountain bikes.
Tippecanoe County Amphitheater Trail (beginner)
- A great location for beginners to develop their mountain biking skills. A fairly flat trail that runs along the Wabash.
McCormick Woods Trail (intermediate)
– This shorter trail forms a loop and has a few technical navigations but altogether mostly level ground with a fair amount of tree cover.
Murdock Park Trail (intermediate)
– There's tons of cover from obliging trees on this trail. Some steep drops and sharp turns.
Haan Trail (advanced)
–Public space on private land. Anyone with advanced mountain biking experience is encouraged to take on the 6-mile trial.
Paved Trailways
Portions of the Wabash Heritage Trail
– The Wabash Heritage Trail has several designated trails for bikers but it's also a great walking path. The trail has patches of tree cover and runs parallel to the Wabash River.
Prophetstown State Park
– West Lafayette's State Park has 3.5 miles of paved trails for you and your family to enjoy. Indiana's known for its prairies and meadows; get more of a feel for what Indiana looked like in the past before agriculture claimed much of the land. There's limited tree cover and that means lots of sunlight for bikers and runners.
Purdue Campus Bicycle Map
– Purdue University's open concept provides bikers with the opportunity to get to know the campus while they burn some rubber. Bicyclists can familiarize themselves with the college and all it's unique structures– we especially recommend taking a ride through Memorial Mall and checking out the Engineering Fountain. For more information about these trails and other recreational sports in the area visit our website at www.HomeOfPurdue.com. Kristine, Visitor Information Specialist, shared this blog.