Thanks for joining on my adventure beyond Purdue! On Monday, I shared our morning and early afternoon tour through Lafayette-West Lafayette.  But the day was stocked full of more fun through the afternoon. Check this out! [caption id="attachment_9280" align="aligncenter" ]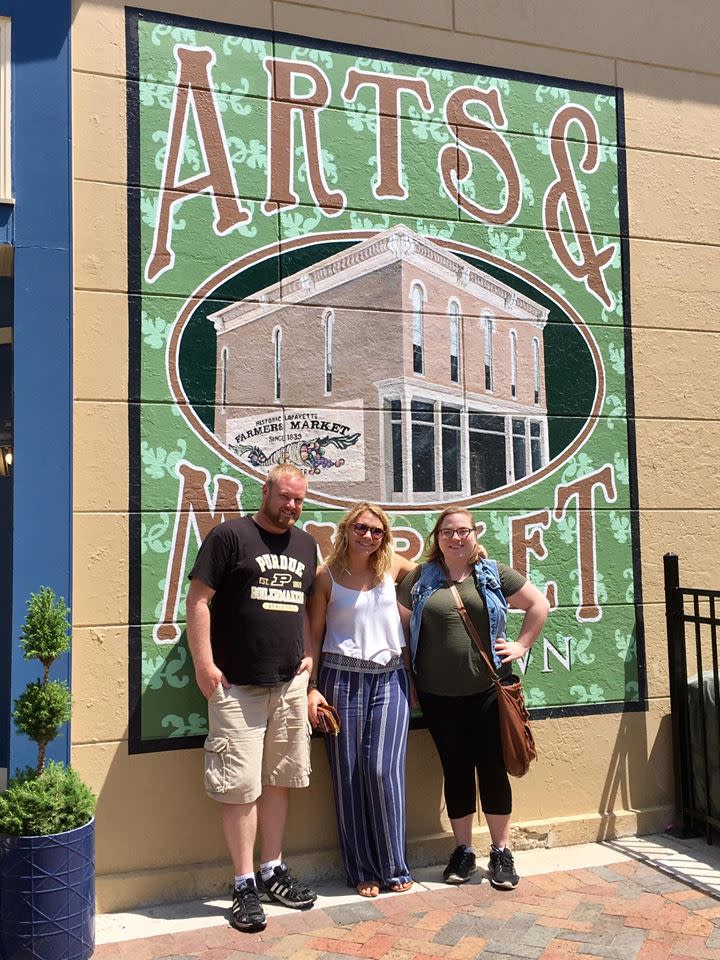 Embracing the arts, Downtown Lafayette![/caption] [caption id="attachment_9269" align="alignright" ]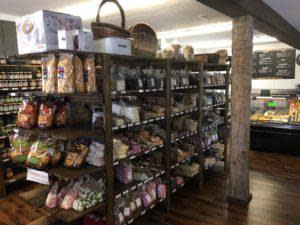 So many great farmers market items - Weathered Plow![/caption]
Weathered Plow
Veggies, fruit, seasonings, bulk food, and deli sandwiches – all this and more at this local Farmers Market. Everything looked so fresh and organic! We walked through the aisles of the
Weathered Plow
wanting to buy everything! My coworker even purchased a Sweet Potato Succulent plant to decorate her home. [caption id="attachment_9270" align="alignleft" ]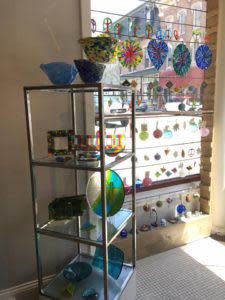 Artists' Own[/caption]
Downtown Lafayette
There is so much to see and do in
Downtown Lafayette
. We have shops, restaurants, art galleries, everything to keep Lafayette residents and visitors entertained. There is art and jewelry to view and purchase at places like Artists' Own and LE Originals. Enjoy candy and a soda from one of the oldest operating soda fountains in the Midwest at McCord Candies. Sample and purchase bottles of wine at Cellar 422. Stock up on your crafting supplies at River Knits! We loved strolling down the main streets of the downtown districts and taking in all that our city offers. I could go on and on about all of the things located downtown Lafayette.
Haan Mansion
The
Haan Mansion Museum of Indiana Art
was one of our favorite sites of the day! The mansion has a rich history and was originally built for the 1904 St. Louis World's Fair. Today it is filled with important and rare art from Indiana artists such as T.C. Steele, as well as gorgeous antique furniture. Climb up the staircases draped in classic red carpet, and visit the uniquely furnished and decorated bedrooms. We had a wonderful time [caption id="attachment_9279" align="alignright" ]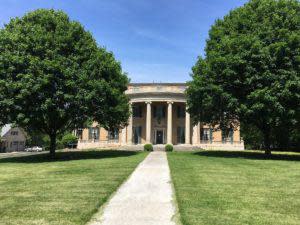 Haan Mansion[/caption] viewing all of the art on the walls of the mansion and the pottery/ceramics. Campus life often lacks artistic activities and exhibitions, and I think that a visit here would definitely fill that need!
Columbian Park & Zoo
Free to the public, this zoo is a great spot for students low on cash. It opened in 1908 and today it houses prairie dogs, otters, bald eagles, emus, wallabies, llamas, goats, and many other animals. Visitors and students can come here to take a break from work and school life and to see the great variety of exhibits housed at the
Columbian Park Zoo
. This will also give them an opportunity to learn about and contribute to conservation efforts. We had a great time on this warm day seeing all of the animals, even a wallaby with a baby still in her pouch! [caption id="attachment_9266" align="alignleft" ]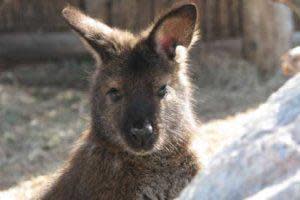 Can you guess this animal?[/caption]
Igloo
Frozen Custard
We finished the day off by enjoying frozen custard from the
Igloo
. The first Igloo opened in 1932 in Lafayette. They've been serving the community for decades and they sure know what they're doing! It was refreshing and cooling after a long day in the sun. I never knew how much the Lafayette area had to offer! Now that I have experienced just a sample of what happens in our community outside of campus, I know that I will have a richer and more fulfilling experience while studying here at Purdue. I hope by sharing the things I saw on this fun and exciting day, that I will encourage everyone to get off campus and see all that the Greater Lafayette area has to offer. Samantha, Purdue University Student, shares this blog.
Save
Save