Whimsy, beauty, luxury; these words describe West Lafayette's newest addition to our area, the Whittaker Inn. Be prepared to be pampered and welcomed graciously at this lovely new inn, nestled in the middle of trees and nature. Personalized care, gourmet food, and contemporary accommodations await you when you book a stay at this retreat like setting.
Our staff recently toured the Whittaker Inn to check out all the local hype about this new lodging attraction. WOW! Words really cannot express the excitement I felt upon entering and touring the inn, but I will try to do my best to share.
First, one drives down a long, curvy drive to come around the bend and the Whittaker Inn sits in all its glory. Yellow siding, red roof, large white columns; it screams farmhouse beauty! Upon entering the inn, huge ceilings with wood beams greeted us. A massive fireplace roared. Comfortable furniture is situated for conversation, games and activities are displayed in custom created built in's for guests to enjoy.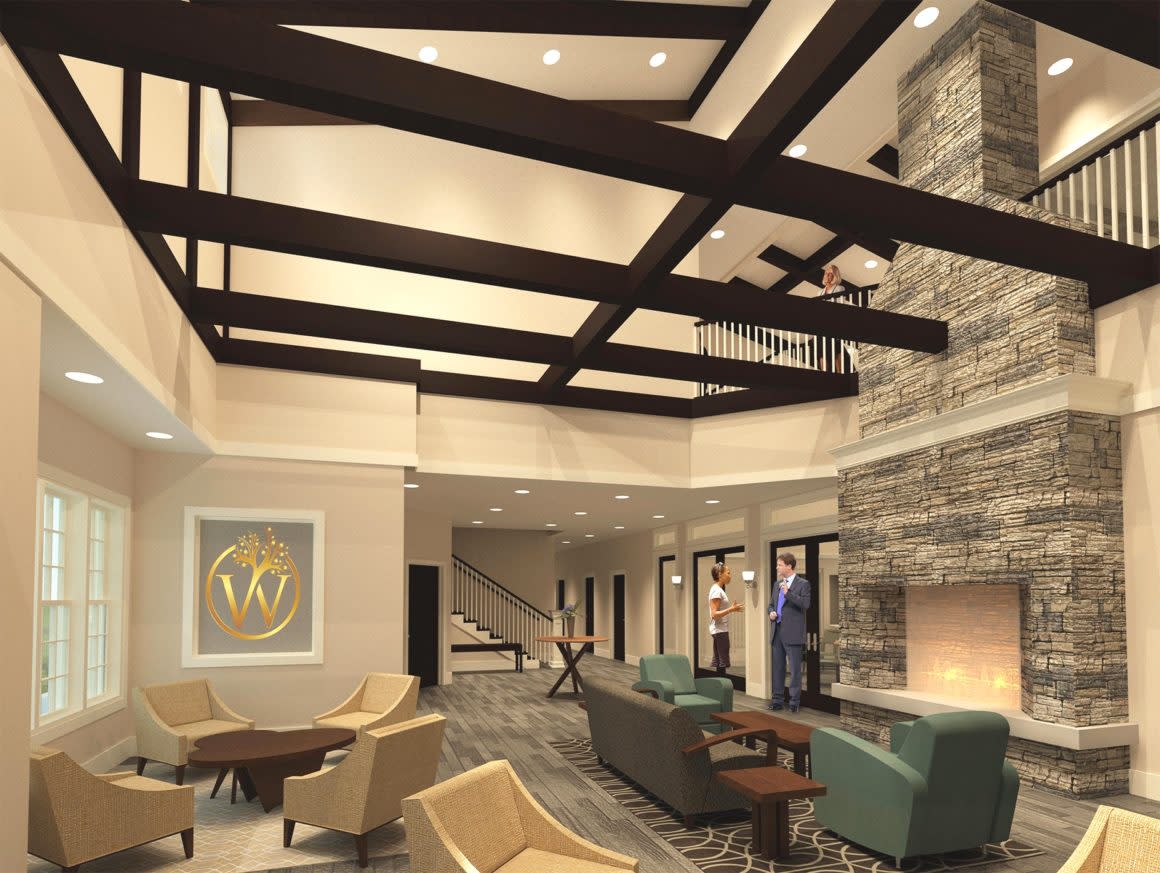 The day we visited, decadent, homemade sweets and savory treats were out for us to sample. I am not a cookie person, and I ate 3! There were multiple delectable dips and one that I couldn't stop eating; a roasted red pepper dip with feta and cream cheese served with pita style chips. I ate 2 plates of food and it was just a sampling! I cannot imagine how wonderful their custom created breakfasts are for guests!
Treats Galore!
After eating, the owners took us on a tour of their 15 destination rooms. Every single room is different and created to fit a particular country/city in the world. From New York, to Paris, to rooms created to make one feel like they are in India or Japan or England, there is luxury and modern comfort in every room. Details such as custom created pillows, local art, books, etc. make you feel like you are actually in that country. The bathrooms are majestic as well as they have massive jacuzzi bathtubs, steam showers, soft bath robes and specialty bathing soaps. (please note, depending on what room you book, each one has a different style of shower and/or tub.)
Great customer care!

The India Room
The Whittaker Inn offers other amenities as well: pool table room, a private, small dining room (perfect for a romantic night with a loved one!), a snack break area, a small meeting room, etc. There are plans to build an outdoor pool, walking path, orchard and more. So many more exciting things to come!
Bathroom

Meeting room

Pool table room
The service. I haven't spent the night (yet!) at Whittaker Inn, but the owners and their staff were wonderful! Their excitement and passion were contagious. The hospitality each guest will receive will be personalized and authentic.
Do not miss a visit to Whittaker Inn! For more information about this inn and other Lafayette-West Lafayette lodging information visit HomeOfPurdue.com.