Happening Now! Planning a stay in Lafayette-West Lafayette, Indiana area? Whether you are looking for delicious dining, interesting attractions and shops, enticing events or home away from home lodging—a getaway to Lafayette-West Lafayette, Indiana is sure to satisfy. Right now the locals are talking about the lovely, new addition, Knit-A-Bit to Downtown Lafayette!
Knitting - this was something my mom always said sheand her aunts would do every week. A group of women would get together and talk about their lives, share stories of their kids (the ups and down), and have time to relax while they knitted away! To me, a mother of two, who works full time, this sounds lovely. Just one or two hours to be creative yet also let go of the worries of life. Knit-A-Bit offers this. They offer a small area to knit, an area to purchase yarn and supplies and an area that showcases owner, Linda Elmore's lovely jewelry that one can admire and/or purchase.
Colorful sock knitted!

Gallery Walk
This summer, L.E. Originals, an artist boutique located downtown Lafayette, created a new part of their business called Knit-A-Bit. Linda Elmore, the owner and artist of L.E. Originals and Carol Plomin, opened this part of the shop to offer the community and visitors a place to relax and knit. They provide coffee and tea as well as comfy rocking chairs for those who come in and want to knit.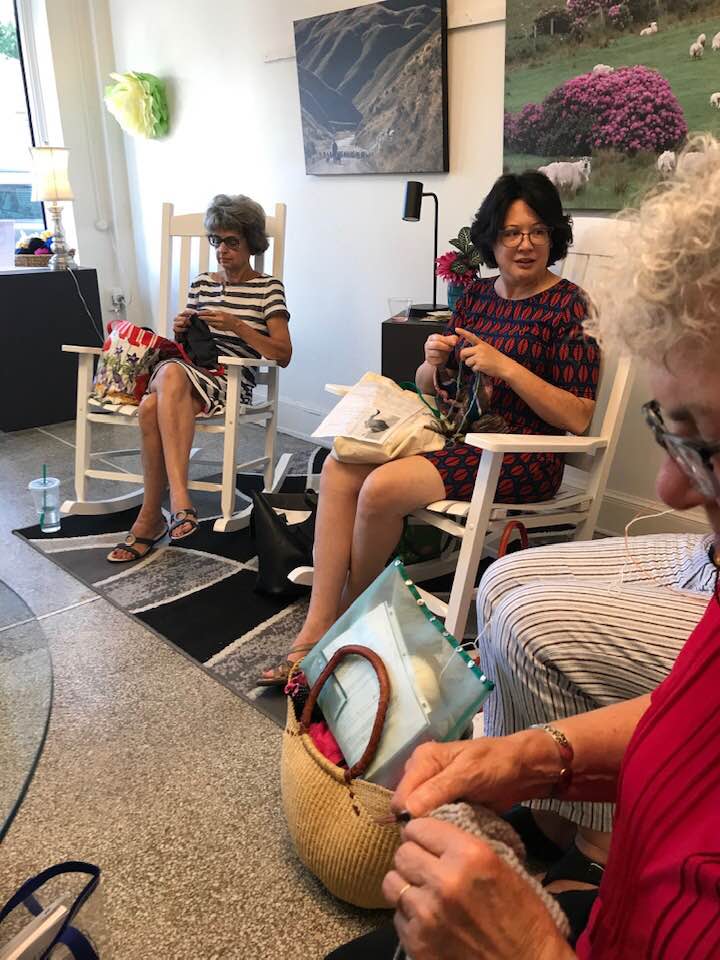 The best part of L.E. Original & Knit-A-Bit is really the customer service. Linda is the happiest, kindest person. Every time I walk in the door to her shop, I feel happy. She will help you learn how to knit as well as show you how she creates handmade Murano glass jewelry. The shop is bright and uplifting. If you are looking for a gift for a loved one, her custom jewelry pieces are one of a kind. I have purchased many gifts for my sister, daughter and mother-in-law and they love them. Linda has created custom necklaces for my daughter, Charlize. An example is Charlize loved Daisy Duck when she was three years old. Linda used her magical glass blowing skills to make her a Daisy Duck necklace. It was one of Charlize's favorite gifts and she is now 6 and still wears it!
Check out this lovely Daisy Duck necklace!

Jewelry by Linda!

Custom Jewelry by Linda Elmore
L.E. Original & Knit-A-Bit plan on hosting a number of special classes this year as well. If interested in knitting, make sure to check out the L.E. Originals Facebook page.
For more information about this local artist shop and all the unique shops and restaurants in Downtown Lafayette-West Lafayette, check out our website at HomeOfPurdue.com.