Weekend Update! Looking for a fun Indiana 
weekend getaway
? Or do you live in this area and are looking for entertainment close by? Check out the endless possibilities for fun events happening this upcoming weekend in 
Lafayette-West Lafayette, Indiana
. It's Spring Fest Time again at Purdue this weekend! This event includes one of the largest known insect events of its kind,
Bug Bowl
! Preschoolers through retirees take part in numerous hands-on insect activities including the cricket spitting contest and cockroach racing at Roachill Downs. Also, Purdue University will host a group of its NASA astronaut alumni for a reunion that will culminate with a public forum April 12.
Eight of the astronauts are expected to attend the forum, "A Conversation with Our Astronauts," at 7 p.m. in Elliott Hall of Music. The astronauts will be introduced at halftime of the spring football scrimmage at 1 p.m. April 12 in Ross-Ade Stadium. That event also is free. The Easter Bunny is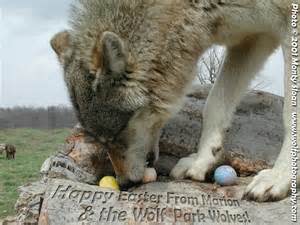 visiting Wolf Park this weekend! On Saturday, April 12, bring the family to 
Wolf Park's 13th Annual Easter Party!
There will be egg hunts for kids 1-13 years of age (bring a basket!) and there will also be an egg hunt for the Wolf Park wolves at 2 pm! The Easter Bunny will hop into the wolf enclosure (the wolves will be elsewhere) and will hide Easter eggs for the wolves to find (after the Bunny leaves). Come see the wolves get their Easter treats and get some treats of your own! (Egg hunts for children are 3:00– 4:00 pm). Guided tours of the Park will be offered at 1:15, 2:15 3:15 and 4:15 followed by a handling demonstration at 4:30. Wolf Park closes at 5:00 and the gates re-open at 7 for Howl Night. For more information about these 
events
 and other special "happenings" in Lafayette-West Lafayette, check out our website at 
www.HomeOfPurdue.com