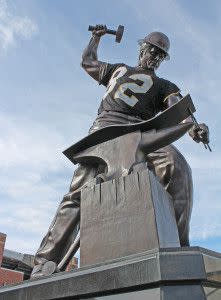 Weekend Update! Looking for a fun Indiana 
weekend getaway
? Or do you live in this area and are looking for entertainment close by? Check out the endless possibilities for fun events happening this upcoming weekend in 
Lafayette-West Lafayette, Indiana
. This is a major weekend in West Lafayette! 
Purdue students
are either already on campus or heading back for the fall semester.  The campus will be humming with live activity as students move back into dorms, houses and apartments.  Parents will be dropping off their children who are now becoming young adults ready to experience what Purdue and the real world have to offer. Parents, students, and visitors, make sure you check out everything our area has to offer.  We have great
attractions
; Indiana's newest state park, Prophetstown State Park which includes trails, a Native American village, and a working farm; Wolf Park, dedicated to understanding wolf interaction and behavior; and Columbian Park, offering a free zoo, butterfly exhibit, water park, rides, etc.  And these are only a few!  We have exceptional
restaurants
that offer a diverse range of flavors from Asian and ethnic, to good ol' American cuisine!  Lafayette-West Lafayette is home to
70 plus storefronts
downtown alone, and this number doesn't even include super stores, numerous shopping plazas or our super size mall! Visit
www.HomeOfPurdue.com
to learn about all the exciting things there are to do in Lafayette-West Lafayette!