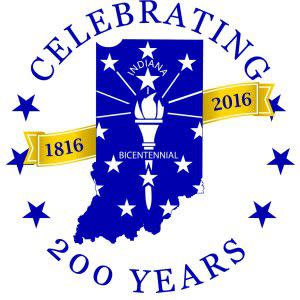 Weekend Update! Looking for a fun Indiana 
weekend getaway
? Or do you live in this area and are looking for entertainment close by? Check out the endless possibilities for fun events happening this upcoming weekend in or near
Lafayette-West Lafayette, Indiana.
Indiana turns 200 in 2016! Visit the Art Museum of Greater Lafayette on December 19 to find out all the wonderful happenings taking place for this momentous occasion during
Tippecanoe's 2016 Bicentennial Kick Off - Let's Celebrate
event. The afternoon features a large exhibit which will have art from 1800-present by artists in the ArtSmart program (Works in the exhibition are from:  Permanent Collection of the Art Museum of Greater Lafayette, Tippecanoe County Historical Association, The Haan Mansion Museum, Wabash College; Purdue University Libraries, Archives and Special Collections; The Clarence and Mildred Long Collection, Kathryn and Howard Clark, Stidham United Methodist Church and The Indiana Historical Bureau.) Also, come and enjoy hot cider, popcorn and more! Happy birthday Indiana! [caption id="attachment_7237" align="alignright" ]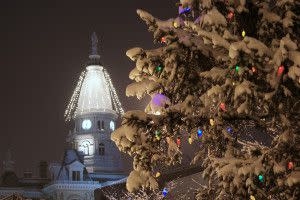 Riehle Plaza Christmas Tree and Courthouse[/caption] Head to the Long Center for the Performing Arts on December 19 to enjoy
Holiday Pops
presented by Lafayette Symphony Orchestra! There's no place like home for the holidays – unless you are spending your evening at the Long Center for this annual favorite! Join in an evening of festive merrymaking as everyone celebrates the season in collaboration with some of Lafayette's best area musicians and friends. Christmas is only a week away! On Sunday, December 20, bring the kids to the
Polar Express Event
at the Long Center for the Performing Arts. Santa Claus does not exist. Or does he? For one doubting boy, an astonishing event occurs. Late on Christmas Eve night, he lies in bed hoping to hear the sound of reindeer bells from Santa's sleigh. When to his surprise, a steam engine's roar and whistle can be heard outside his window. The conductor invites him on board to take an extraordinary journey to the North Pole with many other pajama-clad children. There, he receives an extraordinary gift only those who still believe in Santa can experience. See this magical holiday film starring Tom Hanks with a special appearance by Santa himself! Free admission for kids dressed in pajamas! For more information about these 
events
 and other special "happenings" in Lafayette-West Lafayette, check out our website at 
www.HomeOfPurdue.com.