[caption id="attachment_5619" align="alignright" ]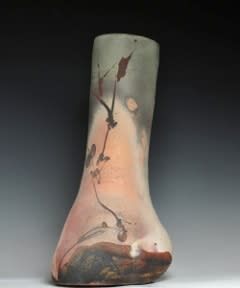 Vase by Paul Soldner at at Indiana Ceramics Celebration[/caption] Weekend Update! Looking for a fun Indiana 
weekend getaway
? Or do you live in this area and are looking for entertainment close by? Check out the endless possibilities for fun events happening this upcoming weekend in 
Lafayette-West Lafayette, Indiana
. Enjoy a night of laughter and camaraderie at the Civic Theatre of Greater Lafayette this Friday, October 31 and Saturday, November 1 during the play,
The Dixie Swim Club
. Five Southern women, whose friendships began many years ago on their college swim team, set aside a long weekend every August to recharge those relationships. Free from husbands, kids and jobs, they meet at the same beach cottage on North Carolina's Outer Banks to catch up, laugh and meddle in each other's lives.
The Dixie Swim Club
focuses on four of those weekends and spans a period of thirty-three years. Visitors will laugh at this hilarious and touching comedy about friendships that last forever. It's the event we have been waiting for all fall season; the
Indiana Ceramics Celebration
at the Haan Mansion Museum of Indiana Art on Saturday, November 1 and Sunday, November 2. An amazing array of ceramics will be displayed, including about 50 pieces over 20 inches and several more over 4 feet tall. There's a huge variety of ceramic forms, including tables, a rocking chair, a saddle, figural work, buildings, and much more. You'll find teapots, platters, and assorted vessels in a wide array of styles. Featured artists include Marvin Bartel, Bing Davis, George Debikey, Lenny Dowhie, Scott Frankenberger, David Gamble, Bill Griffith, Dick Hay, Bill Kremer, Dick Lehman, Les Miley and many other nationally known artists with Indiana connections. Glass works by Lisa Pelo, Sharon Owens and Kokomo Opalescent Glass are also part of the exhibition. Deceased potters represented in the collection include Laura Fry, Karl Martz, The Overbeck sisters, Richard Peeler, Paul Soldner, Richard Tuck and others. Works by important Japanese potters (some of whom are Japanese Living National Treasures) who influenced the work of current clay artists will also be shown. For more information about these 
events
 and other special "happenings" in Lafayette-West Lafayette, check out our website at 
www.HomeOfPurdue.com.