[caption id="attachment_5879" align="alignleft" ]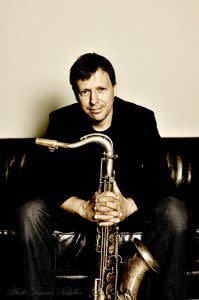 Chris Potter[/caption] Weekend Update! Looking for a fun Indiana 
weekend getaway
? Or do you live in this area and are looking for entertainment close by? Check out the endless possibilities for fun events happening this upcoming weekend in 
Lafayette-West Lafayette, Indiana
. This Friday, Saturday and Sunday enjoy the saga,
The Children's Hour
, at the Civic Theatre of Lafayette. One of the great successes of the distinguished writer, Lillian Hellman, is this serious and adult play about two women who run a school for girls. After a malicious youngster starts a rumor about the two women, the rumor soon turns to scandal. As the young girl comes to understand the power she wields, she sticks by her story, which precipitates tragedy for the women. It is later discovered that the gossip was pure invention, but it is too late. Irreparable damage has been done. See how the story unfolds in this thrilling play. Saxophone phenom,
Chris Potter
, is coming to Purdue Convocations this Friday! Potter has been a longstanding collaborator with a who's who of jazz, including Herbie Hancock, Jim Hall, John Scofield, and Paul Motian, as well as multiple stellar Purdue engagements with both Dave Holland and the Mingus Big Band. He has appeared on over 100 albums as a sideman and 15 albums as a leader, but his recurring project, Chris Potter Underground, has emerged as particularly fertile and imaginative. Digging into the funk and jazz intersection, the Underground has become a place where Potter can explore the buoyancy of the groove but retain the dynamism of free jazz. Do not miss this night of jazz at its best! For more information about these 
events
 and other special "happenings" in Lafayette-West Lafayette, check out our website at 
www.HomeOfPurdue.com.