Weekend Update! Looking for a fun Indiana 
weekend getaway
? Or do you live in this area and are looking for entertainment close by? Check out the endless possibilities for fun events happening this upcoming weekend in 
Lafayette-West Lafayette, Indiana
. The
2017 Summer Potters Market
is taking place this Saturday, August 19 at the YWCA. This special event
will feature the artists who donate bowls for the YWCA Clay Bowl Giving Project which supports the YWCA Domestic Violence Intervention and Prevention Program. The Summer Potters Market features not only bowls but also a variety of other ceramics pieces by the same artists. On Saturday, August 19, from 10 am to 3 pm, you can shop for the perfect one of a kind pottery created by the Greater Lafayette Clay Guild potters. Enjoy shopping a wide range of handmade pottery – you'll see varied and exciting clay works by Clay Guild potters. Styles are diverse and items range from Functional, Sculptural, Traditional, Contemporary, Stoneware, Porcelain, Earthenware, Raku, and more. Experimentation with new glazes and surface decorations will be evident.
In the evening, head to
6th Street Dive
for great food and entertainment. 6th Street Dive Presents:
Curio
,
a hell-raisin' and soul-shakin' rock n' roll band from Chicago, IL.
Their music is steeped in southern gothic lore by way of the Midwest. Heavily influenced by the growl of Chicago blues, the low-down and dirty swamp rock of Louisiana and the twang of Tennessee country, Curio conjures a sound that has as many influences as there are miles on I-55 from The Windy City to The Big Easy.
They will be performing from 10pm to midnight. [caption id="attachment_9541" align="alignright" ]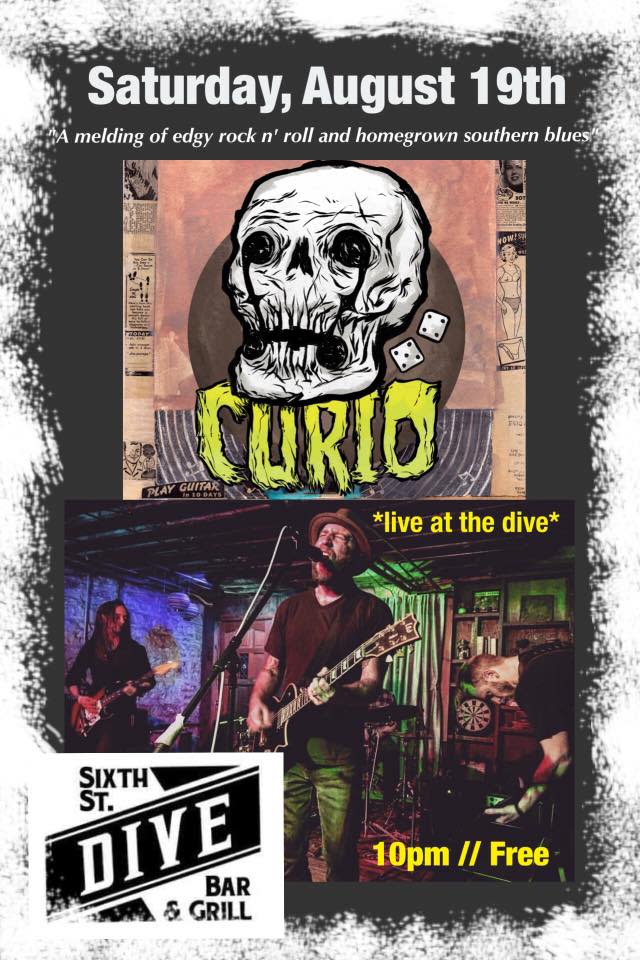 6th Street Dive Presents: Curio[/caption]  For more information about these 
events
 and other special "happenings" in Lafayette-West Lafayette, check out our website at 
www.HomeOfPurdue.com.
Save