[caption id="attachment_6448" align="alignleft" ]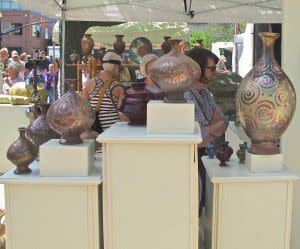 Round the Fountain Works of Art[/caption]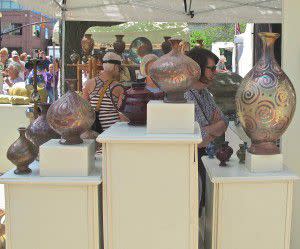 Weekend Update! Looking for a fun Indiana 
weekend getaway
? Or do you live in this area and are looking for entertainment close by? Check out the endless possibilities for fun events happening this upcoming weekend in 
Lafayette-West Lafayette, Indiana
. One of the best one-day outdoor art shows in the Midwest, 
Round the Fountain Art Fair
, is taking place again this Saturday, May 23!  Featuring paintings, sculptures, pottery, photography prints, jewelry and other media this festival offers visitors not only works of great beauty, but the opportunity to purchase these offerings. This festival is located around our gorgeous courthouse and vendors selling their works of art line the streets. An even more special treat is the fresh strawberries and cream...yum! Do not miss the last 2014-15 Lafayette Symphony Orchestra performance,
 Shredding with the Symphony
, on Saturday, May 23. Internationally renowned for her exceptional talent, Rachel Barton Pine will join forces once more with the LSO to bring a unique orchestral experience that will be nothing short of memorable! The award-winning classical violinist will showcase her gift of infusing classical music with its heavy metal counterpart, painting you an engaging musical picture while effortlessly connecting the two genres. From Van Halen to Sibelius, Nine Inch Nails to Shostakovich, and Led Zeppelin to Paganini, music lovers from across the board are sure to find this a thrilling performance. Let your hair down and celebrate the season with a bang! For more information about these 
events
 and other special "happenings" in Lafayette-West Lafayette, check out our website at 
www.HomeOfPurdue.com.