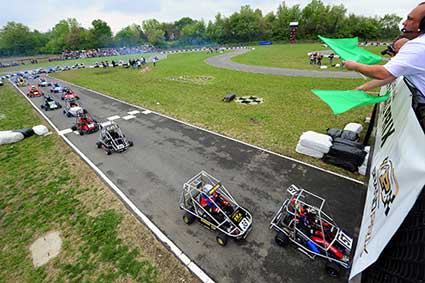 Weekend Update! Looking for a fun Indiana 
weekend getaway
? Or do you live in this area and are looking for entertainment close by? Check out the endless possibilities for fun events happening this upcoming weekend in 
Lafayette-West Lafayette, Indiana
.
Not to be missed this Saturday, April 22, is "
The greatest spectacular in College Racing
," the
Purdue Grand Prix Race
!  This event is a racing kart race held at Purdue University each year since 1958. Students from fraternities, sororities, residence halls, and other student organizations form teams and build a racing kart to compete in a 160-lap race around the Purdue University Grand Prix track. This year, in honor of the Grand Prix's 60th Anniversary, two Alumni Races will also be held, where Grand Prix Alumni can return and race their original karts once again. Both will be featured on April 22, 2017. The Grand Prix is one of the most beloved Purdue University traditions and is a must-see year after year! More Purdue traditions are to be celebrated this year at the Purdue University Showcase Concerts presented by Purdue Bands. Purdue Wind Ensemble, University Band, Concert Band, Collegiate Band, Symphonic Band, Varsity Band, Purdue Philharmonic and Symphony Orchestras all perform! Wow, that is a lot of musical talent and fun coming this weekend to Purdue. Check out
Purdue.edu/bands
for details! For more information about these 
events
 and other special "happenings" in Lafayette-West Lafayette, check out our website at 
www.HomeOfPurdue.com.