Laughter Abounds this Weekend in Lafayette-West Lafayette! Looking for a fun Indiana weekend getaway? Or do you live in this area and are looking for entertainment close by? Check out the endless possibilities for fun events happening this upcoming weekend in or near Lafayette-West Lafayette, Indiana.
It's an event we look forward to every year; the Purdue Polar Plunge! Watch or participate in Special Olympics Indiana's signature fundraiser, the Polar Plunge, this Saturday, February 15 outside Lambert Fieldhouse. It is a series of exhilarating events held each winter where individuals and teams brave the elements by taking an icy dip to demonstrate their commitment to the cause. This fun and hilarious event not only is for a great cause, but will create lasting memories of jumping into a pool of freezing water in the middle of winter in Indiana!
Laugh and be sweetly entertained this weekend (February 13-16) at the Civic Theatre of Greater Lafayette as they present Mamma Mia! ABBA's hits tell the hilarious story of a young woman's search for her birth father. This sunny and funny tale unfolds on a Greek island paradise. On the eve of her wedding, a daughter's quest to discover the identity of her father brings three men from her mother's past back to the island they last visited 20 years ago.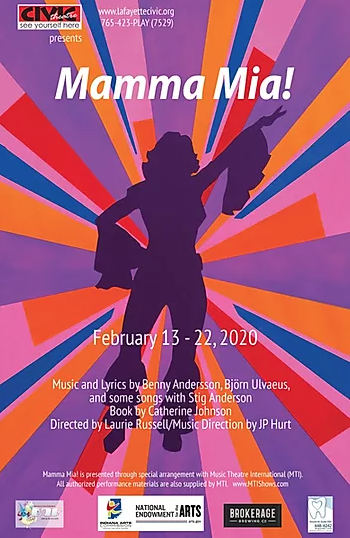 For more information about these events and other events happening this weekend in Lafayette-West Lafayette, check out our website at HomeOfPurdue.com.