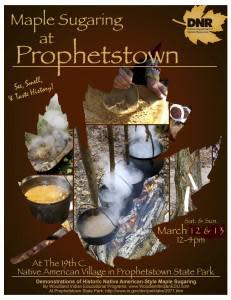 Weekend Update! Looking for a fun Indiana 
weekend getaway
? Or do you live in this area and are looking for entertainment close by? Check out the endless possibilities for fun events happening this upcoming weekend in or near Lafayette-West Lafayette, Indiana. Free event! Join the fun from noon to 4pm on March 12 and 13 at the Native American village at Prophetstown State Park for the third annual
Maple Sugaring Demonstration
. Visitors will see, smell, and taste history during this event.  Woodland Indian Educational Program presenters, Jessica and Mark Eaton, will demonstrate historic Native American-style maple sugaring techniques using clay vessels, hot stone boiling, and evaporation in metal kettles.  Help stir the sap, tend the fire, taste the treats, and more. It's a weekend of free events! Head to downtown Lafayette, and check out the new exhibition "
On or About: Rockwell Kent
" at the Fountain Gallery. Featuring a highlight of the Purdue Galleries collection, "Generator of Jobs," a painting by American artist Rockwell Kent, this exhibit positions the work as a source of inspiration/discussion along side the works of local, regional, and national contemporary artists. The Fountain Gallery is open noon to 7pm on Friday and Saturday. For more information about these 
events
 and other special "happenings" in Lafayette-West Lafayette, check out our website at 
www.HomeOfPurdue.com.