Lafayette-West Lafayette Weekend Update! Looking for a fun Indiana weekend getaway? Or do you live in this area and are looking for entertainment close by? Check out the endless possibilities for fun events happening this upcoming weekend in or near Lafayette-West Lafayette, Indiana.
This Saturday, February 10th, from 1-3pm is the Grand Opening of Heirloom Seed Library Resource at The Farm at Prophetstown State Park. It is free to the public! Seed library patrons can choose from hundreds of varieties of heirloom seeds, some of which are organic.  Seeds are free, and seed saving instructions are available.  While seed library patrons are not required to donate back saved seeds, it is encouraged so the library can continue into the future. For more information, visit their website. The seed library opens this weekend and will then be open during the Farm's regular winter hours Friday, Saturday and Sunday from 10-4 p.m. Celebrate the magic of a seed and know the pleasure of growing your own garden!
  For an early Valentines' Day celebration on Saturday, join the performance of the Purdue Jazz Band at Purdue's Marriott Hall. This beautiful building is home to the school's School of Hospitality and Tourism Management. The "Evening of Romance" begins at 8pm and goes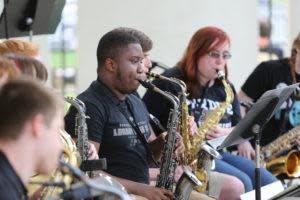 until 10pm. Tickets are available here. Please have your tickets printed for entry into the event. Doors open at 7:15, where hors d'oeuvre and dessert buffet will be served. Beer and wine will also be available for purchase using cash only! The dress code for this romantic event is business casual to cocktail attire. More information can be found on their website. For more information about these events and other special "happenings" in Lafayette-West Lafayette, check out our website at www.HomeOfPurdue.com.