[caption id="attachment_6915" align="alignright" ]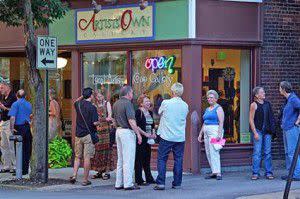 Gallery Walk Septmeber 18[/caption] Weekend Update! Looking for a fun Indiana 
weekend getaway
? Or do you live in this area and are looking for entertainment close by? Check out the endless possibilities for fun events happening this upcoming weekend in or near
Lafayette-West Lafayette, Indiana.
Petronio Bendito and Sabrina Lastman will present
Double Helix
at the Long Center for the Performing Arts as part of the Tippecanoe Arts Federation's
Gallery Walk
on Friday, September 18. Double Helix is an innovative interdisciplinary visual music performance that explores art and technology. Experience the art of new media artist and TED Talk Presenters, Petronio Bendito, and vocalist/composer, Sabrina Lastman, as they recreate some of their most popular pieces in their 30-minute exhibition. The artistic duo have exhibited solo and as a collective in many notable venues and festivals including Carnegie Hall and Bronx Museum of the Arts in New York, the International Festival of Electronic Art in Brazil, the Stage Songs Festival in Poland, and the Abu Gosh Festival in Israel. Don't miss this rare opportunity to enjoy the intriguing and mind-bending artistic presentation! It's the Midwest Premiere of the
The Charitable Sisterhood of the Second Trinity Victory Church
! This Friday, September 18, Saturday, September 19, and Sunday, September 20 be prepared for 2 hours of laughter and fun at the Civic Theatre of Greater Lafayette. The roads are flooded, the bridges are washed out, and less generous souls are staying safely indoors, but it takes more than a little rain to keep the ladies of the Charitable Sisterhood from fulfilling their sworn mission. Come sit in on this month's meeting in the basement of Second Trinity Victory Church; five angels of mercy will leave you breathless with laughter as they do their best to help the victims of global disaster, spiritual deprivation, and, most of all, each other. Don't miss this hilarious and heart-warming play by award winning Richmond, Virginia playwright Bo Wilson. For more information about these 
events
 and other special "happenings" in Lafayette-West Lafayette, check out our website at 
www.HomeOfPurdue.com.