Weekend Update! Looking for a fun Indiana 
weekend getaway
? Or do you live in this area and are looking for entertainment close by? Check out the endless possibilities for fun events happening this upcoming weekend in 
Lafayette-West Lafayette, Indiana
.
Get ready for the ultimate playdate —65 million years in the making at Dinosaur Zoo Live Erth Visual and Physical, Inc. at Loeb Playhouse at Purdue on January 29. Erth's DINOSAUR ZOO LIVE guides audiences on a breathtaking tour through prehistoric Australia. Meet, and interact with, an eye-popping array of astonishingly lifelike dinosaurs and creatures, presented in a theatrical performance guaranteed to thrill and entertain kids while stimulating their imaginations in ways that deepen their connection to the world. Brought to life by a troupe of skilled performers and puppeteers, and designed with help from professional paleontologists, the puppets of Erth's DINOSAUR ZOO LIVE are so extraordinarily realistic that you may feel the urge to run and hide. But don't! You won't want to miss a minute of this unique, entertaining, and educational live show.
On January 27, 28 & 29, enjoy the play
Lettice and Lovage
at the Civic Theatre of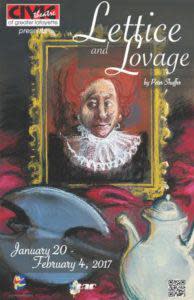 Lafayette. Tour guide Lettice Douffet, an indefatigable enthusiast of history and theatre, is fired for embellishing the historical past of one of the least stately of London's homes. Not one to go without a fight, Lettice engages the stoic, conventional Lotte Schoen, an inspector from the Preservation Trust, in a battle for all that is sacred to the Empire and the crown.
For more information about these 
events
 and other special "happenings" in Lafayette-West Lafayette, check out our website at 
www.HomeOfPurdue.com