Lafayette-West Lafayette Weekend Update! Looking for a fun Indiana 
weekend getaway
? Or do you live in this area and are looking for entertainment close by? Check out the endless possibilities for fun events happening this upcoming weekend in or near Lafayette-West Lafayette, Indiana.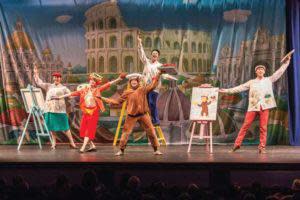 On Sunday, March 4,
Curious George
—that lovably inquisitive little monkey and icon of books, movies, and an Emmy Award-winning PBS TV series—comes to the stage at Purdue University in a delightful new musical from TheatreWorks USA. Each year, George eagerly awaits the only day more important than his birthday: All-You-Can-Eat Meatball Day, when he helps his friend Chef Pisghetti cook and serve delicious meatballs to a hungry crowd. But this year, the crowd has vanished—lured away by Phineas T. Lightspeed and his Meatballs O'Matic 9000 machine. In despair, Chef Pisghetti vows to cook no more. However, his buddy George decides to enter the chef's meatballs in the world-famous Golden Meatball Contest to prove they're the best. Can a determined little monkey make it all the way to Rome and win the big prize? With every swing and flip, George leads the audience through a fun-filled adventure in which he learns more about Italy's capital, friendship, and the "secret ingredient" to cooking!
Curious George: The Golden Meatball
delivers a can't-miss recipe the whole family will enjoy! More entertainment to be enjoyed this Sunday is Triptych at Carnahan Hall. The Jazz Club presents
Triptych
, featuring violinist Zach Brock, bassist Matt Ulery and drummer Jon Deitemyer live at Carnahan Hall. As a compositional collective they are creating new repertoire through an unorthodox combination of jazz, post-Romantic classical and Appalachian dialects fused with rhythms from West Africa, South America and Eastern Europe. This event starts at 3:30pm. For more information about these 
events
 and other special "happenings" in Lafayette-West Lafayette, check out our website at 
www.HomeOfPurdue.com.