Lafayette-West Lafayette Weekend Update! Looking for a fun Indiana weekend getaway? Or do you live in this area and are looking for entertainment close by? Check out the endless possibilities for fun events happening this upcoming weekend in or near Lafayette-West Lafayette, Indiana. This weekend and every weekend, there is a chance to build and celebrate our community! On Saturday, May 12, join the community at the Art Museum of Greater Lafayette for Art, Bark 'n Brew! The first annual event of its kind will take place from 11am-2pm. This dog- and family-friendly event at the museum will feature two food trucks & People's Brewing Company along with free art activities for people and their pets. Matt Monta and the Haymakers will provide live music and there will be a photo op station with some of the life size dogs from our previous Dog Days of Summer program. Attendees will also have the opportunity to post photos on social media and win a customized pet portrait! Dogs MUST follow dog etiquette checklist: - Dog must be leashed at all times. - No retractable leashes. A standard 4-6 foot leash is acceptable. - Owners must have a paper copy of current rabies vaccination. - Female dogs experiencing a heat cycle will not be allowed. - Owners must be attentive to and pick-up after their pup. - Well-socialized, friendly dogs only. Dogs exhibiting aggressive behaviors should be asked politely to leave. Mark your calendars for what is sure to be a fun event! Admission is free, but some activities will require payment. If there is rain, the date will be moved to June 23rd. Please check the website in case of inclement weather and for more information!
 
Later that evening, celebrate the amazing diversity and excitement that our community has to offer. Mosey Down Main Street is a series of street celebrations brought to you by the local artistic community.  Volunteers, downtown business owners, artists and musicians come together once a month from May through September to offer a free family friendly event that takes place right down the center of Main Street. With three stages of music, outdoor food, beer, and wine sales as well as street performers, sidewalk chalk and hand made Hula hoops, Drum circles and DJ's, belly dancers, and balloon animals. This is a great way to get a taste of what downtown and beyond has to offer!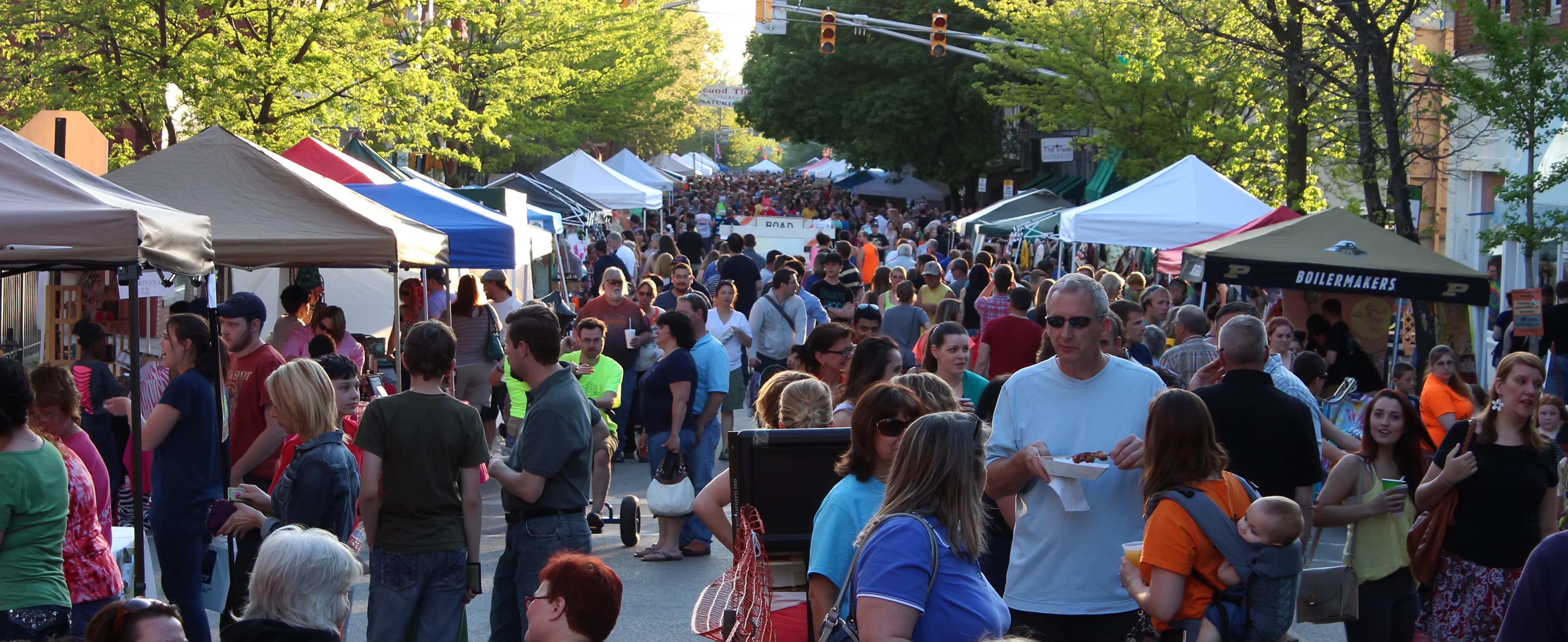 For more information about these events and other special "happenings" in Lafayette-West Lafayette, check out our website at HomeOfPurdue.com.