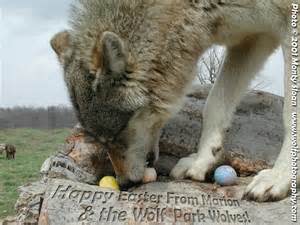 Weekend Update! Looking for a fun Indiana 
weekend getaway
? Or do you live in this area and are looking for entertainment close by? Check out the endless possibilities for fun events happening this upcoming weekend in 
Lafayette-West Lafayette, Indiana
. Wow! Can you believe Easter is only a week away! To celebrate early, visit Wolf Park for their
Annual Wolf Park Easter Party
on Saturday, March 28! As part of their program of environmental enrichment (for both the wolves and the visiting humans), each year Wolf Park puts on an Easter party for the animals.The Easter Bunny will move through the main wolf enclosure (with the wolves safely elsewhere) and leave gifts of hard-boiled eggs, Peeps, and other wolf-safe treats for the animals.  (Don't worry — wolves in other enclosures, as well as the foxes and coyotes, will receive treats too!) After visitors watch the wolves find and enjoy their Easter treats, children can play egg-related games and participate in (plastic) egg hunts for treats of their own!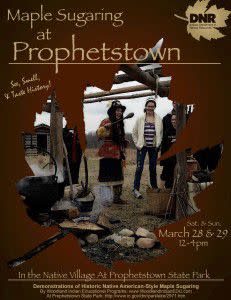 See, smell and taste history at the "
Maple Sugaring at the Prophetstown Village
" event taking place this Saturday, March 28 and Sunday, March 29.  Come enjoy demonstrations of Historic Native American-Style Maple Sugaring! Afterwards, traverse through 900 acres of restored prairie. The park has been restoring native habitats such as wetlands, wet slopes called fens, prairie and open woodlands. It is a beautiful, open prairie awaiting visitors to explore! For more information about these 
events
 and other special "happenings" in Lafayette-West Lafayette, check out our website at 
www.HomeOfPurdue.com.