[caption id="attachment_7378" align="alignright" ]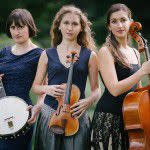 Harpeth Rising[/caption] Weekend Update! Looking for a fun Indiana weekend getaway? Or do you live in this area and are looking for entertainment close by? Check out the endless possibilities for fun events happening this upcoming weekend in or near Lafayette-West Lafayette, Indiana. FEBRUARY 5
Swing Dance at France A. Cardova Recreational Sports Center- Partnering with Purdue Night Train Swing Dance Club, live jazz music will accompany instructions and dancing at the feature gym in the France A. Córdova Recreational Sports Center on Purdue University's campus. Put on your dancing shoes to enjoy swinging jazz performed by American Music Repertory Ensemble, Jazz Lab Band and Concert Jazz Band at this event.
The annual Lollipop Concert is a fun-filled evening for the entire family! Join the LSO for an engaging and interactive experience with real, live orchestral instruments at our Instrument Petting Zoo! They are rosin' up the bows so you can take a shot at the violin and the cello. Don't forget to put on your jazz hands and try out the saxophone, talk with some brass players, and make beautiful music! Stay for the LSO's performance of "Music, Music, Everywhere!" from Richman's Picardy Penguin Series, and learn how music is part of our everyday lives.
Dare to Bear (Polar Bear Skate Night) at Riverside Skating Center - Put on your swim suit and skate! Cocoa and pizza provided while supplies last.
Nicky Rood in Concert at Delphi Opera House - Country singer, songwriter and piano player Nicky Rood will perform her brand of country music at Delphi Opera House. Rood divides her time between West Lafayette and Nashville, Tennesee.
FEBRUARY 6
Harpeth Rising at Carnahan Hall - Flowing through the heart of Tennessee, the Harpeth River carries ancestral culture on its currents—from Native American earthwork mounds of centuries past to anecdotal stories of the antebellum era, from the birth of bluegrass to the contemporary Nashville sound that floats downstream. Like the river for which it's named, self-styled "chambergrass" trio Harpeth Rising is similarly suffused with unforgettable culture and unexpected dynamics.
China Art Gallery is hosting the Chinese Spring Festival. This includes an exhibit of Chinese antiques and arts, artists are going to show their arts and do Chinese water color painting and calligraphy on site and also explain some Chinese tradition and culture.
Howl with the wolves at Wolf Park during Wolf How Night!
FEBRUARY 5 & 6
The Rainmaker at Civic Theatre of Greater Lafayette. Watch as a man claims to be a "rainmaker," and rain does come, and so does love.
For more information about these events and other special "happenings" in Lafayette-West Lafayette, check out our website at www.HomeOfPurdue.com.