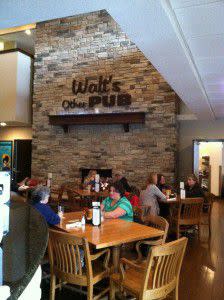 2 Great Cities, 1 Great University; "Midwest Hospitality".  To experience "Midwest Hospitality" at its finest visit
Walt's Other Pub
in Lafayette, Indiana.  This restaurant offers friendly, laid-back service in a relaxed setting for families and friends to enjoy  a delicious lunch or dinner.  Recently, Walt's Other Pub has relocated from their original location across the street and within its
brand new building
a setting has been created to really invite their guests to feel comfortable and welcomed. Since I moved back to the area 3 years ago, I have heard rave reviews about Walt's Other Pub.  Co-workers, family and friends have all shared how wonderful the food and service is.  It has been on my list of restaurants to try and this past week I had the opportunity.  My mom and I were having a "ladies day out" and we thought this would be the  perfect opportunity to eat at here. My first impression of the restaurant was "big".  We walked in and a huge room with a monstrous fireplace fills the space.  Opposite this room (that is divided by a half stone wall) is a lovely, long
bar area
that spans half of the building.  And this is only one third of the space.  There is an upstairs area for dining along with an outdoor area in the warmer months.  The space is huge, which could be overwhelming.  Instead, with the warm decor, lovely stone fireplace, and high ceilings, it feels very homey. The best part about my experience at Walt's Other Pub was the
service
.  Immediately upon entering, we were greeted with a smile and taken directly to a table.  A waitress was at our table within a minute (literally!) and she shared the lunch specials and took our drink orders.   Throughout our whole meal she checked up on us to make sure everything was to our satisfaction, which it was.  Overall, I have to express the service at Walt's Other Pub is superb! [caption id="attachment_3075" align="alignleft" ]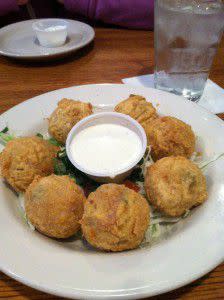 Loaded Potato Bites[/caption] I can't miss talking about the food!  We were there for lunch so we decided to make it an "
appetizer
" feast and share.  My mom, who has been to Walt's Other Pub before, recommended their chicken quesadilla.  It is not on their menu, but they made it for us (again, great customer service!).  It was a whole wheat fajita filled with grilled, juicy chicken, shredded cheese, fresh tomatoes and served with sour cream and salsa.  To compliment the meal, we ordered their
loaded potato bites
.  They take everything (cheese, potato, smoked bacon, and chives) inside a loaded potato skin, roll it all together and deep fry it.  Out comes a potato bite filled with deliciousness.  Dip it in ranch and it is perfection!  We had a great meal, wonderful service, and a fun lunch! Living in 
Lafayette-West Lafayette, Indiana
, one thing we value is customer service and appreciating the times we receive great customer care.  Midwest Hospitality is Lafayette-West Lafayette, Indiana.  We are proud of our local businesses, including Walt's Other Pub, who provides gracious and friendly service. For more information about this restaurant and other 
fun activities 
in the area, visit our website at 
www.HomeOfPurdue.com
.