[caption id="attachment_1662" align="alignright" caption="The Delphi"]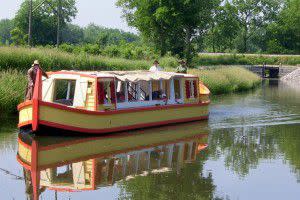 [/caption] 2 Great Cities, 1 Great University, Be a Tourist in Your Own Backyard!  Delphi, Indiana, located less than 20 miles north of
Lafayette-West Lafayette, Indiana
, is home to the
Wabash & Erie Canal
.  This park offers visitors an opportunity to take a canal ride, to step back in time in the Pioneer Village and to operate a
miniature boat
through a tiny stretch of canal in the Interpretive Center. I grew up in a family where history and learning was key to expanding our minds and also, for the pure enjoyment of learning about our ancestors.  My parents, sister and I have traveled all throughout the United States, Europe and our great state, Indiana.  We proclaim to friends and visitors that the 
Wabash & Erie Canal Park
is one of the best historical centers we have experienced.  Many people think of
history
as boring and dull.  The Interpretive Center at the canal gets visitors participating in activities and work done in the 1800's through their interactive exhibits, which makes it fun and exciting for kids and adults.  Their displays showcase how life was in that time period to give a real life interpretation of how hard our ancestors worked and lived.  Visitors can step into the living quarters below the deck of a canal boat and children can try on period-age clothing to see how it feels to be a real
pioneer
.
The Delphi
, a replica 19th century canal boat, takes guests on a 35 minute flouting tour on the Wabash & Eric Canal.  Tour guides share what is was like to be a pioneer 150 years ago through exciting adventure stories!  Visitors can exit the boat and tour
Pioneer Village
 where the Federal style house of the original owner, Reed Case, stands and is surrounded by a school house, cabins, a smokehouse, and a blacksmith shop.  I personally am always awed to see how small the
school houses
were  in the 1800's.  My grandmother was a school teacher and she started teaching in a small one room school over 80 years ago.  Unfortunately, her school was torn down, but it lightens my heart that this park is keeping history alive through showcasing an original school house from a nearby town.
The Wabash & Erie Canal
offers so many opportunities to learn about our history and it is so close to home. Vacation, Relaxation, Fun; while there are many adventures else where, you can find peace and quiet, adventure, delicious food, history, the arts and entertainment, and more, in our own backyard.  For more information about this park and others in Lafayette-West Lafayette, Indiana, visit our website at
www.HomeOfPurdue.com