[caption id="attachment_1019" align="alignright" caption="Banquet Space"]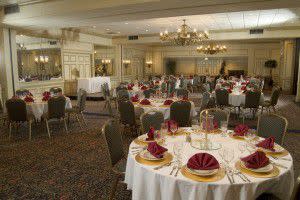 [/caption] 2 Great Cities, 1 Great University "Midwest Hospitality".   Lafayette-West Lafayette is host to many wonderful venues where we can showcase our friendly and gracious hospitality to make your special event a great success!  Today, we are highlighting 
Best Western
, where you can host a spectacular event and have your guests not worry about driving because they can stay overnight right on the premises. The Best Western Lafayette Executive Plaza & Conference Center is home to 2
ballrooms
with a total of 7,000 square feet that can accommodate 450 guests.  Wow, party planners can host one large
party
!  Special event guests can stay in the 124 gracefully appointed
rooms
including two
bridal
suites, Presidential Suite with boardroom and Governors Suite and boardroom. This venue is 100% smoke free, located near most businesses, hospitals, shopping and 11 minutes from the Purdue University Campus.
Lafayette Limo
Service picks up and drops off passengers from the Indianapolis International Airport in the lobby.  And to top off the wonderful amenities is the 
Buccaneer Bay Indoor Water Park
which includes a 23 foot Winding Water Speed Slide, dumping treasure chest, water cannons, 20 person hot tub, game room and the Jolly Roy Pirate Ship.
The Hour Time Restaurant and Lounge
within this hotel has been a landmark in Lafayette since 1973.  My husband and I celebrated one of our first Valentine's Day dinners at this delicious, upscale (yet homey!) restaurant.  Our server was friendly and attentive (yet not overly so to be annoying), and the Chef had put together innovative
dinner specials
. Living in Lafayette-West Lafayette, Indiana, one thing we value is customer service and appreciating the times we receive great customer care.  Midwest Hospitality is
Lafayette-West Lafayette
, Indiana.  We are proud of our local businesses that provide gracious and friendly service. For more information about Best Western Lafayette Executive Plaza & Conference Center and other great
venues
in Lafayette-West Lafayette visit our website at
www.HomeOfPurdue.com
.