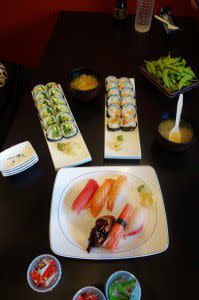 This community is brimming with international restaurants! Our goal is to take you around this world of ours in 40 (give or take a few) meals, hopefully urging you to step off the beaten path and try something new. Our group is made up of an iron-deficient meat-eater, two long-time vegetarians, and someone willing to eat swimmy things (since the rest of us are not). We figure we can cover all the bases. We started with the newest game in town, Tsunami Japanese Fusion, formerly Ah-Z, in the Chauncey Hill Mall. Our seafood eater enjoyed the six-piece sushi combo with tuna, salmon, eel, red snapper, shrimp and crab for $7.50. It was all tasty and she was surprised that the eel was r-eel-ly good! Eel, a delicacy, is usually expensive but the price of this combo plate seemed quite reasonable. The vegetarians had edamame from the appetizer menu ($3), miso soup ($1), and the Veggie Roll, a sushi roll filled with cucumber, avocado, seaweed salad and fried asparagus ($6). The meat-eater had the Deluxe Crunch Roll filled with shrimp tempura, crab, cream cheese and spicy-mayo ($8.50). (Yes, we know we said she didn't eat things that swim but shrimp and crab scuttle along the ocean floor more than they swim.) We all agreed the sushi was delicious; tender, tasty and beautiful! It got even better when we asked to try their sauces and spiced things up with eel sauce, wasabi sauce, spicy mayo and special sauce. All dishes arrived quickly and were beautifully presented. [caption id="attachment_3062" align="alignleft" ]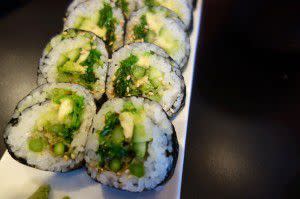 Vegetable Roll[/caption] Tsunami Japanese Fusion is a small space so meet your lunch date at 11:45 a.m. to be sure to get a table or, when the weather is better, get take-out and head to Tommy Johnston Park, immediately south of Chauncey Hill Mall. If you think you don't like sushi, we encourage you to think again. Some of their rolls only contain crab or shrimp and those aren't the raw fish everyone equates with sushi. Or skip the sushi and try the noodle soup, chicken or beef teriyaki or beef gyoza, which is a lot of work to make at home but so easy to order at Tsunami Japanese Fusion!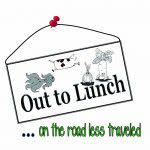 Next, the Out to Lunch gang is headed to Greece, or the West Lafayette version of it, at The Parthenon.