[caption id="attachment_1601" align="alignleft" caption="Banana Peel!"]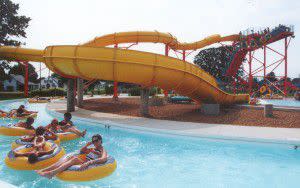 [/caption] Happening Now!  Right now the locals are talking about
Tropicanoe Cove
, an outdoor aquatic center that provides a watery paradise to visitors in the hot, sunny summers. This weekend is
Memorial Day Weekend,
which means even though it is not officially summer via the calendar; to Americans it is the official weekend to declare time for vacation and summer fun.  This holiday is the weekend our local
water park
, Tropicanoe Cove, opens for the year.  You will hear kids laughing as they slide down the spiraling
Banana Peel tube slide
 while adults sigh with contentment in their inner tubes in the leisurely Cattail Crik. When I was a teenager I would beg my parents to go the Tropicanoe Cove.  I love
swimming
 and this water park not only had a pool, but tons of cool slides and water features that would spray water everywhere.  I was a very active (somewhat hyper) teenager, and this park was the perfect place to expend all my natural energy.  My parents could sit back on the lounge chairs and relax, while I swam and played all day long.  They usually allowed me to bring a friend, which made it more fun! As an adult, I am still pretty energetic and I love to swim.  But now instead of going down all the slides, I am signing up for one of the
Lafayette Parks and Recreation
programs,
water walking
.  A few of my friends shared they have water walked in the past and have invited me to join their group.  I cannot wait!  If you have ever
water walked
let me know your thoughts.  I imagine it is harder than it looks. Whether you are looking for delicious dining, interesting attractions and shops, enticing events or home away from home lodging—a getaway to
Lafayette-West Lafayette, Indiana
, is sure to satisfy.  For more information about this water park and others in the area, visit our website at
www.HomeOfPurdue.com
.